Bam Margera And Roger Ebert's Feud Explained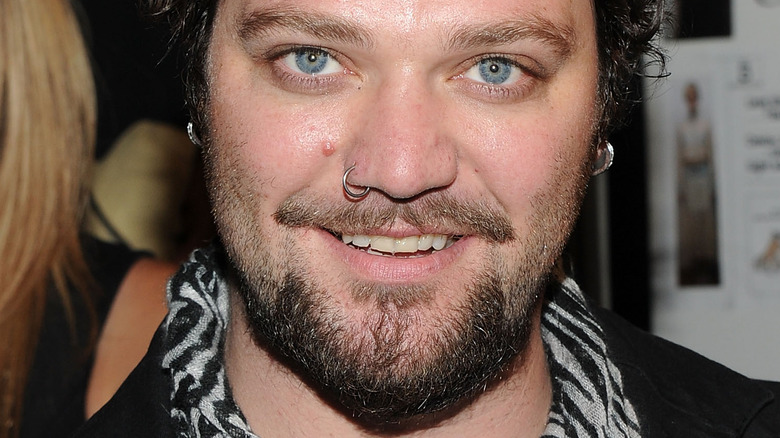 Jason Kempin/Getty Images
Bam Margera remains one of the most influential voices from the golden age of MTV reality television. A key part of the reality stunt series "Jackass," Margera quickly rose to fame as one of the most prominent members of the show. The success of the series led to the birth of the larger "Jackass" franchise, with Margera returning in various capacities. Margera's reign didn't just end with "Jackass" however, as the comedian went on to headline MTV's prank & skateboard series "Viva La Bam."
The series, which ran for five seasons, gave great insight into Margera's hilarious but callous attitude and his quest to entertain, which made him a sensation with fans all over the world. While many may have dismissed Margera's antics as nonsensical, IGN has given the "Jackass" star the benefit of the doubt, saying he's been afforded a stellar opportunity to do as he pleases. "He does it because he can, and because he seems to have somehow crafted a comfortably slovenly lifestyle for he and his pals through mainly wreaking havoc upon his loved ones," the outlet in a "Viva La Bam" review.
Of course, "Viva La Bam" remains just one of many projects Margera boasts under his belt. His tapestry of on screen antics includes "Bam's Unholy Union" and Bam's Bad Ass Game Show," as well as several cinematic appearances, predominantly in "Jackass" flicks. Outside of television and cinema, Margera's personal life faced scrutiny from the public and critics. While Margera's focus was on doing right by his friends and making people laugh, there were key moments in his life where he butted heads with others. Perhaps his most personally involved feud was with critic Roger Ebert, who said some choice words about his late friend.
Ryan Dunn's death sparked Bam Margera's feud with Roger Ebert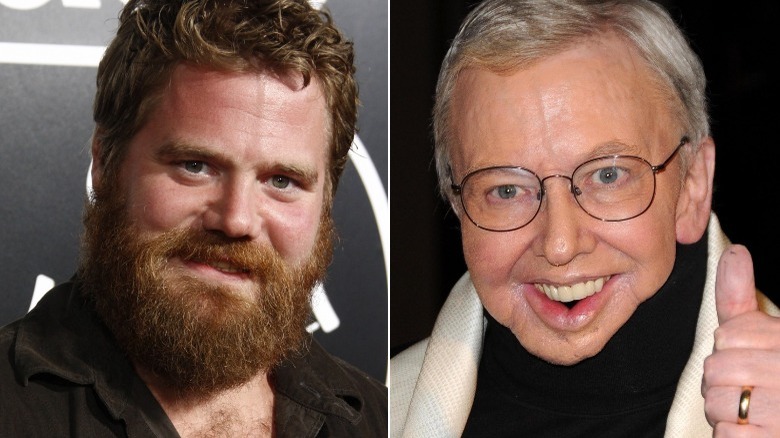 Joe Seer & s_bukley/Shutterstock
It's no surprise that the crew of "Jackass" is tight-knit, operating more like family than friends. The franchise has highlighted the love between the members with every offering, but it wasn't just for the screen — they really do love each other, or at least that's what it looks like on screen. 2011 saw the death of key crew member Ryan Dunn, who also happened to be one of Bam Margera's closest friends. Dunn was driving at 130 miles-per-hour in his 2007 Porsche 911 GT3 when the vehicle hit a guardrail and crashed into the woods, per The Hollywood Reporter. The vehicle burst into flames, killing both Dunn and Zachary Hartwell, who worked on "Jackass Number Two."
Following his friend's passing, Margera spoke with Fox 29, describing the moment he found out that Dunn had died. "I was in Arizona when I heard. I was with some friends having the best time ever and... at 12.30 I just started punching out the windows of the rental van and ripping out the speakers," the "Jackass" star said. "It was the worst phone call I've ever got in my life – waking up to that." Toxicology reports later confirmed that Dunn's blood alcohol level was at twice the legal driving limit (via ESPN). Dunn's death was believed to be related to drinking and driving, and veteran film critic Roger Ebert perhaps jumped the gun, calling out the dead actor for his actions in a tweet that may have come off as insensitive. Ebert's comments left Margera and other "Jackass" fans upset.
Bam Margera and Roger Ebert's feud took place on Twitter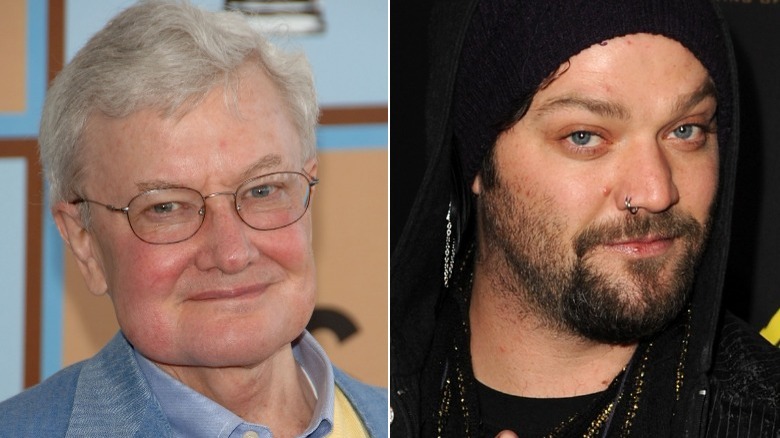 Kevin Winter & Stephen Shugerman/Getty & undefined
Chicago Sun-Times critic Roger Ebert took to Twitter, saying: "Friends don't let jackasses drink and drive." Many found Ebert's comments to be in poor taste, especially after the critic doubled down on his initial tweet. "Perez Hilton's readers agree with me and not with Perez about my tweet on Ryan Dunn. He drank, he drove, 2 people died."
In response to Ebert's comments, Bam Margera fired back, calling out the film critic for his insensitive comments and not respecting the mourning process. "I just lost my best friend, I have been crying hysterical for a full day and piece of [expletive] roger ebert has the gall to put in his 2 cents," the star tweeted. Margera continued in another tweet, saying, "About a jackass drunk driving and his is one, [expletive] you! Millions of people are crying right now, shut your fat [expletive] mouth!"
After facing significant criticism, Ebert apologized, taking to his blog to offer condolences to both Dunn and his fellow passenger, Zachary Hartwell. "I also regret that my tweet about the event was considered cruel. It was not intended as cruel. It was intended as true," Ebert penned. "I don't know what happened in this case, and I was probably too quick to tweet. That was unseemly," Ebert wrote, before continuing to defend his original position.
The feud between Margera and Ebert was short-lived, as the "Jackass" veteran likely focused his energy on mourning the loss of his friend. In June 2022, Margera took to Instagram to honor his late friend on what would have been his 45th birthday, reminding "Jackass" fans how close the two were.