How Bam Margera Gave Sean Penn's Son His Big Break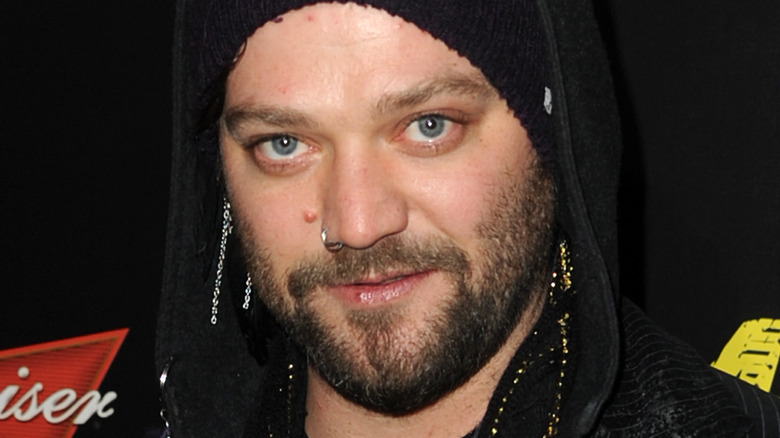 Kevin Winter/Getty Images
Bam Margera always seems to make his way back into the spotlight, and it's usually not for the reasons one would want to be. The "Jackass" and "Viva La Bam" star has been a part of his fair share of controversies over the years, which led to his removal from "Jackass Forever."
Things were different in the late '90s and early 2000s for Margera. He came onto the scene as a skateboarder before quickly becoming an integral part of the "Jackass" team. Although the show was only on air for about a year, it became an absolute hit, spawning four movies between 2002 and 2022. Margera was a fan favorite on the series, so MTV gave him a spin-off, "Viva La Bam," after "Jackass" ended. Both shows featured many of the same cast members, who spent most of their time doing absolutely absurd pranks, but "Viva La Bam" focused on Margera terrorizing his family members. Besides the occasional appearance from fellow "Jackass" stars, the show had many notable guest appearances over its five-season run, including the band Gwar, skateboarder Tony Hawk, Pharrell Williams, and Billy Idol.
However, one of the most notable guest stars was Academy Award winner Sean Penn. He only featured in one episode, but he joined the likes of Brad Pitt, who was on "Jackass," as the two biggest names to appear on the MTV shows. Penn's inclusion in a 2004 episode of "Viva La Bam" also marked the on-screen debut of his son, Hopper Penn.
Hopper Penn helped Bam prank Johnny Knoxville
"Viva La Bam" featured Bam Margera and many of his friends getting into prank wars with one another, but Season 3, Episode 3, "Fort Knoxville," was definitely the most star-studded one. After a quick reunion between Margera and his "Jackass" co-star Johnny Knoxville, the two don't waste any time going after each other. Margera's prank on Knoxville is simple: entirely cover his car in green paint. To do so, he enlists the help of legendary actor Sean Penn, who was just coming off an Academy-Award-winning performance in "Mystic River," and his son, actor-to-be Hopper Penn. Hopper quickly gets to work redesigning Knoxville's car as his dad casually lounges and supervises. The father-son duo then accompanies Margera, surprising Knoxville in his hotel room.
Even then, it was surprising for an actor of Penn's caliber to appear on a show like "Viva La Bam" — as is apparent by Knoxville's reaction to seeing the two. Hopper, only 11 years old at the time, sported the looks of an aspiring skateboarder. Judging by that, he was probably a fan of Margera's, perhaps resulting in his and his father's appearance on the show. Whether or not Sean Penn wanted to be there, he seemed to enjoy the time spent pranking Knoxville.
The now 29-year-old actor recently told People he used to get in trouble with his dad all the time, so he probably really enjoyed his time on the show, getting to dump paint all over Knoxville's car.
What's Hopper been up to since appearing on Viva La Bam?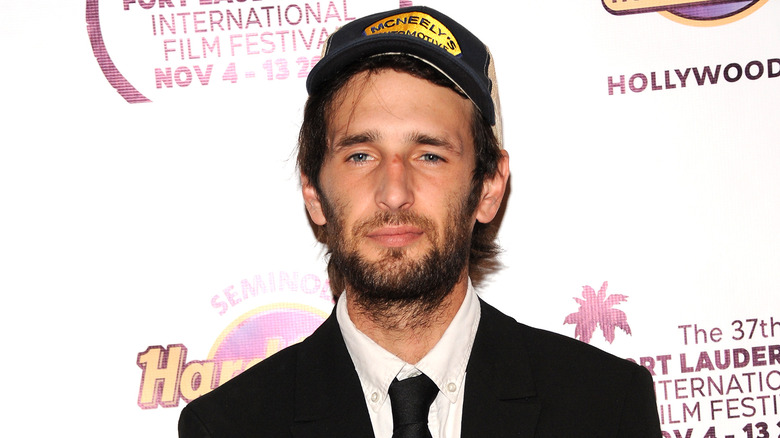 Desiree Navarro/Getty Images
Following his brief stint on "Viva La Bam," Hopper Penn continued skateboarding and developed a career of his own. Penn, who was 11 during his "Viva La Bam" days, had trouble adjusting to his parents' divorce a few years later. Actors Sean Penn and Robin Wright split when Hopper was 14, and after moving to Los Angeles and suffering a gruesome skateboarding injury, he turned to drugs. Penn told The Evening Standard about his struggles with meth, reflecting on that period, saying, "I was doing a lot of stuff but meth was the main one that brought me down. I went to rehab because I woke up in the hospital and my dad said, 'Rehab? Or bus bench?' I was like, 'I'll take the bed.'"
Fast forward to today, and Penn is now a successful actor and model. His modeling career took off after 2016, with Penn featuring in numerous campaigns. After some roles in a few short films, Penn got his big-screen debut in "The Last Face." Directed by his father, Penn got to act alongside Academy Award winners Javier Bardem and Charlize Theron. Adding to the list of legendary actors Penn has worked with, he also played alongside Brad Pitt in Netflix's "War Machine" and Nicholas Cage in "Between Worlds." His upcoming projects include "Mother's Milk" with Olivia Cooke, and he gets the chance to act with his mother, Wright, in "Where All Light Tends to Go."
If you or anyone you know needs help with addiction issues, help is available. Visit the Substance Abuse and Mental Health Services Administration website or contact SAMHSA's National Helpline at 1-800-662-HELP (4357).