Ironheart And Namora Come To Blows In Stunning Black Panther 2 Concept Art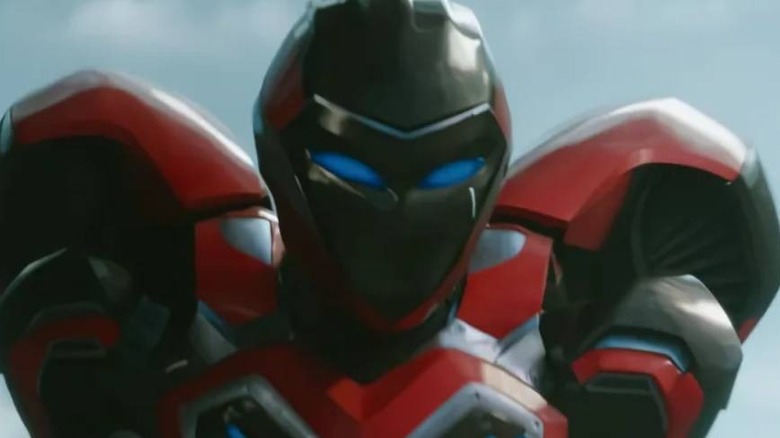 Walt Disney Studios Motion Pictures/Marvel Studios
A first-ever glimpse of a breathtaking piece of artwork for a planned scene in the critically acclaimed "Black Panther: Wakanda Forever" emerged recently on Instagram. Created by veteran film concept artist Phil Saunders, the image features an underwater clash between Riri Williams' Ironheart and the Talokanil warrioress Namora, portrayed respectively by Dominique Thorne and Mabel Cadena.
An artist with extensive experience envisioning details that would come to inform numerous superheroes' cinematic adventures, Saunders' resume spans a comprehensive roster of big-screen blockbusters. As such, the artist's work has formed the visual touchstone for the super beings and other non-super characters and imagery in films, including the "Iron Man" franchise, "The Avengers" movies, "WandaVision," "Shang-Chi and the Legend of the Ten Rings," "Spider-Man: No Way Home," "Ironheart," "Echo," and, of course, "Black Panther: Wakanda Forever" (via Marvel Cinematic Universe Fandom). Saunders' Insta-post depicts a highly charged meet-up between Ironheart and Namora that teases a slightly different kind of fight scene in "Black Panther 2."
Phil Saunders' art reveals clues to changes made from the original Black Panther 2 storyline
Although the specific scene precisely as Saunders' imagined it didn't appear in the final cut, his concept art for this particular moment in "Wakanda Forever" provides fans with an evocative visualization of what could have been a major hand-to-hand, underwater fight sequence. But the art and Saunders' accompanying explanatory text on Instagram also illustrate how the film changed from the script's early stages to the movie's final version.
For instance, Saunders' Instagram text points out that there are oil rig pillars in the background of his painting of the Namora-Ironheart skirmish. But the movie's eventual climactic fight doesn't involve an oil rig but centers on the Royal Sea Leopard in the open ocean. Another telling detail from Saunders' artwork is the costume worn by Riri William's Ironheart character. As the artist notes in his post, "You can see how the helmet was intended to be shown, with the faceplate clear and Riri's face visible." So, while the aquatic struggle between Namora and Ironheart didn't ever transpire precisely as pictured in Saunders' concept art, it did give fans a thrilling could-have-been moment along with revealing a bit about the movie's evolution from script to screen.