Mayim Bialik Loves The Stage Play-Like Nature Of Call Me Kat's Sitcom Format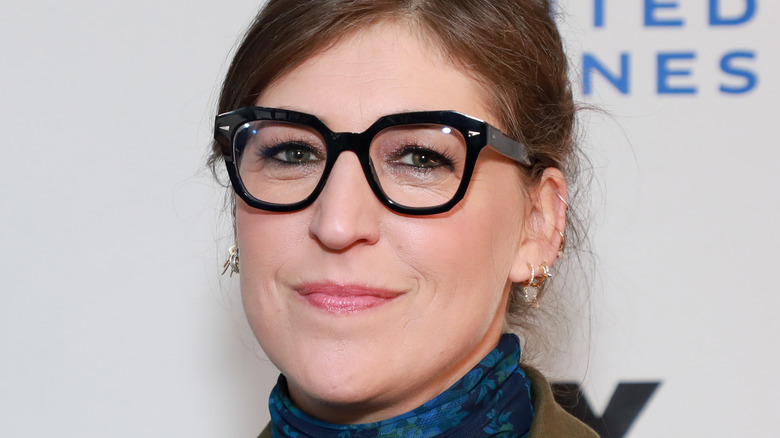 Jason Mendez/Getty Images
Mayim Bialik's television presence has increased dramatically since her debut as the titular star of NBC's "Blossom." Her eccentric and lovable role as Amy Farrah Fowler on the long-running and wildly successful sitcom "The Big Bang Theory" transformed her into a household name, paving the way for even more success. From there, the esteemed actress co-hosted "Jeopardy!" while starring in her very own show "Call Me Kat" on Fox.
The zany comedy follows Kat's (Bialik) reflective journey of self-discovery when she spends her wedding budget on a coffee shop with a cuddly theme. In tune with the title of the series, Kat opens a cat cafe where she hosts a variety of hilarious figures like Randi (Kyla Pratt), Max (Cheyenne Jackson), and Phil (the late Leslie Jordan). "Call Me Kat," based on the U.K. original series "Miranda," even features Bialik's "Jeopardy!" co-host Ken Jennings in a hilarious turn of events.
"Call Me Kat" is a unique series that's the perfect vehicle for Bialik to flex her comedic chops with an all-star cast. The riotous comedy even reunites Bialik with "The Big Bang Theory" director Mark Cendrowski and an abundance of writers from the quick-witted hit. This familiarity allows the cast and crew to be more comfortable with each other as they try different takes and approaches to scenes, which she enthusiastically shares.  
Mayim Bialik truly enjoys Call Me Kat's style of sitcom
With SciFi Vision, Mayim Bialik gushes over filming the jovial comedy: "I do love the pacing. I do love the ability to get to do different versions of the same scene, basically all in one tidbit. And I do I feel like it's like a little play, and yes, I agree. I've been doing sitcom since my kids were an infant and a toddler. So, I was able to parent to the best of my ability with this kind of schedule, which is very different. Also, we're off on the summers, and I grew up with parents who were teachers. So, I thought all parents are off in the summer. So, I'm glad to also be a human who gets a summer vacation." 
All this comes thanks to the immensely talented crew who works tirelessly on "Call Me Kat." Bialik goes on to explain how she comes from the Chuck Lorre school of sitcom comedy and how other people who work on the series came over from "Big Bang Theory." Lorre pretty much perfected the formula for this kind of sitcom, so all the cast and crew of "Call Me Kat" had to do was follow the blueprints laid out in front of them to achieve success. She concludes by saying, "I also love that we get to be surrounded by people who know that formula and are hopefully helping us get closer to that."
With that kind of commitment, it would be easy to see "Call Me Kat" lasting for quite a while.