Law & Order: SVU Fans Are Shook After Olivia's Shocking Bensler Confession In Season 24 Episode 9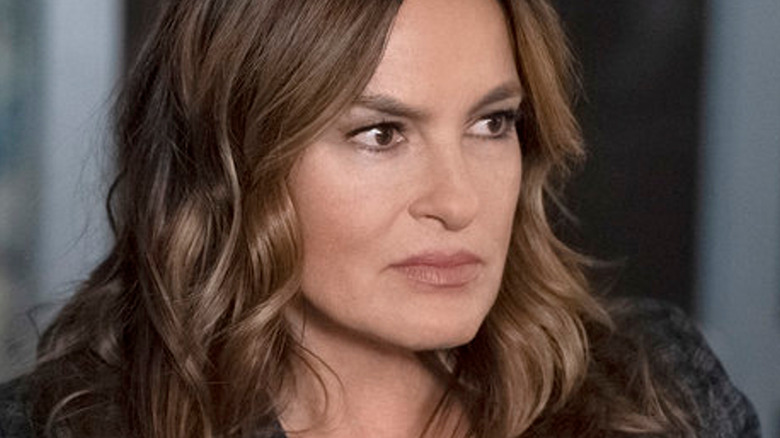 Heidi Gutman/NBC
"Law & Order: SVU" Season 24, Episode 9 has a lot of ground to cover. Titled "And a Trauma in a Pear Tree," the episode marks Kelli Giddish's farewell from the show, as her character of Amanda Rollins finally ties the knot with partner Sonny Carisi Jr. (Peter Scanavino) and decides to put her days with the SVU team behind her. However, that's not before Rollins takes one last ride with Olivia Benson (Mariska Hargitay) to protect her adopted son, who's potentially been caught in a dangerous situation. What's more, the episode sees Benson make an unexpectedly forward confession about her ex-partner Elliot Stabler (Christopher Meloni).
As can be especially seen in the earlier seasons of "Law & Order: SVU," there's almost always been a bit of tension in Benson and Stabler's relationship — hints that the duo could be something more if their personal and professional lives weren't so complicated. Of course, not much on this front has been said out in the open for some time now, and though Stabler now appears as the lead of the sister series "Law & Order: Organized Crime," the pair are still close friends. However, Benson's confession suggests that a major status quo shift could be coming, and fans are already buzzing.
Could love finally be in the air for Benson and Stabler?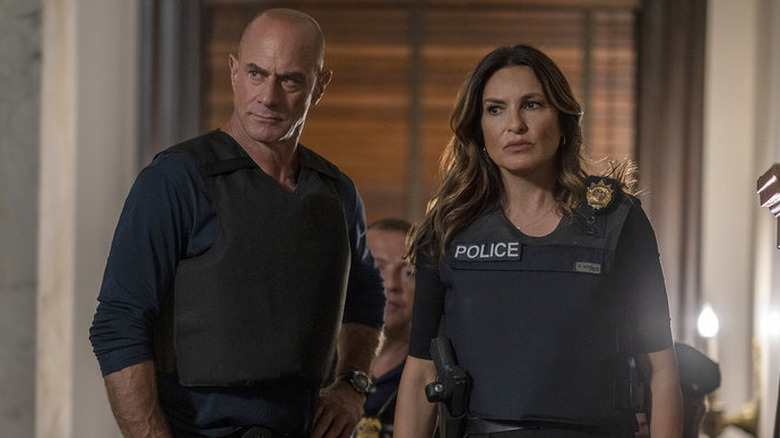 Zach Dilgard/NBC
Before Rollins says her final farewell on "Law & Order: SVU," she shares a drink with Benson. The commanding officer gets surprisingly candid during their conversation, revealing that she felt Stabler was her "home," and that the death of his wife Kathy has stirred up complicated feelings within her about her former partner.
It's a relatively rare occasion to see Benson talk about her private feelings, let alone her complex dynamic with Stabler. As such, many fans were shocked and delighted by the scene. "DID I JUST HALLUCINATE BECAUSE OLIVIA BENSON JUST ADMITTED HER FEELINGS TOWARD STABLER," @booksofcass tweeted. "I MIGHT THROW UP!!!!!!" Even some viewers that weren't as warm on other elements of the episode found the confession to be a bright spot and a great Benson moment. "This ridiculous episode is worth it for the drunk 'I love Stabler' confession," u/throwawaytostay112 commented on a Reddit post.
Things could very well be heating up for Benson and Stabler once again. Just several weeks prior to the "SVU" episode's premiere, an installment of "Law & Order: Organized Crime" featured Stabler himself drunkenly confessing to being in love with someone. While the audience doesn't find out who exactly that person is, fans are near-certain he's talking about Benson (via Today). In any case, it'd be quite the coincidence for both members of this heartsick pair to be making drunk love confessions within mere weeks of one another.