The Heartbreaking True Story Behind Tembi Locke's From Scratch On Netflix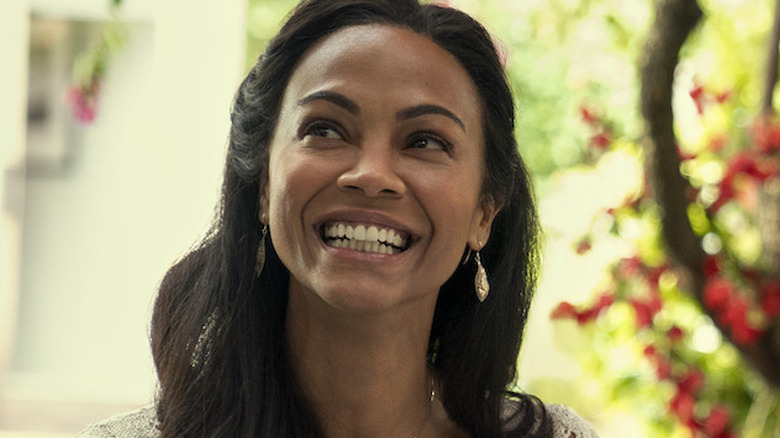 Jessica Brooks/Netflix
Netflix's latest limited series, "From Scratch," isn't a biopic or a ripped-from-the-headlines drama. However, it's still based on real events. More specifically, it's based on "From Scratch: A Memoir of Love, Sicily, and Finding Home," a memoir by actress Tembi Locke. In the series, Zoe Saldaña plays Amy, an American art student who meets a chef named Lino while studying abroad in Italy. Over the next several episodes, Lino proceeds to change Amy's life. 
"From Scratch" jumps between the Sicilian countryside and the equally sunny Los Angeles throughout its romantic journey, sweeping viewers along for a romantic ride. It's also a verified hit for Netflix: The series debuted at No. 3 on Netflix and quickly amassed 32.2 million hours viewed. But one heartbreaking twist towards the end of the series has proven particularly reeling. But what also stands out about this twist is the fact that it's likewise based on real-life events.
Tembi Locke and her Italian husband faced many difficulties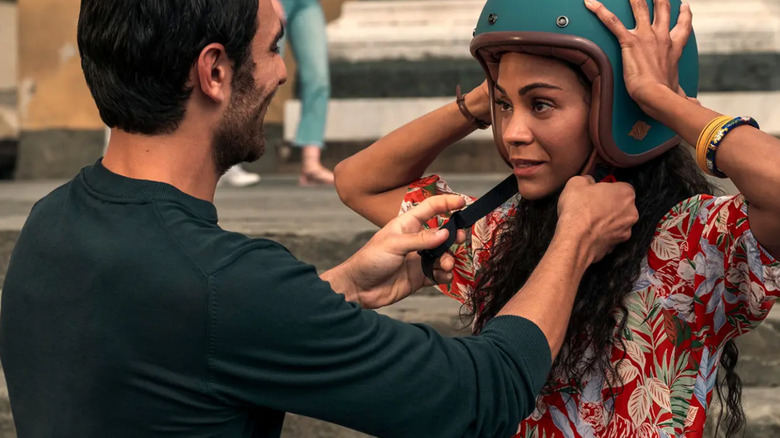 Stefano Montesi/Netflix
Tembi Locke, who created "From Scratch" along with her sister, Attica Locke, recently told Forbes about her meet-cute that led to the events depicted in the series. "Lino," as it turns out, is based on a real-life person named Saro Gullo (via Today). 
Locke told Forbes that when she saw Gullo for the first time, she was only 20 years old and merely had a superficial attraction to him upon their initial encounter. "But I did recognize this level of honesty and openness in him that I wasn't ready for at the time," she continued. "But he pursued me. It became evident quickly that he was the kind of quality person I hadn't seen before. He introduced me to this type of love and taught me the possibility of the type of love that could be. It was a love I describe as funny, open, reciprocal, respectful and visionary."
Locke and Gullo faced many obstacles after that moment, not the least of which was Gullo's traditional Sicilian family, who were against him marrying a Black woman from Texas. But ultimately, Gullo's family would be the least of their problems.
One medical diagnosis changed everything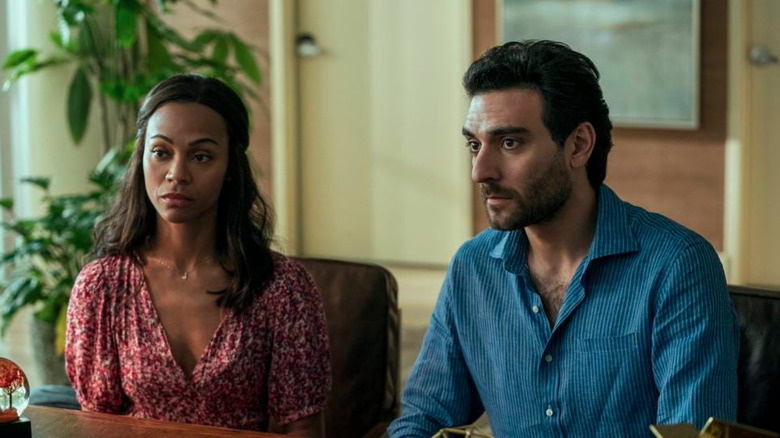 Jessica Brooks/Netflix
Though Saro Gullo's and Tembi Locke's families eventually coalesced and found common ground, tragedy soon found them. After the lovebirds moved to Los Angeles, Gullo received a cancer diagnosis, thus leaving Locke — and the daughter that she had with Gullo — to continue life without him. Incidentally, the memoir "From Scratch" chronicled the subsequent years in which Locke and her daughter moved to Sicily to heal together.
"I just knew I had to write it," said Locke about her memoir, via Forbes. "The stakes were very high emotionally. I felt I'd suffer another grief if I didn't write down what I'd experienced. The memoir also serves as a blueprint for my daughter, for the kind of love I hope she finds someday."
Regarding the series itself, Locke has said that the filming process did trigger her in a way, but that she ultimately felt a burning responsibility to bring it to the screen. "I don't know why my story at this moment in time has moved through the channels to be present in this way. But my role was to help that manifest," she told Women's Health. "So I would cry, I would go step away many times, but I also felt like I was doing it in community. I felt as though everyone was invested in this as much as I was, and that I wasn't alone."
"From Scratch" is currently available on Netflix.