Annie Potts Had Never Seen The Big Bang Theory Until She Was Cast In Young Sheldon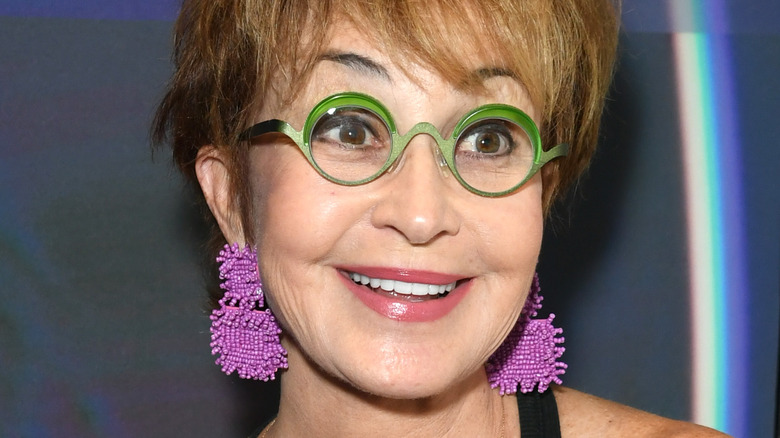 Jc Olivera/Getty Images
"The Big Bang Theory" from Chuck Lorre and Bill Prady enjoyed a fast ascent to the top of the television mountain. As a result, the show reached across the globe, enticing fans from all over to check it out. While opinions on it as a whole may vary from place to place, one thing that most agree on is that the clear-cut standout of the program is Sheldon Cooper (Jim Parsons). The quirky theoretical physicist proved one of the series' most hilarious and quotable characters, as well as arguably its most popular by the time it wrapped up in 2019.
Therefore, it shouldn't come as a shock that Sheldon's story is still unfolding on the small screen away from "The Big Bang Theory" itself. Via "Young Sheldon," fans get to learn about the title character — portrayed in this instance by accidental "Impractical Jokers" star Iain Armitage — and his humble Texas beginnings. Naturally, this also means viewers get to spend some time with Sheldon's extended family, including his Meemaw (Annie Potts). Heading into "Young Sheldon," she was namedropped often and even appeared once on "TBBT," courtesy of actress June Squibb.
Though one would think studying Meemaw's "Big Bang Theory" history would be paramount to Annie Potts' "Young Sheldon" performance, it really wasn't. In fact, prior to landing the role, Potts hadn't watched any "Big Bang Theory."
Potts isn't a part of the Big Bang Theory generation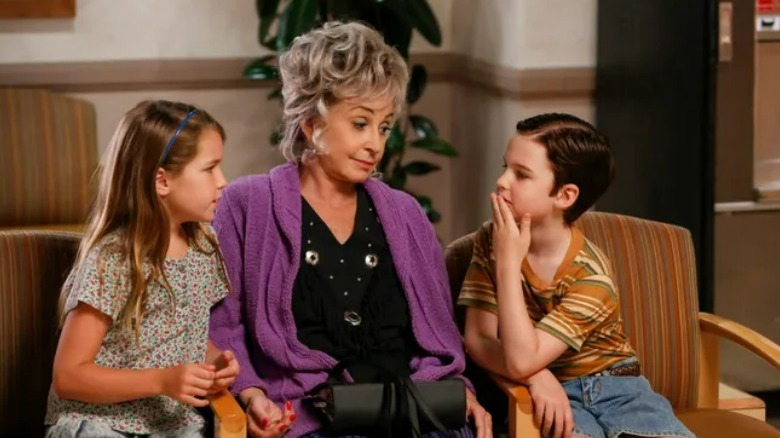 Robert Voets/CBS
Smashing Interviews Magazine caught up with Annie Potts in late September 2022, asking the acting legend about her Hollywood journey so far. This inevitably led to some "Young Sheldon" discussion, with Potts admitting that she hadn't watched "The Big Bang Theory" before landing the role of Meemaw. "I was not a 'Big Bang' watcher, sort of not my generation. When I started this show, I watched it a few times just to see if there was something I needed to know," she explained, highlighting that her inexperience with the sitcom has worked in her favor. She's used it to make her take on Meemaw entirely her own.
Not only has Annie Potts gone out of her way to distance her take on Meemaw from June Squibb's rendition from "The Big Bang Theory," but for every episode, she's worked extensively on her character's appearance. Potts spoke to Glamour for a bit about the Meemaw role, noting that she doesn't require someone to do her makeup for her. She revealed, "I do my own makeup too, so the whole thing takes 30 minutes from start to finish...I use blue eye shadow a lot because that's still the gold standard in Texas." Potts also mentioned that the Meemaw wig isn't nearly as heavy as it may look.
Potts didn't feel the need to replicate June Squibb's performance
Despite Meemaw's stories and exploits hanging over Sheldon and his friends on "The Big Bang Theory," Annie Potts thinks June Squibb's version of the character is more of a departure point than an iteration she has to explicitly reference. After all, Squibb only appeared on the Chuck Lorre series once, giving Potts as much flexibility as she needed to make the character her own.
Speaking with Gold Derby, Potts opened up about how it was important for her to shape the character and not have her take be informed by Squibb's. "I didn't have time to catch up on 10 years of Sheldon, and so I watched as many episodes that had references to [Meemaw] and I thought, 'well, that's just a departure point,'" Potts said. The actress continued by pointing out how even the creatives think of "Young Sheldon" as a separate entity from "TBBT," which gave Potts even more freedom to tackle the motherly role. She added that, during the creative process, she never felt the need that her Meemaw had to physically look like Squibb's, revealing that Dolly Parton's character in "Steel Magnolias" shaped her look on "Young Sheldon." 
Despite missing out on "The Big Bang Theory," it's hard to deny that Annie Potts has knocked the role of Meemaw out of the park on "Young Sheldon."