Lorraine Toussaint Recounts The Hilarious Moment On Set While Filming The Equalizer's TikTok Scene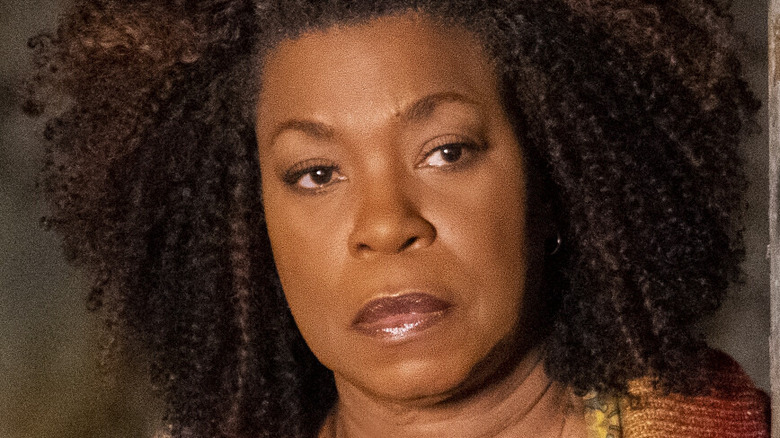 Michael Greenberg/CBS
CBS has a bona fide hit with "The Equalizer," as its average of 9.46 million viewers makes it Sunday's #1 scripted series (per Deadline). In a reimagining of the Denzel Washington film series, Queen Latifah plays former CIA agent Robyn McCall as the person you call when you can't call anyone else. She uses sometimes unconventional methods to help people in trouble, with assistance from her friends, sharpshooter Mel (Liza Lapira) and computer hacker Harry (Adam Goldberg), and occasional police assistance from Detective Marcus Dante (Tory Kittles). She's supported at home by her teen daughter Delilah (Laya DeLeon Hayes) and her Aunt Vi, played with heart and compassion by Lorraine Toussaint.
Though Toussaint is probably best known as conniving inmate Vee Parker on the Netflix series "Orange is the New Black," the Trinidadian actor started her screen career as a child and has more than 115 credits on IMDb. The High School of Performing Arts and Juilliard-trained actor starred in the Lifetime series "Any Day Now" opposite Annie Potts, a role that scored Toussaint five acting NAACP Image Award nominations. She also won SAG and Black Film Critics Circle Awards for her ensemble work, in "OITNB" and "Selma" respectively.
The procedural drama offers intriguing ripped-from-the-headline issues without much copaganda, plus a dash of wish-fulfillment, all while following a family of independent, supportive Black women. Viewers can tell that the cast feels like a family too, making it no surprise that Toussaint took some inspiration from her real-life family — particularly during one scene involving TikTok.
Lorraine Toussaint drew inspiration from her real-life family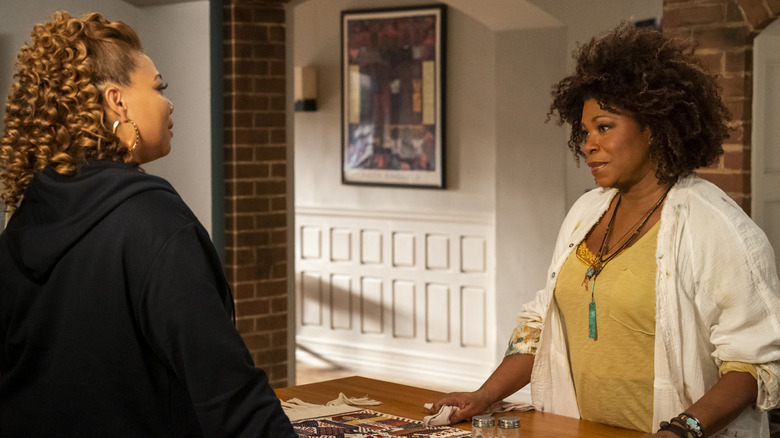 Barbara Nitke/CBS
In "True Believer," Season 1 Episode 9 of "The Equalizer," Delilah is still mostly in the dark about what her mom Robyn does for a living. When Delilah asks Robyn to help her make a TikTok dance video, Robyn is concerned about exposing her anonymity, and her family's, to her enemies. By the end of this penultimate Season 1 episode, they agree to the video with a compromise.
As a mother to her own 16-year-old daughter, Lorraine Toussaint added real-life inspiration to the taping. "At some point I broke into kind of a spontaneous twerk and it was like, oh no, no, no, don't do that, oh, my god, eww, eww," Toussaint told The Talk. "Nobody wants to see their grandmother twerk." She went on to add, "I really feel like my daughter would have had the exact same response."
Toussaint gives that as an example of how she and the cast can participate in the direction of the show. "There are moments in the show where I get to say to the director or producers, you know, this would call for an eye roll," she said. This element of respect is apparent in the onscreen family as well as among the actors. "They love each other, but they also happen to like each other," Toussaint told The Root. "Each of them has an authentic voice that is heard inside of this family, which, in many ways, is an ideal alternative family unit."