Javi's Long-Awaited Adoption Has Chicago Fire Fans Crying Tears Of Joy
The Season 11 midseason finale of "Chicago Fire" was one for the books. The episode marked the return of EMT Emma Jacobs (Caitlin Carver), who previously tried to blackmail Violet (Hanako Greensmith) out of a job. Last we saw Emma, she was ousted from Firehouse 51 for failing to prioritize a victim. Now, she's back in internal affairs and is primed to stir the pot. Season 11, Episode 9 also ended on a massive cliffhanger when Stella (Miranda Rae Mayo) and Carver's (Jake Lockett) lives are endangered by a bomb explosion.
But the tumultuous finale wasn't all doom and gloom. The plot concerning the Cruz family was a bright spot in "Nemesis." In Season 10, Joe Cruz (Joe Miñoso) saves a young boy from a burning building. Joe and Chloe (Kristen Gutoskie) take in Javi, and eventually, he becomes like a son to them. Javi even calls Cruz "dad." In "Nemesis," the Cruz family finally adopts Javi, leaving "Chicago Fire" fans understandably emotional.
Javi's adoption was a bright spot in a tense midseason finale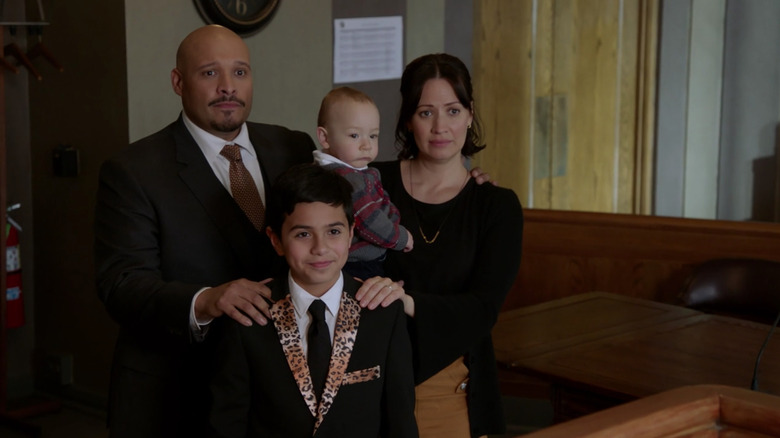 NBC
On "Chicago Fire," there's a fine line between work and family. It makes sense, then, that the whole Firehouse 51 family is there to attend the adoption hearing. The happy moment, especially in an episode with so much peril and uncertainty, had "Chicago Fire" fans positively verklempt.
"Javi officially having a family and now being part of the 51 family warms my heart," tweeted @marespinall. Indeed, even the hearing's judge paused to point out that it takes a village. Twitter user @mylyfesongz added, "As usual, #ChicagoFire has my eyes watering. I'm so happy for Cruz." @Kimberly_Sue20 shared a similar sentiment: "Javi is a Cruz!!! I cried!!!"
Javi's adoption had been a long time coming, and the Cruz family had to navigate a number of hiccups along the way. In the episode "All-Out Mystery," Cruz's brother Leon's affiliation with gangs threatened to derail the adoption. Luckily, fans can rest easy knowing the adoption came to fruition. "I think what you're going to notice is how easy it is to fall in love with this kid and how much Cruz and Chloe are falling in love with this kid," Joe Miñoso teased back in April (via Us Weekly). With Javi's adoption, "Nemesis" got the dose of joy and much-needed closure it deserved.