Abbott Elementary Fans' Hearts Are Melting Over Gregory And Janine's Growing Connection
Janine (Quinta Brunson) and Gregory (Tyler James Williams) on "Abbott Elementary" are the biggest will-they-won't-they relationship in modern current television, and Brunson, who is also the show's creator, is unsurprisingly tight-lipped about what the future holds for the couple. In an appearance on "The Late Late Show With James Corden," Williams insisted that the pair's relationship might not go the way viewers expect. "I can confirm this: that Quinta has not made a decision about will they or won't they. I think everyone assumes that it's a 'will they,' that they will eventually, but she's just like 'No, I'm not positive it will go that way.'"
In an interview with E! News, Brunson said that if Janine and Gregory do become a couple, it's going to take some time. "They're two people who really need to grow," Brunson told E! "Janine needs to grow up, Gregory needs to grow down, so however long that takes, I think. I think we really wanna show the modern experience of these mid-20 people and what growth is really like on network television. We're excited to show that." 
In the same interview, though, Sheryl Lee Ralph, who plays Barbara Howard on the show, said, "I think you can tell from Gregory's eyes, love is somewhere lurking behind. Don't you think?" Even though Ralph is an actor on the show, she seems to be guessing as much as anybody about the future of Janine and Gregory's relationship, and she joins the legions of fans who are doing just that. Following the latest episode of the show, "Sick Day," fans are excited to see a little more of that love lurking behind Gregory's eyes.
Fans are excited at how well Gregory knows Janine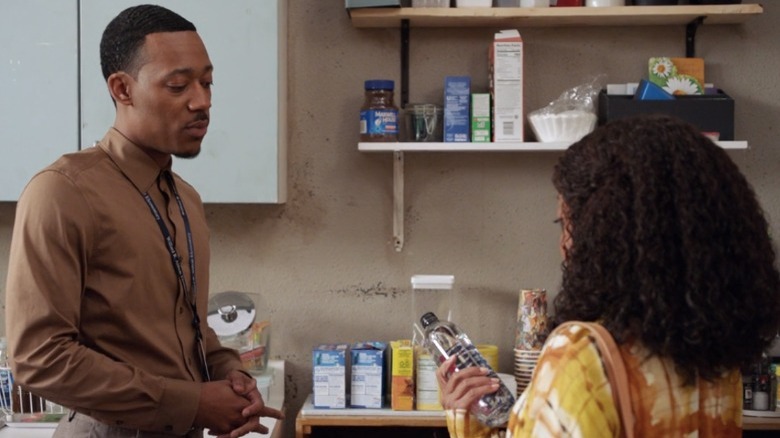 Hulu/ABC
In the latest episode of "Abbott Elementary," Janine eats a bad tuna fish sandwich and ends up missing a day of school because of food poisoning. With a shortage of substitute teachers, the school's negligent principal Ava Coleman (Janelle James) is forced to take over Janine's class. Gregory gets frustrated with Ava because he knows that Janine has a binder with specific instructions on how to run her class in her absence, and Ava isn't following the binder.
Fans of Janine and Gregory's friendship and latent romance were thrilled to see Gregory take a stand for Janine in her absence. "The way Gregory knows about Janine's binder and all of her usual things when teaching ENDGAME," tweeted @giselleb1234 with emojis indicating tears and applause. Eagle-eyed viewers like @schemmentis also caught the text from Gregory to Janine that can be seen on Janine's phone when Ava tries to call her, which reads "You feeling any better? Let me know if you need anything." As @karen_alexa pointed out, Quinta Brunson must have known that fans would be trying to read that text, making an excellent Easter egg for fans.
Finally, at the end of the episode, Gregory gives Janine water with electrolytes to help her recover from her food poisoning, and that just set off fans even more. "Gregory being domestic and taking care of Janine once she came back, my heart," wrote @moonlitpisces21. Meanwhile, @Nikki____G insisted that "Gregory gave Janine water with electrolytes because he loves her!!!!!" Fans who root for Gregory and Janine to get together are certainly passionate and insistent, and hopefully they'll get what they want.