Tracy Spiridakos Created An Imaginary Tomboy Backstory For Hailey's Character On Chicago P.D.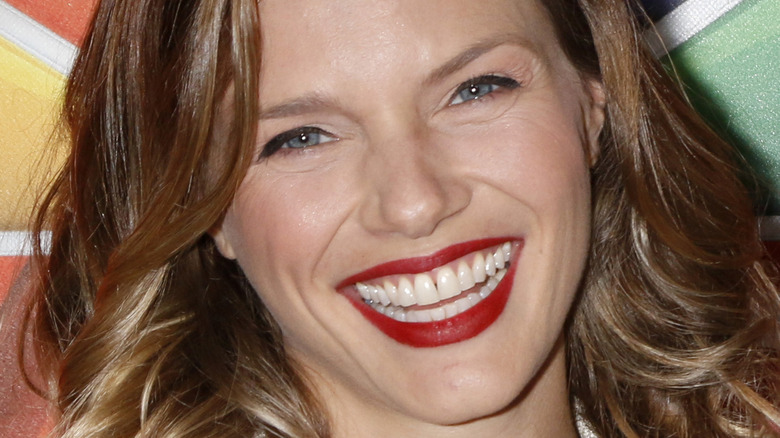 Kathy Hutchins/Shutterstock
Street-wise, battle-tested, and dedicated to the point of obsession, Tracy Spiridakos' Detective Hailey Upton is as rough-and-ready for action as any of the other detectives or beat cops on NBC's long-running hit "Chicago P.D." Part of the elite squad with the show's 21st District Intelligence Unit since joining the series in 2017, Spiridakos' Upton has been an integral part of the One Chicago show's various story arcs for well over 100 episodes (per IMDb).
Cutting her crime-busting teeth as part of the Robbery & Homicide Unit before signing on to join the team headed by "Chicago P.D." top dog Hank Voight (Jason Beghe) (via One Chicago-FBI Fandom), Upton's success with the sometimes gruesome cases handled by the R&H crew prepared her for the sort of high-profile, high-risk assignments she faces with the I.U. As such, it's no surprise Upton has to be tough as nails to do her job. In this respect, it makes sense that Spiridakos would invent a particular action-oriented autobiography to inform Upton's persona in "Chicago P.D."
Spiridakos thinks Upton would be a hard-core 'metal chick'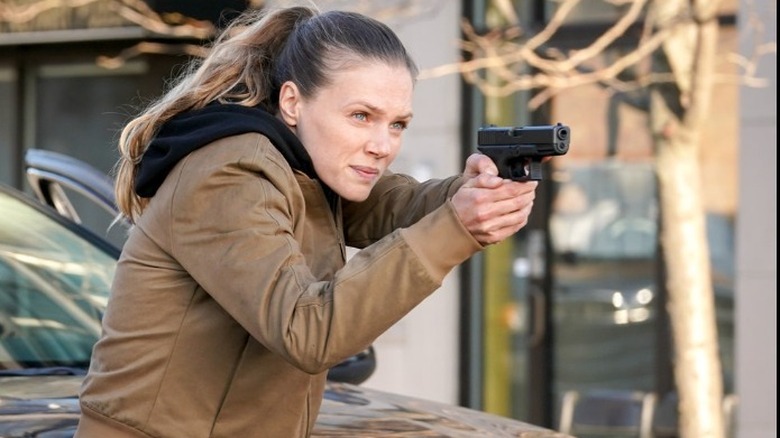 Lori Allen/NBC
While being interviewed by BUILD about her approach to playing Hailey Upton on "Chicago P.D.," Tracy Spiridakos was asked what kind of music the detective would like. The actress laughed and replied, "I think Hailey's like a metal chick, yeah." Expanding on Upton's fictional backstory, Spiridakos added, "I think she like rides dirt bikes and is just like a total tomboy."
Also, figuring into Spiridakos' road map for Upton's feisty personality are some telling details from her own childhood home life. "I have two older brothers, and so for me, like I feel that [Upton] has two older brothers." She went on to note that being the kid sister to a pair of male siblings imbued her with a kind of don't-push-me attitude. She further explained that dealing with the boys in her family prepared her for enduring challenges, even those that sound a little painful. "My brothers used to wake me up by pulling out, strand by strand, my hair until I would wake up." So, with her siblings' inadvertent help shaping Spiridakos' youthful character, her imaginary inner tomboy now supplies the heart of the hard-charging Detective Upton on "Chicago P.D."
As for how the actress feels about playing Upton, tomboy and all, Spiridakos told One Chicago Center, "I love that she's so strong and she's unapologetic, and she's a force of nature. She's a good cop, and she's smart, and I love that."