Black Adam 2 Is On The Rocks, Sorry Dwayne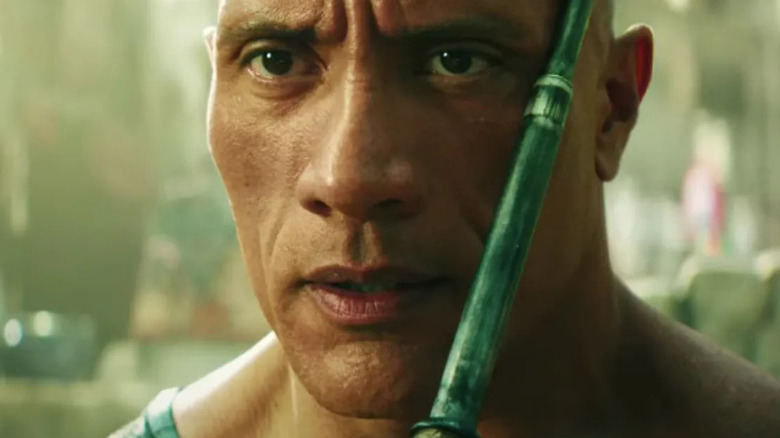 Warner Bros. Pictures
In a baffling exclusive from The Hollywood Reporter, insiders essentially relayed the cancelation of the DC Extended Universe as we know it. According to the publication's sources, DC film-heads Peter Safran and James Gunn are about to pitch their multi-year plan for the universe to studio executives — and it doesn't include "Black Adam 2."
In fact, it appears as though all previous DC projects are in jeopardy, with "Wonder Woman 3" allegedly scrapped and "Aquaman" star Jason Mamoa reportedly being considered for a new DC role entirely. Even Henry Cavill's Superman isn't safe, with The Hollywood Reporter relaying that his supposed return was mostly pushed by Dwayne Johnson and "Black Adam" producer Danny Garcia, who manages both actors. Johnson spoiled Cavill's appearance at the film's premiere, making assertions about sequels in the process.
The potentially contentious nature of Cavill's involvement does align with past comments made by Johnson (via GQ). It also somewhat explains why Collider reported that Gunn and Cavill had not met prior to the latter returning as the franchise's leading man, though that could also be due to something as simple as scheduling issues. In November, however, Gunn responded firmly to reports claiming to know the details of Cavill's return, going so far as to question if a journalist was "purposely lying or being taken advantage of by someone lying to [them]." Who would stand to gain by inflating Cavill's future at DC is, again, anyone's guess.
Regardless, The Hollywood Reporter does suggest that Johnson's efforts to bring back Cavill and secure "Black Adam's" future have hurt his relationship with the studio. This could arguably be the cause for the sequel's cancelation — if the box office numbers weren't clear enough cause already.
Dwayne Johnson continues defensive streak on Twitter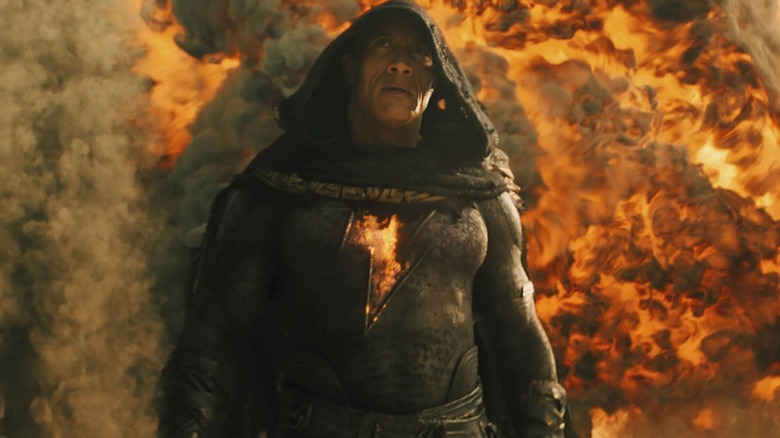 Warner Bros. Pictures
As The Hollywood Reporter reveals, Dwayne Johnson's much-talked-about "Black Adam" sequel is essentially dead, thanks to low revenue. In addition to poor reviews, the film has failed to perform at the box office in a way that justifies not only a sequel but the reported $230 million-plus budget of the first film. Johnson sent out a bizarre and confusing tweet hours before the article dropped, claiming that his film will make a minor profit somewhere between $50 and $70 million.
After famously taking issue with IGN comparing the box office performances of "Black Adam" and "Black Panther: Wakanda Forever" (two long-awaited superhero films with comparable budgets, star power, and release dates), he attempted to justify "Black Adam's" low figure by comparing it to the 2011's "Captain America: The First Avenger." Aside from the obvious contextual differences like the date of release and audience interest in superheroes, "Captain America's" box office record far outperforms "Black Adam's" when considering inflation and production costs.
Yahoo estimated that "Captain America" required nearly $100 million less to make than the $230 million figure reported by The Hollywood Reporter — and it made over $100 million more than "Black Adam's" $385 million global gross. According to the U.S. Bureau of Labor Statistics Inflation Calculator, "Captain America's" $370 million box office would be worth around $500 million in October of this year. Johnson's tweet also contradicts a Variety report that alleged the film would actually lose around $50 million. Again, the truth is anyone's guess at this point. The timing of both Johnson's defensive box office claim and Gal Gadot's poorly-aged tweet about the future of her franchise is fascinating, to say the least. For the moment, all that can be said with certainty is that Johnson was right about one thing.
The hierarchy of power in the DC Universe has changed — just not in his favor.