Few Things In The DCEU Have Aged As Poorly As This Gal Gadot Tweet
The DC Extended Universe has definitely had some well-known shake-ups and misfires as it attempts to build up the power and prestige as the other retinue of super-powered entertainment — the Marvel Cinematic Universe. Both of these interconnected multimedia enterprises are typically built on an overarching plan and try to edge forward to giant and apocalyptic events that bring forth and unite their heroes in a spectacle of dazzling special effects, fan service, and unlikely team-ups and quips.
Marvel definitely took their time in building up their vast empire, and DC has spent the last few years trying to catch up, skipping over many of their heroes' origin stories in favor of an immediate team, and that's how fans were treated to the "Justice League" movie. "Justice League" stars Ben Affleck as Batman, Henry Cavill as Superman, Jason Momoa as Aquaman, Ezra Miller as the Flash, Ray Fisher as Cyborg, and Gal Gadot as Wonder Woman. The "Wonder Woman" movie actually had the liberty of appearing several months before "Justice League," which cemented the famous Amazonian from Themyscira's orders to help bring peace to the world. However, recent instability in a restructuring of Warner Bros. Discovery has caused the DCEU to make some major changes, which has caused a social media post from Gadot to almost instantly age.
Gal Gadot tweeted about Wonder Woman 3, whose future is now uncertain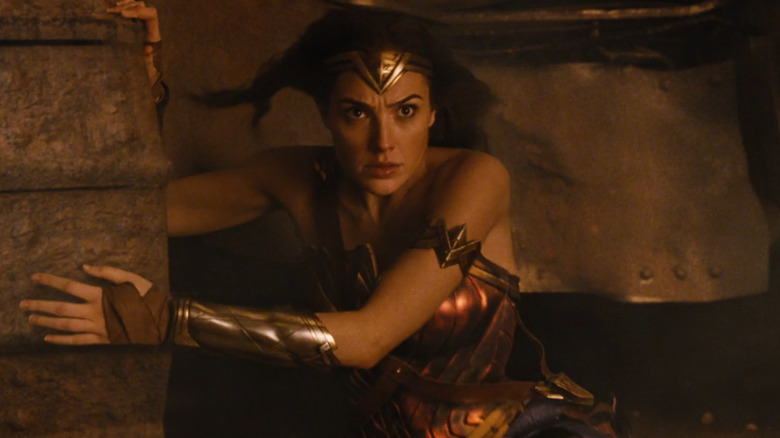 Warner Bros. Pictures
According to IMDb, Gal Gadot has picked up the golden lasso, bracers, sword, and shield of Wonder Woman in 2017's "Wonder Woman," "Justice League," and "Wonder Woman 1984." One would think that being one of DC Comics' tentpole characters would be a safe and secure position to be in, and on December 6, 2022, at 12:33 p.m. EST, Gadot posted on Twitter, "A few years ago it was announced that I was going to play Wonder Woman. I've been so grateful for the opportunity to play such an incredible, iconic character and more than anything I'm grateful for YOU. The fans. Can't wait to share her next chapter with you." This statement caused several of her fans to express feelings of joy and excitement at the likely "Wonder Woman 3" movie, though it didn't take long for this tweet to rapidly age on account of recent news.
The Hollywood Reporter on December 7 noted that several of their sources said that the gestating "Wonder Woman 3," which would have starred Gadot and been written and directed by Patty Jenkins, is now considered dead in the water over at Warner Bros. Discovery as the company has chosen not to move forward with this particular iteration. This doesn't mean that we may never see Gadot's version of Wonder Woman again, though it certainly casts a grim shadow over the future of this corner of the DCEU. In other words, Gadot's tweet from the previous day had already proved to be out of date.