The Witcher's Freya Allan Admits To Stealing Props From Set With Co-Star Wilson Radjou-Pujalte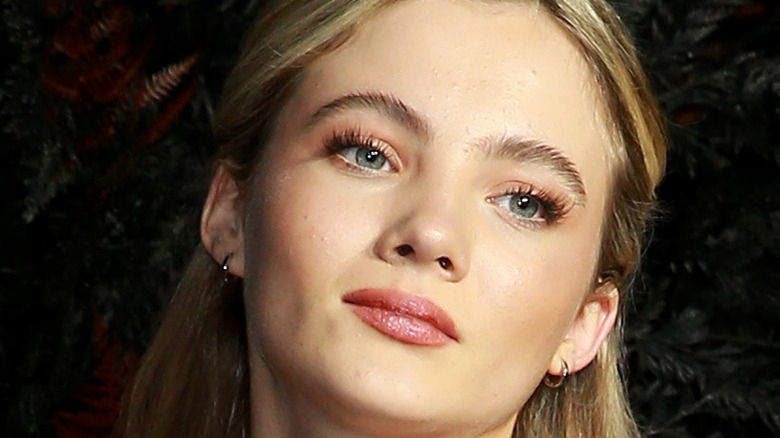 Fred Duval/Shutterstock
"The Witcher" has been one of the most well-received Netflix shows the streaming service has ever produced. Based on both the original novels and the video games based on the books, "The Witcher" series introduced a lot of new fans to the mix. This was a great thing for Henry Cavill, who portrays Geralt of Rivia, and the rest of the cast. While fans already knew Cavill going into the show, many new faces also got instant stardom, like Freya Allan, who plays Geralt's adopted daughter, Ciri.
Due to the love that "The Witcher" fandom has earned for many years, the series also put tremendous pressure on the actors to get it right. While much of the show has been praised for its quality in both scripts and on-screen portrayals, the show has also been subject to extreme nitpicking and controversy. Despite some of the hardships the cast has endured, including the recent announcement of Henry Cavill's departure from the hit show, it hasn't stopped them from having fun on set and behind the scenes. In fact, Freya Allan admits to getting into quite a lot of mischief while playing Ciri.
Freya Allan not only admits to stealing props, she says she'll probably do it again
During a STREAM WARS interview with the cast, Freya Allan and Anya Chalotra (Yennefer) were asked if they'd taken anything from set. Allan wasn't shy about the subject at all.
"We were sneaking around at the studio and I don't think we'd even begun filming and there was a room which was displaying all the kind of posters of what the monsters and things would look like and they had some props. Me and Wilson snuck in and just started taking the coins," she remembered fondly.
At this point in the interview, Chalotra finally spoke up with a mild look of shock on her face. She muttered a very quiet, "No, Freya..." which was entertaining to watch.
"Yeah, and then we took them. I don't have them anymore!" Allan quickly covered her tracks, as if that somehow undid the fact that she stole something from set. Chalotra confessed that she wished she'd stolen Istredd's journal because apparently, the artwork created for the journal was absolutely stunning. Allan wasn't quite finished admitting things, though. "If I ever get like a proper sword that's cool, I'll definitely be taking one of those," she proclaimed right at the end.