The Understandable Reason Mila Kunis Refuses To Watch That '70s Show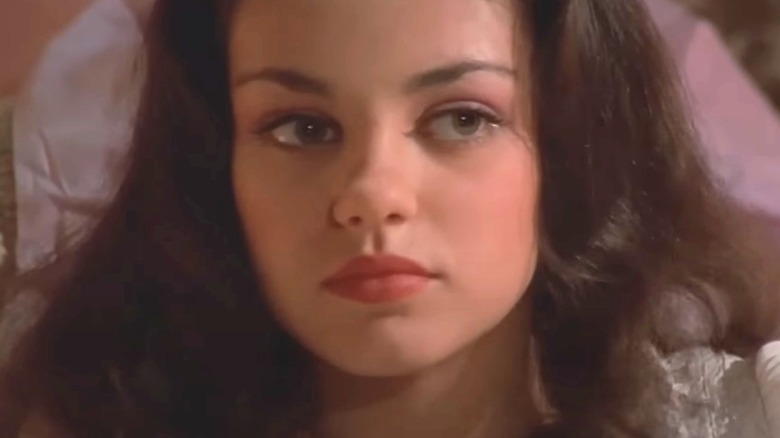 Fox
"That '70s Show" is regarded as one of the funniest sitcoms in TV history, appealing to audiences young and old with its nostalgic subject matter and endearing portrayal of teenage life. As such, it's no wonder that the show's popularity helped launch the careers of its young cast which included the likes of Ashton Kutcher, Wilmer Valderrama, Laura Prepon, Topher Grace, and of course, Mila Kunis.
Kunis in particular has enjoyed an enormous amount of success since her breakout role as Jackie Burkhart in "That '70s Show," scoring a recurring role on "Family Guy" as the voice of Meg Griffin and starring in prolific films such as "Forgetting Sarah Marshall," "Black Swan," and "The Book of Eli." Considering the many notable and successful projects Kunis has been involved in since the conclusion of "That '70s Show" in 2006, it might surprise some fans to learn that she actually refuses to watch the show for one admittedly understandable reason.
Kunis doesn't enjoy watching her teenage self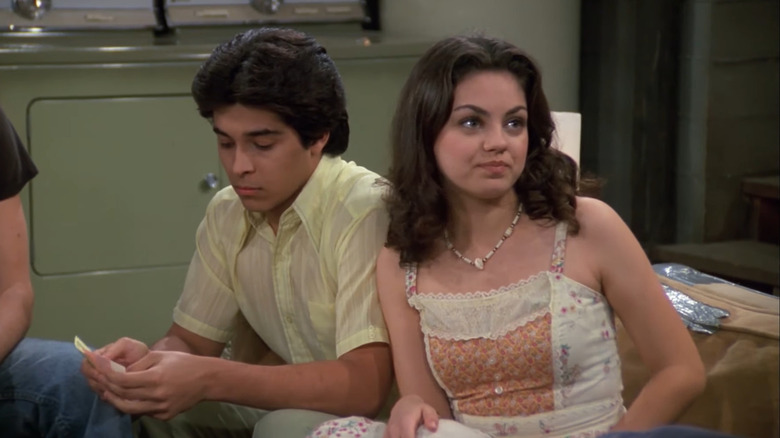 Fox
During an appearance on the "Happy Sad Confused" podcast in October 2022, Mila Kunis confessed that she has never actually seen a full episode of "That '70s Show." The actress went on to explain that she finds it too odd to see her teenage years preserved on camera. "I don't watch reruns of "'70s" for a reason... I don't think I've ever seen a full episode of "'70s" in my life," Kunis said, agreeing that it seems strange to watch "a constant reminder" of her most awkward teen years play out on television for all to watch. 
Kunis' reluctance makes sense when considering the fact that she infamously lied about her age to join "That '70s Show," jumping onto the main cast when she was just 14 years old (per Variety). It's no wonder that she doesn't ever watch the series as it captures the entirety of her teenage years well into adulthood.
Where most people might get away with simply avoiding old yearbook photos or trying not to remember their awkward phases from high school, Kunis has several full seasons of television that document her teenage years. Still, while she may prefer not to spend a lot of time revisiting her adolescence, the actress isn't completely opposed to giving "That '70s Show" a shot. "If it ever goes back to broadcast, and if it comes on, then I think I'd watch it," she said.
Kunis still enjoyed her time on That '70s Show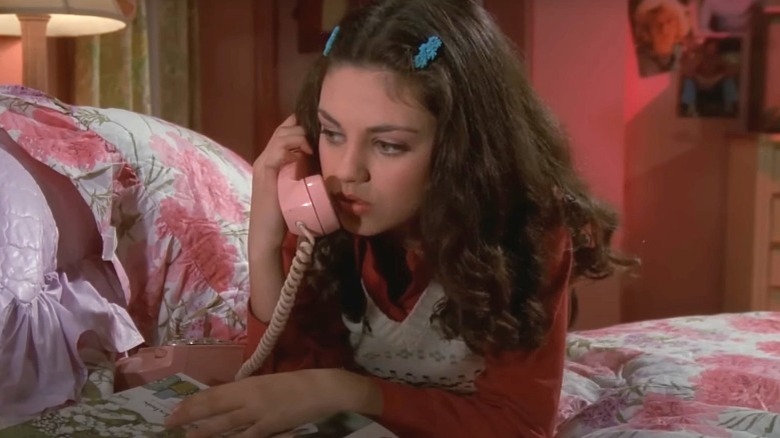 Fox
While Mila Kunis refuses to go back and watch "That '70s Show," it doesn't appear to be out of any ill will towards her experience on the show itself. In fact, the actress has spoken quite positively about the filming environment for the series. "I had the greatest experience on "70s,'" she told Vanity Fair. "100 percent, I was embraced. 100 percent, I was never treated as lesser-than, and if I did by one of the cast members, another cast member would stand up for it."
Kunis has also talked about how difficult it was to leave the show behind when it came time for the "That '70s Show" finale in 2006. "On the day, I couldn't stop crying," Kunis said on "The Ellen Show" (via Entertainment Weekly). "I literally reverted to being a little kid and I just wanted someone to hold me."
Notably, Kunis has also been willing to reprise her role as Jackie in the years since. She and her husband Ashton Kutcher, who portrayed Michael Kelso in the original series, returned to their classic roles for Netflix's 2023 spin-off "That '90s Show." While Kunis admitted to Access Hollywood that it was a strange experience to be filming opposite her husband once again, she lavished praise on the overall production. "It is very cute," the actress said. "It's very sweet. Anyone who's ever watched "70s' or loved '70s Show,' they will be really happy with it. I really, truly believe it."