Brecken Merrill Says Shooting The First Part Of Yellowstone Season 5 Was 'Very Chaotic'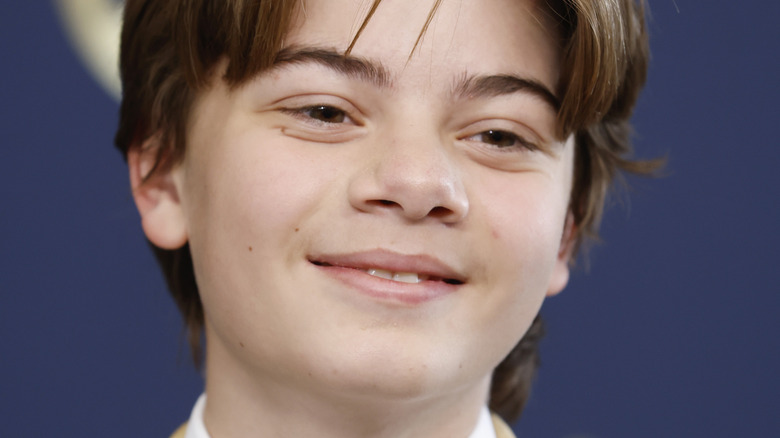 Frazer Harrison/Getty Images
Brecken Merrill, who plays Tate, the youngest Dutton on the "Yellowstone" ranch, has been required to do a lot of heavy emotional lifting for his character over the past few seasons. Tate is the son of Monica (Kelsey Asbille) and Kayce Dutton (Luke Grimes), and in his short time on the planet, he's managed to nearly get himself bitten by a rattlesnake while protecting a young kidnapping victim, almost drowned in a river, and been involved in a car accident that contributed to the death of his infant brother. Plus, he's constantly in the orbit of a lot of family drama. From the machinations of his aunt Beth (Kelly Reilly) to his grandfather John's (Kevin Costner) obvious attempt at trying to prepare him for a future as a cowboy, young Tate hasn't been spared the trials and tribulations of life as a Dutton.
After years of creating television gold, one would think that the process of filming a show's 5th season would be like second nature. But in the world of television production, sometimes making magic takes money and time. Merrill has revealed in a recent interview that trying to get the mega-successful Season 5 of "Yellowstone" in the can has been a bit chaotic.
It sounds like the production of Yellowstone Season 5 has been a whirlwind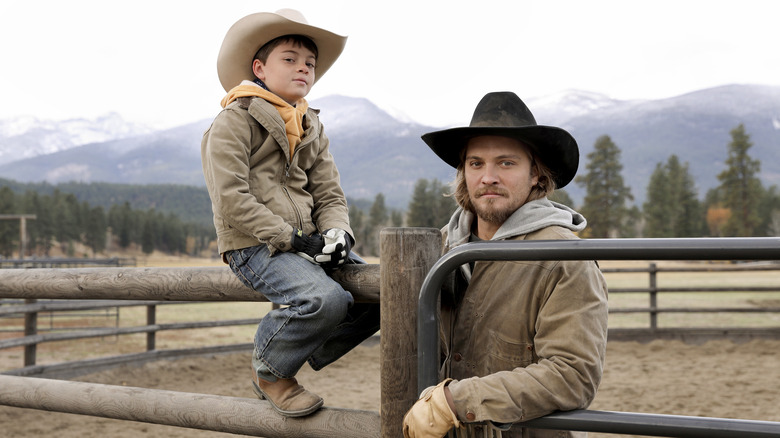 Paramount Network
In an interview with Outsider, Brecken Merrill said that the process of shooing the 5th season of "Yellowstone" has apparently been quite hectic.
"It was very chaotic ... We didn't know if we were going to have a break, we didn't know when we were going to be back," admitted Merrill. He added that the back half of the show's 14-episode order has not been filmed as of December 2.
"It was kind of a mess of everything, we were scrambling. I do miss my friends a lot when we're filming. We facetime every day, and I mean, we're only halfway done!" Apparently, the young actor is preparing to go back to the set to finish up the rest of the season sometime in March 2023. If that proves to be accurate, it would seem to imply that the show will likely resume airing the back half of the episodes sometime in the late summer or fall months of 2023. 
Just don't look to Merrill for spoilers; he told Outsider he's not going to reveal anything pertinent before joking that "Everybody dies!"