Who Played Rebecca Jones On Chicago Fire?
After keeping up with the over 200 episodes of "Chicago Fire" available to watch, it's quite understandable that some viewers may lose track of all the different characters introduced throughout the NBC drama's successful run. Even those who only served a brief amount of time on the show may still pique people's curiosity — like the character of Rebecca Jones, who had an impactful presence — and some people that continue to watch the program may be curious as to who brings these roles to life.
According to the audience score on Rotten Tomatoes, fans can't get enough of "Chicago Fire." The show that kicked off the "One Chicago" sensation has been going strong for many seasons and shows little signs of slowing down at NBC. Over the years, a slew of excellent episodes have been released, and each iteration is full of fans' favorite characters. But it isn't just the headliners that make "Chicago Fire" such a worthwhile endeavor as the supporting individuals with recurring roles also play a pivotal part in the well-received drama.
Everyone from Hallie Thomas to Sam Carver is an important member of the "Chicago Fire" team. Just because some of these critical roles are no longer on the show doesn't mean fans aren't curious to know who the talented person is bringing the intriguing persona to life. Many followers of "Chicago Fire" probably remember the character of Rebecca Jones from the second season of the series, but some of them might be wondering which actress played the role.
Rebecca Jones was played by Daisy Betts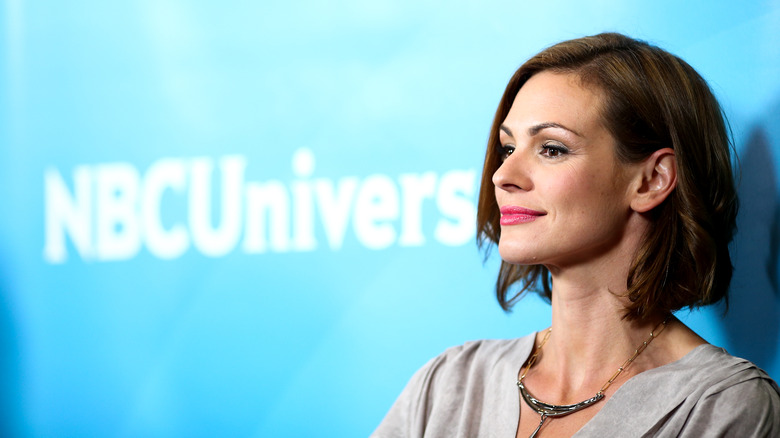 Mark Davis/Getty Images
Daisy Betts is the actress that played Rebecca Jones on "Chicago Fire" in seven episodes of Season 2. At the beginning of her run on the show, her ambitious character conducted her training alongside Gabby Dawson (Monica Raymund), with whom she had a bit of an up-and-down relationship on the show. When Jones becomes a firefighter, her father, Chief Lionel Jones (Gene Weygandt), wants her out of harm's way and has her transferred to a desk job. She ends up taking the job, and after years of trauma from surviving a car crash her mother did not, the character is revealed to have taken her own life.
Besides "Chicago Fire," Betts has made her presence known on the small screen with several impressive credits, including "A Girlfriend's Guide to Divorce," "The Player," "Last Resort," "Out of the Blue," and "Persons Unknown" (via IMDb). But when it comes to Betts' time in the "One Chicago" shared universe, fans were not hesitant to say that they were not happy with how she was treated on the show. While some believe Dawson overshadowed her or that she was unrightfully portrayed in a negative light, Jones was arguably still a significant part of the "Chicago Fire" legacy early on, and now when people rewatch her time on the series, they will know it was Betts who made it happen.
If you or anyone you know is having suicidal thoughts, please call the National Suicide Prevention Lifeline​ by dialing 988 or by calling 1-800-273-TALK (8255)​.