Charlie Cox Runs From His Past In Treason's Thrilling Trailer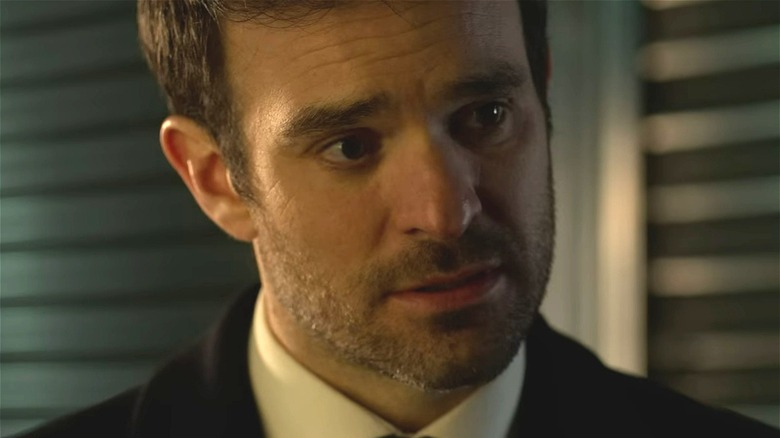 Netflix/YouTube
2022 has proven a big year for Charlie Cox, predominantly on the Marvel front. Following his surprise return to the role of Matt Murdock in December 2021's "Spider-Man: No Way Home," he portrayed him once again — this time exploring the swashbuckling side of his vigilante alter-ego, Daredevil — on Disney+'s "She-Hulk: Attorney at Law." Additionally, it came to light that Cox's take on "The Man Without Fear" will get a solo spotlight all his own in the form of a Disney+ series titled "Daredevil: Born Again." Away from the Marvel Cinematic Universe, he's also kept quite busy.
After working extensively with the streamer on "Daredevil," which ran from 2015 to 2018, Charlie Cox is once again collaborating with streaming giant Netflix. This time around, it's for a non-superhero project titled "Treason" from director Louise Hooper. A spy thriller in the purest sense, the series sees the intelligence organization MI6 under siege. The head of the group, Martin Angelis (Ciarán Hinds), is nearly killed, leaving Adam Lawrence (Cox) to step up and attempt to lead it — all while distancing himself from his increasingly prevalent checkered past.
With the debut of "Treason" right around the corner, Netflix released a teaser to give potential viewers a good idea of what they can expect from Charlie Cox's latest small-screen venture.
Treason promises a tense, high-stakes viewing experience
A mere few weeks after dropping some first-look images of the show, Netflix's official YouTube channel unveiled the inaugural trailer for "Treason," and it does a great job priming audiences for the miniseries to come. To start it off, we witness the attempted assassination of MI6 figurehead Martin Angelis before jumping to the aftermath. Adam Lawrence — seemingly at the behest of his colleagues — assumes command of the organization for the time being and, in doing so, paints a target on his back that will be next to impossible for him to remove. At least, not without some serious life and career changes.
Come to find out, Lawrence was closely linked to a Russian operative named Kara (Olga Kurylenko) once upon a time. Naturally, this puts him in a compromising position as the person in charge of one of the most powerful political bodies in the world. Worse yet, he's a young father whose entire family is now in danger due to the mistakes of his past. With that, he has to escape his old life once and for all, prove to the ones he cares about and works with where his allegiances lie, and keep his wife and children safe from dangerous, potentially deadly individuals.
All in all, the first trailer for "Treason" is tense, dramatic, and mysterious, which is just what a spy thriller calls for. If you're interested in checking out this six-episode miniseries, it arrives on Netflix on December 26, 2022.