Why That '70s Show Takes Place In Wisconsin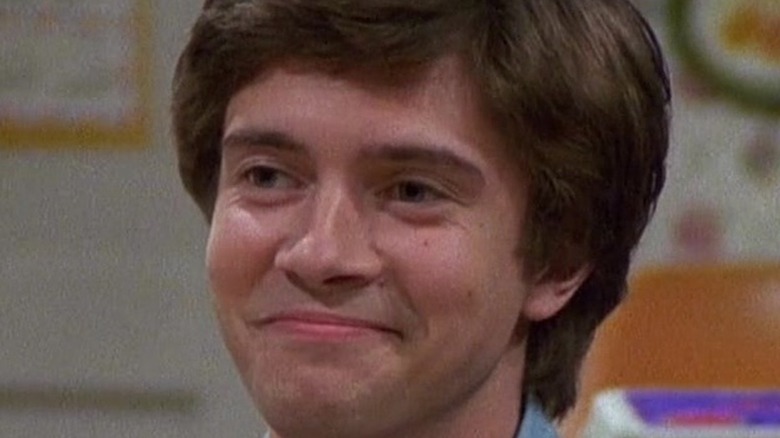 Fox
The Fox sitcom "That '70s Show" — which was created by Bonnie Turner, Terry Turner and Mark Brazill — ran from 1998 to 2006, giving fans eight seasons of hilarious antics, taking place mostly from the basement of teen Eric Forman's (Topher Grace) parents, Kitty (Debra Jo Rupp) and Red (Kurtwood Smith). The series follows the everyday lives of Eric and his friends: smart girl-next-door and Eric's love interest Donna Pinciotti (Laura Prepon); spoiled Jackie Burkhart (Mila Kunis); dim-witted Michael Kelso (Ashton Kutcher); anti-establishment rebel Steven Hyde (Danny Masterson); and foreign exchange student Fez (Wilmer Valderrama).
The setting is also a major part of the show's core — the teens live in the small town of Point Place, Wisconsin, where there isn't exactly a whole lot to do. Thus, they spend most of their time in Eric's basement smoking marijuana (although the name of the drug isn't ever actually said out loud) — leading to the show's iconic basement circle.
But how did the show's creators settle on Wisconsin, specifically? Here's what we know about what went into picking the sitcom's setting.
The creators wanted a dull setting so the characters had to make their own fun
In an interview from while the show was on air, the cast of "That '70s Show" discussed why Wisconsin was picked for the show's setting (the town, Point Place, is fictional) and why it's so vital to the core of the sitcom. Danny Masterson said, "Wisconsin was picked by our creators because it's kind of everytown, USA. It's the middle of the country, we're not close to any major cities, there's no hipster vibe going on." Because it's in the middle of nowhere, Masterson explained, the friend group ends up hanging out in more ordinary settings, such as the diner, the water tower or, of course, the basement.
Laura Prepon added that the characters are forced to use their imagination to have fun, which leads to them hanging out in the basement or just making jokes with each other. Prepon continued, "[The characters] have nothing else to do so the relationships are way more intimate and there's more of a dynamic there."
Topher Grace then chimed in, noting that "That '70s Show" showcases what life is like when you grow up in the type of suburb that is separated from any major city. Finally, Wilmer Valderrama added, "What you have is the opportunity to really listen to the characters instead of watching them do things."
The creators agreed to make That '90s Show because the dull setting still worked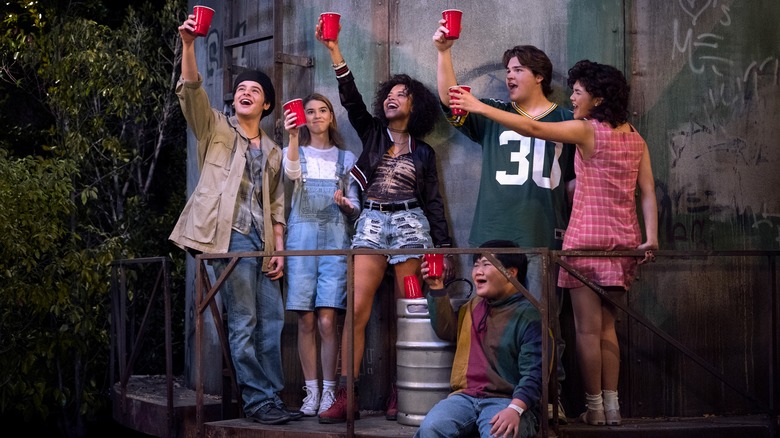 Netflix
The upcoming spin-off series, "That '90s Show" — which is created by "That '70s Show" creators Bonnie and Terry Turner, as well as their daughter Lindsay Turner and original series scribe Gregg Mettler — will follow Leia Forman (Callie Haverda), the 15-year-old daughter of Eric and Donna as she visits Point Place to spend the summer staying with her grandparents (with Debra Jo Rupp and Kurtwood Smith reprising their roles). It's an exciting premise, but the creators weren't on board right away — the Turners initially said no when Netflix asked if they were interested in rebooting the series. However, they eventually came around to it, but only after they found a good reason to make it.
In a November 2022 interview with Variety, Lindsey Turner said, "We agreed amongst ourselves, we weren't going to do it unless we could find a reason. And the thing that Greg said that I really loved, and I know mom and dad did too was, the '90s was the last time that people were looking up, they weren't looking down at their phones. It was that last place of a real kind of engagement, having to make your own fun and really connecting with each other." Plus, it meant more basement antics with the teens. Mettler said, "I wanted to have the same feeling as 'That 70s Show did.' The show had a very special tone. It was playful, it had a heart, it was sarcastic, it was filled with love within this family, within the friend group. I missed being in the basement with those kids."