The Seinfeld Episode That Earned Larry David His First Emmy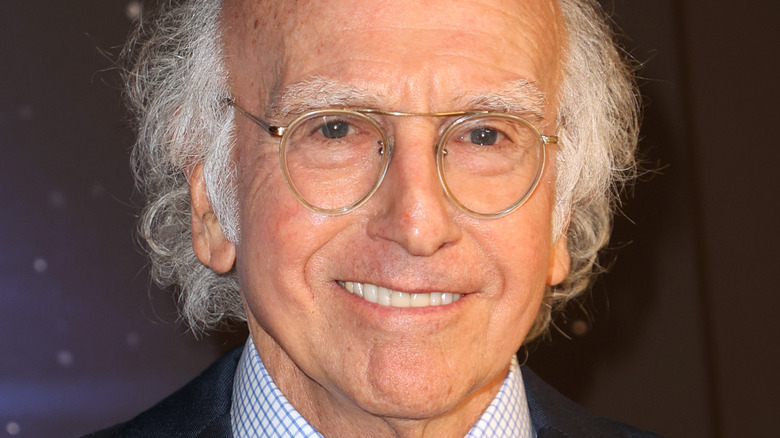 Kevin Winter/Getty Images
Larry David is an iconic name in the comedy industry, creating shows like "Seinfeld" and "Curb Your Enthusiasm," both of which take inspiration from his real life. "Seinfeld," which David elected not to represent himself on, would become one of the most popular shows of all time and cement the duo's rightful place in comedy history. 
"Seinfeld" premiered in 1989 and earned immense critical praise throughout its nine-season run. Following the creation of the aggregate site Rotten Tomatoes, the website gave the show an impressive 89%, with a near-perfect audience rating. While the series has become an absolute classic, it also earned its fair share of praise while it originally aired. During its lifetime, "Seinfeld" nabbed an outstanding 68 Emmy nominations, including ones for writing, acting, and "Outstanding Comedy Series." Unfortunately, other shows edged out "Seinfeld," which only won ten of its nominations. 
Michael Richards (Kramer) and Julia Louis-Dreyfus (Elaine) both secured "Supporting Actor" awards, with Richards winning the category three times. David, who served as a writer and executive producer for seven seasons, earned seven nominations for his work on the series. However, similarly to the show's success rate at the awards ceremony, David only holds one individual Emmy from his time on the show.
The Contest won David his first Emmy
Larry David won his first Emmy in 1993 for one of the most legendary episodes of "Seinfeld," "The Contest." Season 4, Episode 11 featured the group up to their usual antics, hanging out in the iconic diner, when they decide to see who can go the longest without pleasuring themselves. Absolute shenanigans ensue, including Elaine running into the handsome John F. Kennedy Jr., George witnessing a nurse give another woman a sponge bath, and Jerry watching children's cartoons to get his mind off the contest. It's a masterfully crafted episode that puts the characters in entirely outrageous scenarios as the universe tries to convince them to give in to their urges.
At the 1993 awards ceremony, David accepted the award for "Outstanding Individual Achievement in Writing in a Comedy." His acceptance speech is just as deadpan as fans would expect. "This is all very well and good, but I'm still bald," David told the Emmy crowd. He thanked the cast and crew but ended his speech by dedicating the award to all of the masters of their own domain out there.
David based his award-winning episode on a similar contest from his past. The writer told Conan O'Brien that he and his friends created the competition to set their minds straight, and David ended up winning, just like his "Seinfeld" counterpart, George Costanza.