Did Larry David Ever Want To Actually Act On Seinfeld?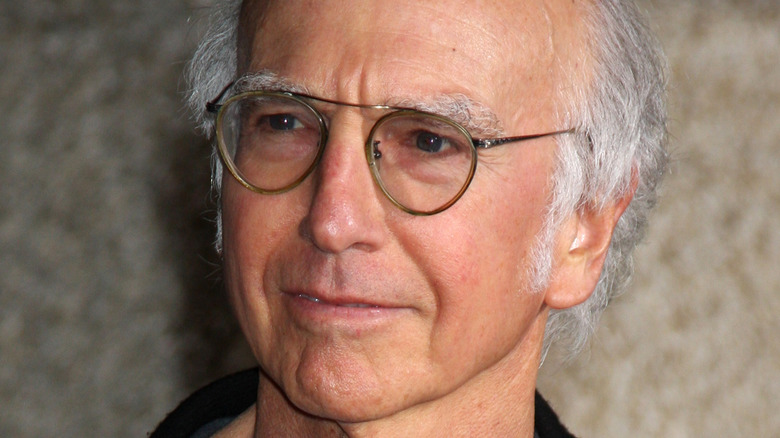 Kathy Hutchins/Shutterstock
There are few series in television history whose legacy cast quite as long a shadow as NBC's iconic sitcom "Seinfeld." After debuting to middling reviews in the late '80s, the groundbreaking "show about nothing," per Rolling Stone, would become one of the biggest hits of the 1990s. It almost single-handedly redefined a sitcom for an entire generation of TV viewers. In the process, it made legit stars of its central cast members, including Julia Louis-Dreyfuss, Michael Richards, Jason Alexander, and Jerry Seinfeld. Seinfeld, of course, co-created the beloved comedy series with his old stand-up pal Larry David. 
David has become a household name in his own right over the years — thanks to the runaway success of his lauded HBO series "Curb Your Enthusiasm." He mainly worked behind the scenes during his various "Seinfeld" tenures and never reached the same level of notoriety. As Jason Alexander argued during a 2014 interview with Larry King, David was the key creative on "Seinfeld" and may have shaped the tone and narrative of the show even more than the titular star. In the years since, David has also proven surprisingly adept as a comedic actor, which has led many to speculate why he never claimed a substantial role on "Seinfeld." As it happens, Jerry Seinfeld recently addressed that subject, and here's what the legendary comedian had to say.
David apparently showed no interest in acting on Seinfeld
During that same Larry King interview, Jason Alexander also conceded his character George Costanza was essentially the on-screen alter ego of Larry David, reinforcing the question of why David didn't play the role himself. There may be a few answers to that question. First and foremost, Larry David has always been candid about his limitations as an actor, even quipping to the New York Post in 2015, "I was inspired to become a comedian because I was a bad actor."
However, in a 2021 interview with "Pioneers of Television," Jerry Seinfeld offered a different take on the subject. He did so after praising David's contributions to "Seinfeld," offering, "He [David] had a lot more ideas than I had about what we should do, and shouldn't do." When pressed on why David never took a role other than the occasional cameo, Seinfeld claimed, "At that time he wasn't really interested in acting," before adding, "We never really talked about that..."
The funnyman further claimed David's duties as "Seinfeld" showrunner were also more than enough to keep him busy. More specifically, Seinfeld notes that had both he and David been on set all day, neither would've been able to properly work with the show's writers and production team, among the many tasks David took point on. Given the amount of praise David has garnered for his work behind the scenes, one has to wonder if "Seinfeld" would've survived had he been acting as well. Then again, David may have been holding out for the right role, which he eventually found playing an absurdist version of himself on "Curb Your Enthusiasm." And we can all agree, that's the role he was born to play.