Kelsey Asbille Says Yellowstone Season 5 Will Redefine Kayce And Monica's Relationship With The Family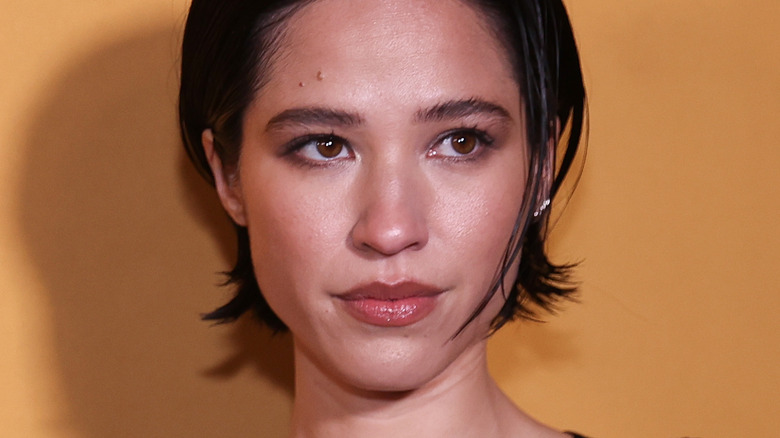 Omar Vega/Getty Images
Taylor Sheridan and the "Yellowstone" writing team have, to date, taken no uncertain pleasure in physically, and emotionally tormenting any and every character they've conjured. And after four seasons of cattle driving, rodeo riding, political maneuvering, and perpetual death-dodging, one might be inclined to hope things are gonna settle down a bit for John Dutton and his beleaguered family. But this is "Yellowstone." And if the first four seasons of the show have taught us anything, it's that things can always get worse for the Duttons.
Of course, as far as the Duttons go, things have been particularly hard for Kayce Dutton and his wife Monica Dutton (played by Luke Grimes and Kelsey Asbille respectively), as they've already survived more tumult than most in their "Yellowstone" narratives. They did, however, seem to be headed toward more peaceful times late in Season 4 when they found out they were expecting their second child. But the tranquility was tempered when Kayce announced he'd seen, "the end of us" during a hallucinogenic spirit quest.
Needless to say, Kayce and Monica are likely looking to make some major changes in Season 5 in hopes of dodging that prophecy. And according to Asbille herself, big changes are indeed on the way for Kayce and Monica regarding the rest of the Dutton family in the new season of "Yellowstone."
There are a lot of questions surrounding Kayce and Monica in the new season of Yellowstone
Given all that Kayce and Monica Dutton have already endured in the ongoing "Yellowstone" narrative — and particularly the events of the Season 5 premiere — they're understandably in a pretty dark place. In the wake of that season opener, it's even pretty easy to imagine Kayce's dire warning coming sooner than anyone might've thought. 
For now, the pair are soldiering on, though they did revisit Kayce's warning late in the Season 5 premiere. In doing so, Kayce admitted the doom he saw was the result of choices he's yet to make. And as it stands, the man clearly has some monumental decisions ahead regarding his family. That fact is not lost on Luke Grimes, who recently told the CBS Mornings crew, "He's [Kayce] always between this rock and a hard place," before adding, "That's sort of his storyline and his arc, 'What decision is he gonna make?'"
During the same interview, Kelsey Asbille took matters a step further, implying Monica and Kayce are closer to the brink than ever. "Now we're in a survival movie. It's really, yeah, against all odds," said Asbille. She went on to say the events of the new season will forever alter their place in the Dutton family, stating, "But I feel like this season, it really kind of redefines our relationship to the family, and our part in its legacy." After just one episode, it's obviously too soon to know exactly how. But it should be fascinating to see how Kayce and Monica handle their extended family moving forward.