Carrie Fisher's Improv Skills Left The Cast Of Family Guy Speechless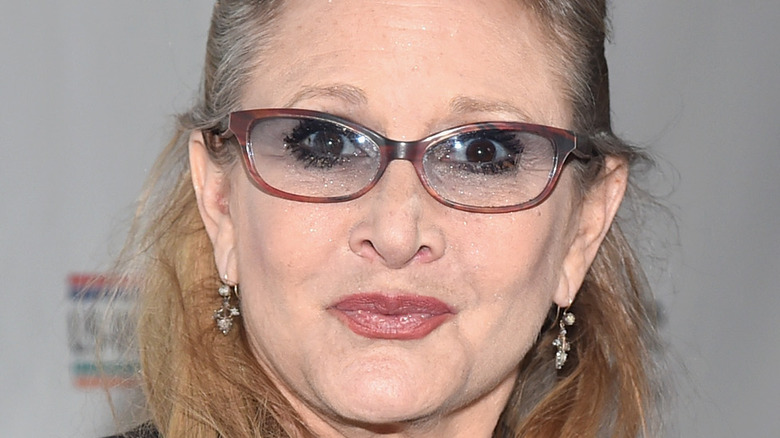 Alberto E. Rodriguez/Getty Images
Carrie Fisher began her career as an actress, becoming iconic as Princess Leia in "Star Wars," but she famously had a way with words. The witty performer wrote several best-selling novels and memoirs, including "Wishful Drinking" and "Postcards From The Edge." Fisher even adapted the latter novel into a film starring Meryl Streep (via Goodreads).
Much of Fisher's work was based on her struggles with bipolar disorder and addiction (via The Daily Telegram). However, Fisher coped by becoming an incredibly witty personality, as she explained to The Daily Telegram: "It's the best alchemy you can do, to take something that's really not funny and make it funny. That takes time and it takes a certain slant."
Beyond the role of Princess Leia and her writing, Fisher also appeared on shows like "30 Rock," "Weeds," and "Family Guy." Here's what the "Family Guy" producer remembers about Fisher's skill with improvising.
If you or anyone you know needs help with addiction issues, help is available. Visit the Substance Abuse and Mental Health Services Administration website or contact SAMHSA's National Helpline at 1-800-662-HELP (4357).
Fisher could make up a hilarious monologue on the spot
Carrie Fisher first appears on Season 4 of "Family Guy" as Angela, Peter Griffin's (Seth MacFarlane) severe supervisor at the Pawtucket Brewery where he works. Fisher was apparently great to work with, and her sharp deliveries were considered a huge part of Angela's character for the producers (via EW).
But what the show's executive producer Steve Callaghan remembers most about Fisher is her spontaneous humor. One day, while she was waiting to record lines, Fisher was flipping through old celebrity magazines and sitting with the show's staffers. The actress spotted an article about her parents, stars Debbie Reynolds and Eddie Fisher. Callaghan says that "she did this really funny, almost monologue where she was reading the article aloud for those of us sitting there, but then pausing to add in her own little quips and annotations of what was written in the magazine" (via EW).
The producer was not just impressed that all of this was "spontaneous," but that he was working with someone who'd grown up around a celebrity lifestyle. Yet it just made Callaghan "even more grateful to realize that we're so lucky to have Hollywood royalty working on our little cartoon."