15 Best Gossip Girl Episodes Ranked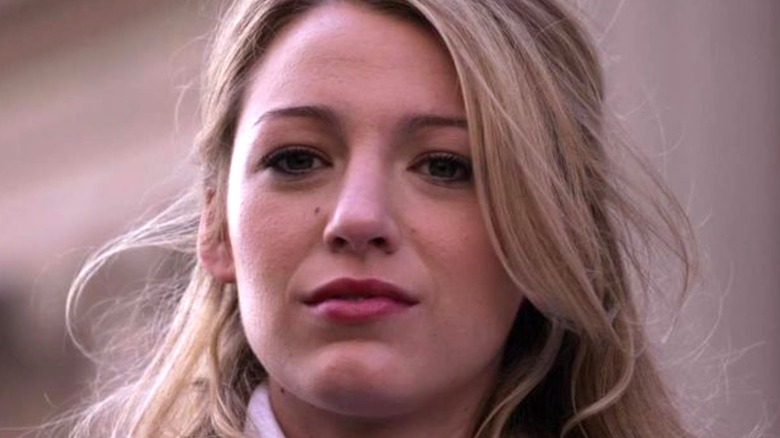 The CW
"Gossip Girl" first premiered on The CW in 2007 to 3.5 million viewers and quickly gained traction, with outlets like New York Magazine dubbing the series "the greatest teen drama of all time" less than a year later. With that kind of reception, it's not surprising that the show was picked up for a further five seasons, eventually drawing to a close in 2012 after 121 episodes.
Within those six seasons, a variety of outrageously dramatic storylines are shown through some of Manhattan's elite... and not-so-elite. The show chronicles the lives of the Brooklyn-dwelling Humphrey siblings, Dan (Penn Badgley) and Jenny (Taylor Momsen), as they become embroiled with rich kids Serena van der Woodsen (Blake Lively), Blair Waldorf (Leighton Meester), Chuck Bass (Ed Westwick), and Nate Archibald (Chace Crawford). "Gossip Girl" follows them from high school to adulthood, depicting the dramatic ups and downs of their lives, friendships, and relationships, while narrated by Kristen Bell as the titular internet troll. From inappropriate affairs and royal relationships to parental issues, fake relatives, and scheming con artists, this show has it all.
"Gossip Girl" remains just as popular over a decade on from its series finale. And while the 2021 reboot has undoubtedly pointed out some of its glaring errors, there's a reason it is still so beloved. We've compiled the top 15 "Gossip Girl" episodes of all time, so sit back and enjoy the nostalgia.
15. Juliet Doesn't Live Here Anymore (Season 4, Episode 8)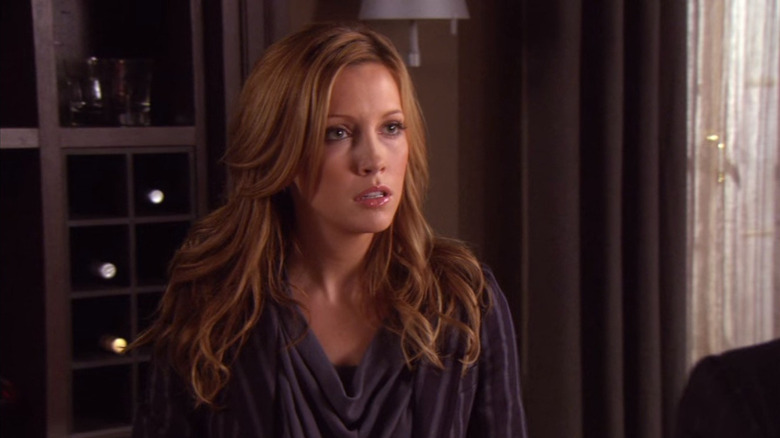 The CW/Netflix
One of the best things about "Gossip Girl" is the myriad of impressive guest stars it featured. From Michelle Trachtenberg and Willa Holland to Hilary Duff and Sebastian Stan, there is no shortage of A-listers on the show. After Holland bagged a recurring role in Seasons 2 and 3 as Agnes Andrews, a model who successfully interferes in Jenny's life, her "Arrow" castmate Katie Cassidy joined the show to do the same thing to Serena. Cassidy plays Juliet Sharp who first appears in the Season 4 premiere, catching Nate's attention at a restaurant. The subsequent episodes build toward "Juliet Doesn't Live Here Anymore," which sees her intent on destroying Serena. To do that, she takes photos of her cousin Colin Forrester (Sam Page) kissing Serena, who is his student at Columbia.
In true "Gossip Girl" style, the episode leads to a glitzy event where plotlines come to a head. Nate finally learns that Juliet has been lying to him, and after Blair stops her from telling the Dean about Serena and Colin's relationship, he kicks her to the curb. This episode is a perfect demonstration that, despite everything, Blair, Serena, Nate, and Chuck always have each other's backs. By targeting Serena, Juliet has attacked them all and they retaliate by banishing her from Columbia. Of course, Juliet doesn't give up that easily and forms an unlikely alliance with Vanessa (Jessica Szohr) and Jenny, which comes to a head three episodes later.
14. Inglourious Bassterds (Season 3, Episode 17)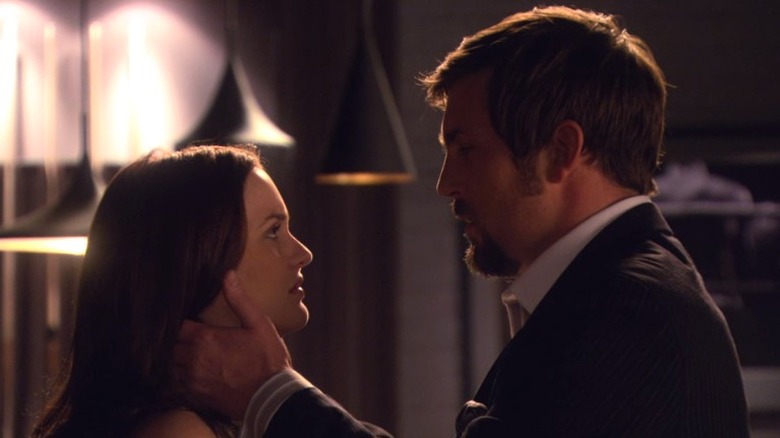 The CW/Netflix
Chuck goes through a character transformation within the first three seasons. Viewers are first introduced to him as a drug-loving playboy, however, when we catch up with him in Season 3, he's in a committed relationship with Blair and successfully living up to the Bass legacy by running The Empire Hotel. Unfortunately, Chuck's new life starts to come crashing down when his alleged mother, who is now known as Elizabeth Fisher (Laura Harring), conspires with her lover Jack Bass (Desmond Harrington) to steal the hotel out from under him. "Inglourious Bassterds" continues the events from the previous episode ("The Empire Strikes Jack"), which saw Chuck's uncle kick him out of the hotel and make his nefarious intentions known.
Just when you think Jack can't get any worse, he propositions Blair, convincing her the only way Chuck will get his hotel back is if she spends the night with him. Conflicted, Blair reluctantly agrees, making sure Jack signs the hotel back over to Chuck before anything happens. However, instead of claiming his prize afterward, Jack drops one last bomb on Blair and Chuck's relationship, revealing that he and his nephew had concocted this plan behind her back.
While Blair and Chuck are on the verge of a breakup, Nate and Serena manage to make up during the Waldorf's party. Despite Jenny's meddling, they go upstairs together, while Little J leaves with Eric (Connor Paolo), and Chuck and Blair retreat to their own quarters.
13. The Debarted (Season 3, Episode 12)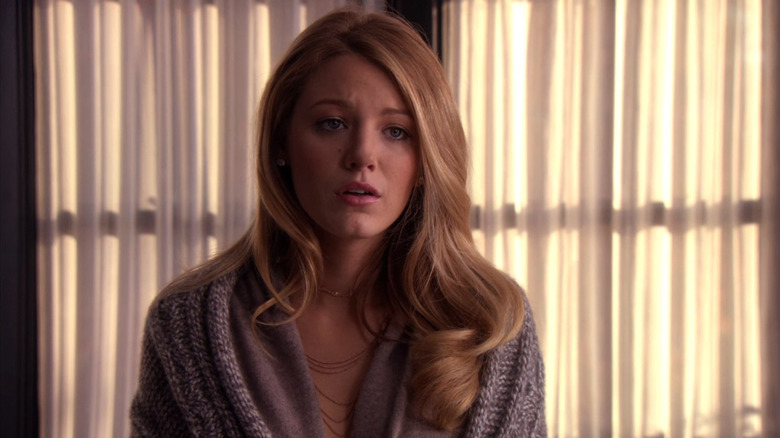 The CW/Netflix
The 55th episode of "Gossip Girl" is a particularly dramatic one. It begins with Serena and her married lover Tripp van der Bilt (Aaron Tveit) arguing and getting into a car crash. The episode then skips back to earlier that day, portraying the aftermath of the previous episode, ("The Treasure of Serena Madre"), which revealed their affair. They run away together, but from the moment Serena talks about their new lives together, it becomes clear they're not on the same page. Hoping for an easier option, Tripp goes crawling back to his wife for a solution. Maureen (Holley Fain) comes up with one — she gets him in public, while Serena can have him in private. However, Serena refuses the offer, packs up, and tries to leave.
Tripp's pleas and bad judgment lead to the aforementioned car accident. Tripp, afraid to be caught in a compromising position, calls Maureen again and they move Serena to make it look like she was driving alone. Thankfully, Nate knows what kind of behavior to expect from his cousin and is on his way to Serena when he finds her and accompanies her to the hospital, showing how much he loves her.
Elsewhere in "The Debarted," Lily (Kelly Rutherford) has been trying and failing to tell Rufus (Matthew Settle) that she lied about being with her ex, but she gets distracted by Serena's accident and Maureen gets there first. Meanwhile, Chuck wrestles with the anniversary of his father's death.
12. Riding in Town Cars with Boys (Season 5, Episode 10)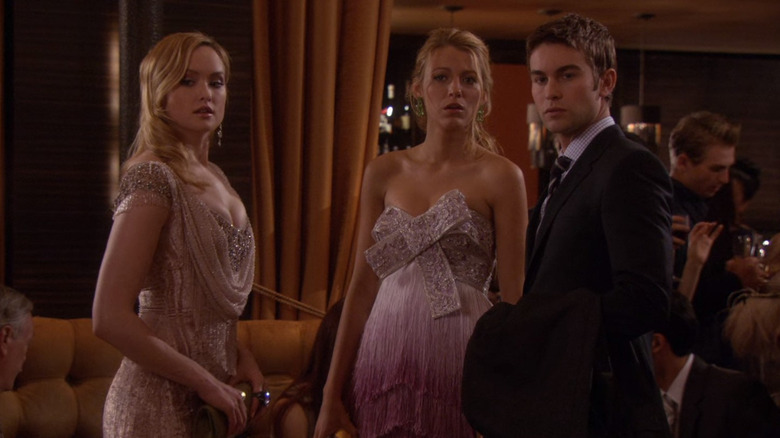 The CW/Netflix
Ivy Dickens (Kaylee DeFer) isn't the first con artist Serena and her friends encounter, but she is the first to pretend to be a member of the van der Woodsen clan. Ivy first arrives in Season 4, Episode 18 ("The Kids Stay in the Picture"), claiming to be Serena and Eric's long-lost cousin-slash-sister Charlotte "Charlie" Rhodes. Her lie is made all the more believable because she has the support of Carol (Sheila Kelley). By Season 5, Episode 10, Ivy has everyone fooled and Lily throws her a party to introduce her to New York society, but her ex-boyfriend threatens to ruin it all.
The episode also deals with Blair, Chuck, Dan, and Serena's romantic lives. Blair, who is engaged to Louis (Hugo Becker) and pregnant with his child, is having doubts about their relationship. Dan offers her a place to hide out while she weighs her options, not realizing that he is trying to tell her about his feelings for her. Meanwhile, Serena's jealousy gets the better of her, and she tries to help Louis reconnect with Blair. In the end, Blair chooses Chuck and they plan to run away together. To distract the paparazzi who are after Blair, she and Chuck leave in one car, and Nate in another as a decoy. The episode culminates in a tragic accident, Charlie admitting her deception, and Jack's mysterious phone call to Diana, which foreshadows the dramatic revelation that she is his real mother.
11. Woman on the Verge (Season 1, Episode 17)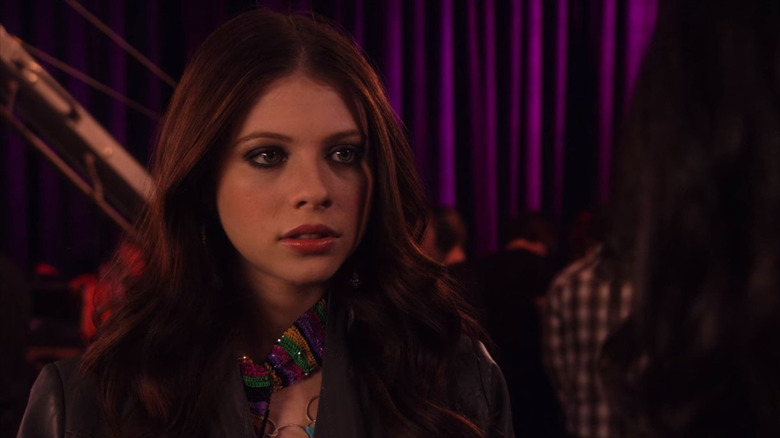 The CW/Netflix
There is so much going on in the first season of "Gossip Girl," but really, it is all about Dan and Serena's relationship. In fact, by Episode 5 ("Dare Devil"), the pair are officially together. Between then and "Woman on the Verge," Dan and Serena have weathered several storms, shared holidays, and slept together for the first time. However, the return of Serena's old party friend a few episodes earlier, Georgina Sparks (Trachtenberg), has caused a rift in their relationship. In this episode, secrets are finally revealed, but not before more lies are told. Serena falsely admits to Dan that she cheated on him, not wanting to tell him the actual truth of what happened the night before she left for boarding school. Heartbroken, Dan leaves and seeks comfort from his new friend Sarah, who is actually Georgina.
Back at the Waldorfs, Serena explains everything to her friends, telling them how Georgina planned to make a sex tape of her and their friend Pete (Elan Moss-Bachrach), but he overdosed before anything happened between them. The episode is played out in flashbacks, switching between Serena's past involvement with Georgina and Dan's date with her in the present. The episode ends with Dan and Georgina kissing, setting up a huge fallout in the season finale as Serena explains the truth to Dan and who Georgina really is. However, the damage is done and they end up breaking up anyway.
10. Valley Girls (Season 2, Episode 24)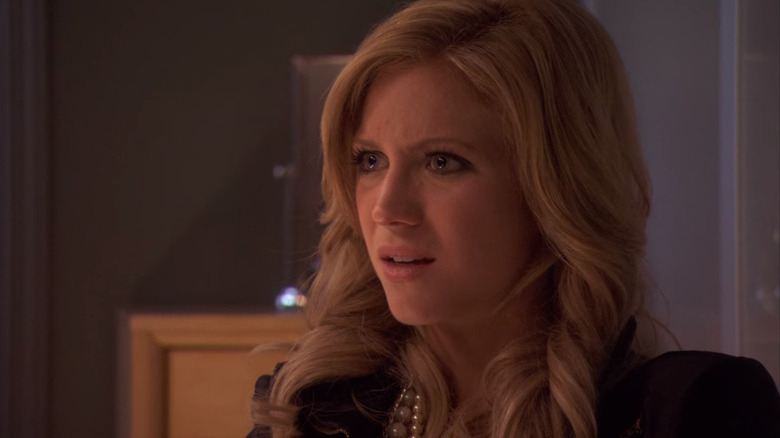 The CW/Netflix
"Gossip Girl" is a show about Manhattan's elite — from entitled trust funders to the people who raised them — like Serena's mom, Lily van der Woodsen. However, before she was New York royalty, Lily and her sister Carol were just ordinary people living in Los Angeles. "Valley Girls" is a rare glimpse into their teenage lives, with Brittany Snow and Krysten Ritter playing Lily and Carol, respectively. The two girls couldn't be more different and yet their scenes together show that they always had each other's backs.
As the past plays out in flashbacks, we can clearly see it is a stark contrast to Lily's present life. "Valley Girls" shows off her young rebellious side, something she's currently trying to quash in Serena. The two timelines prove that the apple doesn't fall far from the tree. The episode also introduces the mysterious character Keith van der Woodsen (Matt Barr), who is assumed to be some kind of relative of her future husband William (William Baldwin).
Unfortunately, this was never really explained in "Gossip Girl" as the episode was meant to be a backdoor pilot for a Los Angeles-based prequel that would have followed Lily and Carol during this time in their lives. However, The CW never went ahead with the show. The episode comes full circle though, as it begins with Serena in jail and ends with Lily in jail in 1983.
9. Victor/Victrola (Season 1, Episode 7)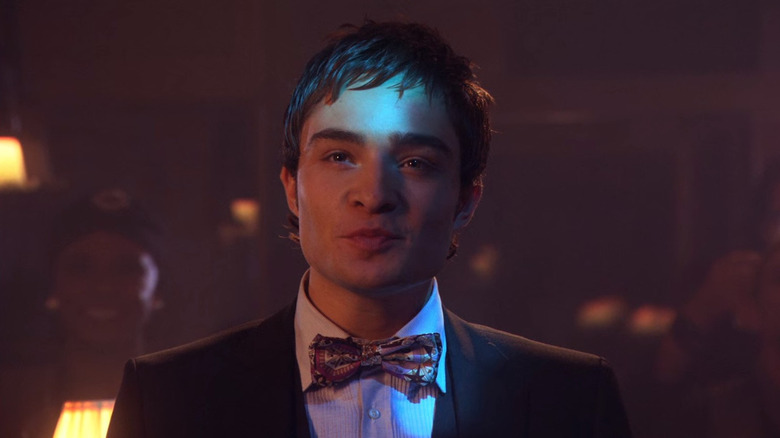 The CW/Netflix
The first six episodes of Season 1 are chocked full of drama, scandal, and unexpected twists, but none are as dramatic and steamy as "Victor/Victrola." It begins in the show's signature flash-forward style, teasing the episode's climax where we see Blair dancing on a stage in lingerie while Chuck watches on awestruck. It then flips to the previous day, showing a completely different interaction between Chuck and Blair. The pair are checking out the same club, Victrola, which Chuck hopes to buy with the backing of his dad, Bart Bass (Robert John Burke). Blair is preoccupied with her relationship with Nate, though, and she later discovers that he accidentally confessed his feelings about Serena to Jenny in the previous episode ("The Handmaiden's Tale"). 
A tense family dinner between the Archibalds and the Waldorfs the following day leads to Nate's father Howard (Sam Robards) being arrested and Nate and Blair breaking up after he fails to tell her that he loves her. Devastated, Blair gets into a car and goes to meet Chuck at Victrola. There, after drinking too much alcohol, Blair's aforementioned burlesque dance takes place and one thing leads to another in the back of Chuck's limo afterward. But while things between Blair and Chuck are speeding up, Dan and Serena decide to take it slow. And, just as long lost loves Lily and Rufus start to reconnect, Jenny embarks on a journey to bring her mom home.
8. The Revengers (Season 6, Episode 9)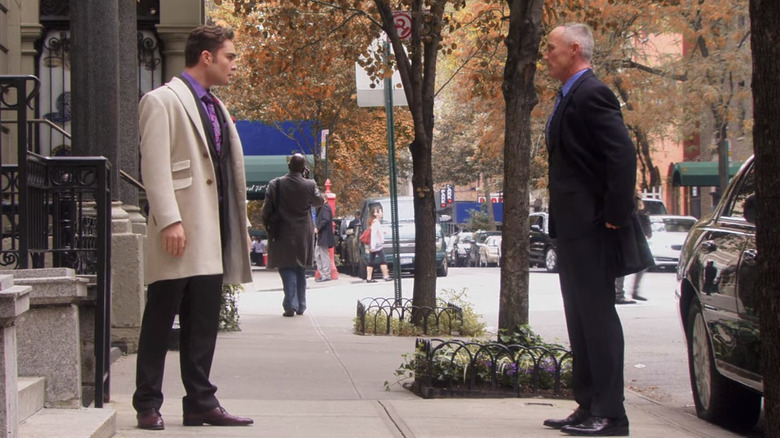 The CW/Netflix
"Gossip Girl" gives its recurring characters and guest stars a lot of room to breathe and develop their storylines, but none more so than Bart Bass, who literally returns from the dead. In Season 5's "The Fugitives," Bart claims that he had to go into hiding to save his family from one of his enemies, who Chuck later has arrested. However, when Bart returns, it quickly becomes clear he had no intention of working alongside his son and cuts him out of Bass Industries.
By the show's penultimate episode, their feud has reached its climax. This episode largely focuses on Bart, Chuck, and Blair. Bart blackmails Chuck into leaving New York and going to Moscow by threatening Blair's safety. Eventually, he concedes and says goodbye to Blair before boarding the Bass Industries jet.
That evening, Blair, Serena, Nate, and Dan attend a party honoring Bart, with Dan set to introduce him as his personal inspiration and the center of the Bass family, but he instead welcomes Chuck to the stage. Chuck tries to explain that his father attempted to have him killed, but Bart has him removed and finishes his speech. Later, he corners his son on the roof of the building, but one wrong misstep leaves Bart dangling over the edge, while Chuck and Blair get away safely.
7. Pret-a-Poor-J (Season 2, Episode 8)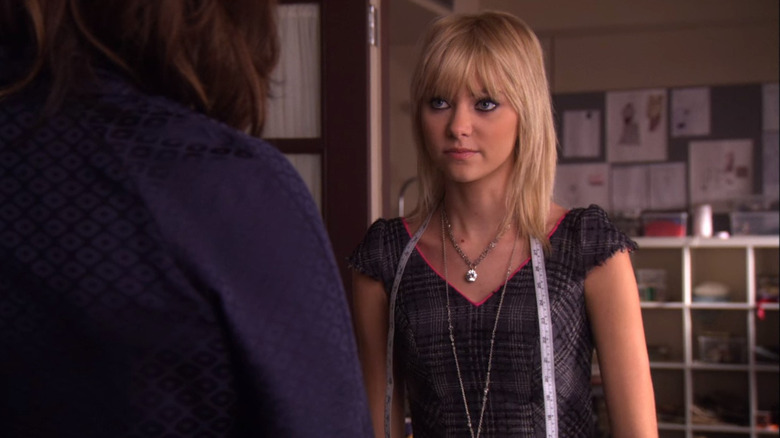 The CW/Netflix
Jenny may not have always been the most likable character in town, but this episode proved that Little J had some morals in the beginning. While working at Eleanor Waldorf's (Margaret Colin) atelier, Jenny befriends a young model named Agnes (Holland) who helps her see that Eleanor is taking advantage of her designs. Jenny takes back the dresses that she made for Waldorf Designs and agrees that she and Agnes will strike out on their own. However, Agnes is older and more experienced than Jenny, which leads Jenny to get into an out-of-control party scene with Agnes and her boyfriend, Max (Wade Allain-Marcus). Of course, Nate, being the protective guy that he is, goes to rescue her before admitting that he cares about Jenny as more than just a little sister.
Elsewhere in the episode, Chuck rebuffs Blair's continued efforts to seduce him because she won't tell him that she loves him first. Unsure of her feelings, Blair confides in Serena and Dan, with the latter offering her somewhat sage advice. However, when things blow up between Chuck and Blair, Dan admits that he failed to help them on purpose because of their past transgression against Vanessa (Szohr). Serena scolds him, but they make up after he gives his blessing to go out with Aaron (John Patrick Amedori), one of the artists Rufus represents.
6. Last Tango, Then Paris (Season 3, Episode 22)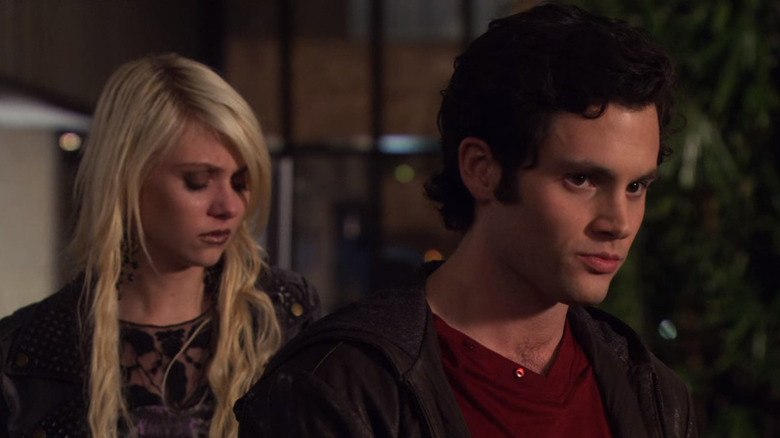 The CW/Netflix
In Season 2, Jenny's character is a sweet doe-eyed schoolgirl who crushes on Nate and dreams of being popular, but by the end of Season 3, she's taken a turn. She goes mad with power as Constance's new queen and gets involved with Damian Dalgard's (Kevin Zegers) drug dealing side hustle. In this episode, Dan and Rufus finally concede that she's completely out of control.
It reaches its climax when Blair realizes she loves Chuck and goes to meet him at the top of the Empire State Building, but at the same time, Dorota (Zuzanna Szadkowsk) has her baby and she can't leave, unbeknownst to Chuck. Devastated, he returns to his suite at The Empire where he finds Jenny and they sleep together. However, it's not long before Blair arrives to explain why she was waylaid and that she planned to meet him all along. "Gossip Girl" couldn't possibly leave a season finale on a happy note, though, and while visiting Dorota at the hospital, the truth about Chuck and Jenny's relationship comes out, culminating in Dan punching Chuck, and Blair banishing Jenny from Manhattan.
One week later, Blair and Serena are set for a summer in Paris, while Dan plans to follow Serena and tell her how he feels, but a pregnant Georgina shows up before he can. Then, in Prague, Chuck is robbed and shot while exiting a bar, and the episode fades out as he's left bleeding on the street.
5. Double Identity (Season 4, Episode 2)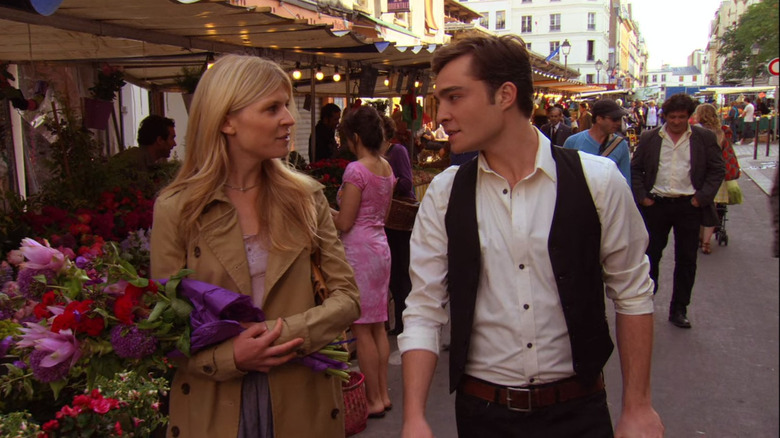 The CW/Netflix
"Double Identity" continues to sift through the fallout of the dramatic Season 3 finale, establishing completely new relationship dynamics. Blair has already moved on from Chuck and is dating Louis, who is the prince of Monaco. Meanwhile, Serena is trying to decide between Nate and Dan, but her romantic interests are put on hold when she receives a call to identify a body that could be Chuck. Although it isn't him, Serena makes it her mission to find out what happened and tells Blair that he might be in real danger.
Although Blair is dubious, they eventually learn that he was shot and track him down at a train station. Blair tells him that he will always be her friend and asks him to come back to New York, but he says he wants to start a new life with Eva (Clémence Poésy) and put the old one behind him. However, he eventually realizes he can't change who he is and asks Eva to go home with him.
Back in New York, Nate encourages Vanessa to give it a go with Dan, who is now a solo parent to Milo, while he uses Juliet to try to make Serena jealous. When Serena finally returns, she's shocked to see that so much has changed and disappointed to learn that Nate and Dan took the choice out of her hands.
4. G. G. (Season 5, Episode 13)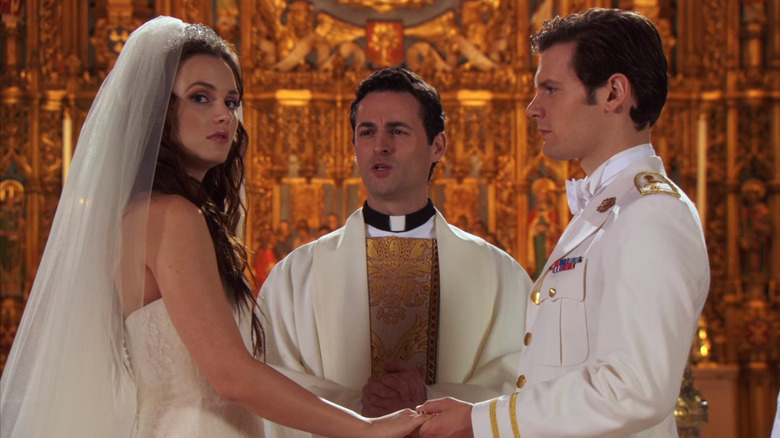 The CW/Netflix
In the highly anticipated 100th episode of "Gossip Girl," Blair makes a life-changing decision. In "G. G." she is set to marry Prince Louis, having taken her miscarriage in Episode 10 as a sign that she and Chuck aren't meant to be. Instead, she commits herself to Louis and converts to Catholicism for him. They go ahead with the wedding, even after Chuck begs her not to, and Blair becomes the Princess of Monaco. After all the chaos of the day, Blair is thrilled to finally be married, but while she and Louis are dancing together, he tells her that "from this moment forward there is nothing between us but a contract. Our marriage is all for show."
Moments before this, Serena confesses her love to Dan, who she's been pretending to be in a relationship with. However, Dan's feelings for Blair are as prominent as ever, and he takes the opportunity to help Blair escape from Louis. While the audience is led to believe she's called Chuck for help, it is revealed that she fled the St. Regis church with Dan in a limousine. The episode then ends with one other major twist as Blair and Dan drive off into the night; Georgina is currently controlling the Gossip Girl account.
3. O Brother, Where Bart Thou? (Season 2, Episode 13)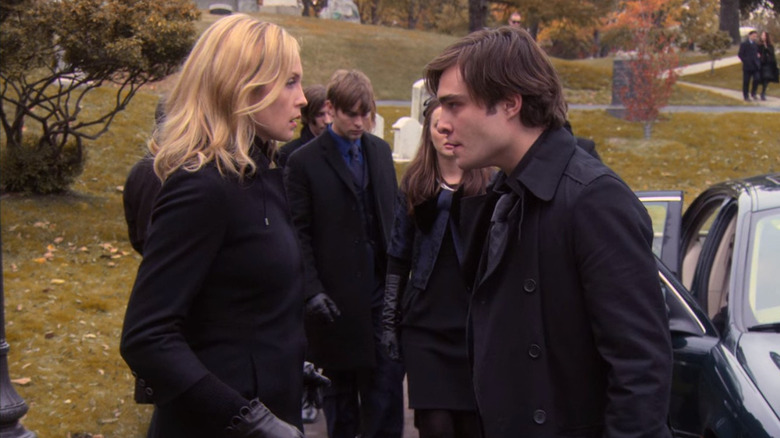 The CW/Netflix
Viewers know by the end of the show that Bart Bass never actually died, but that wasn't the case in Season 2, and in Episode 13 his family holds a funeral for him. Chuck's troubled relationship with his father is at the forefront of this episode, and he turns to alcohol for comfort as he tries to deal with his feelings. Everyone around him is worried, but none more so than Blair. A few episodes earlier, all he wanted to hear from her was that she loved him, so she says so now and promises to be by his side when he needs her. But this darker, grieving side of Chuck can't take it in, and all he has to say is "that's too bad," leaving Blair crying on the street.
Chuck eventually channels his emotions into finding out what his father was doing before he died and discovers Lily's secret: she and Rufus had a love child when they were young, but no one knows about it, not even him. Planning to run away together, Lily and Rufus agree to meet at Grand Central station, but when he arrives to meet her, he's learned the truth and asks if the baby was a boy or a girl before departing. Wanting to give Lily and Rufus a chance to work it out, Serena draws a line in her relationship with Dan and agrees to go away with Aaron to Buenos Aires instead.
2. The Goodbye Gossip Girl (Season 2, Episode 25)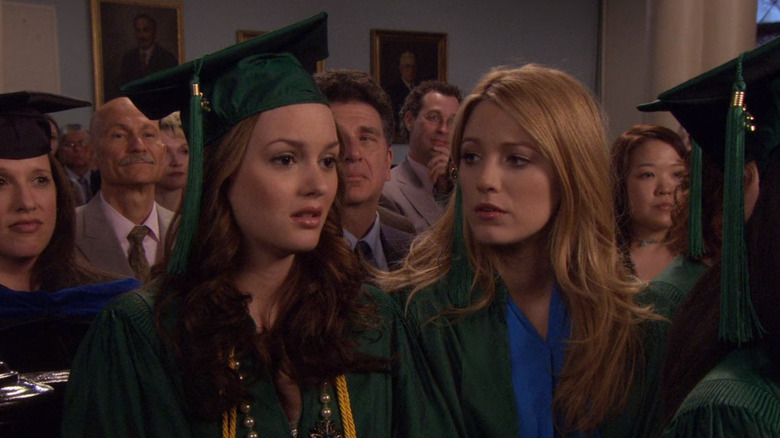 The CW/Netflix
No good moment lasts for long without a dramatic interruption in "Gossip Girl," so it's not a surprise that when Serena and Blair start to celebrate their high school graduation and think they're going to get away from Gossip Girl, she sends out the harshest blast yet. The words of the internet troll cut deep, particularly for Serena who is branded irrelevant, so after a few wrong guesses, she teams up with Nate to catch their high school bully once and for all. Unbeknownst to them, their plan actually works as Dan is the first to walk into the trap that he sent for them, but he pretends to have just seen Serena come in saying he wanted to talk to her.
Toward the end of the episode, Blair, Chuck, Serena, Nate, Dan, and Vanessa start planning for their summers. Nate and Vanessa agree to go backpacking together, while Carter (Stan) offers to take Serena to see her long-lost father. Elsewhere, Blair and Chuck settle in for a summer of love, having finally been able to say those three little words to each other at the same time. Love is in the air for Rufus and Lily, too, as the couple gets engaged. It's not all roses in New York, though, as the arrival of a new face, Scott (Chris Riggi) — Rufus and Lily's secret child — promises drama ahead.
1. New York, I Love You XOXO (Season 6, Episode 10)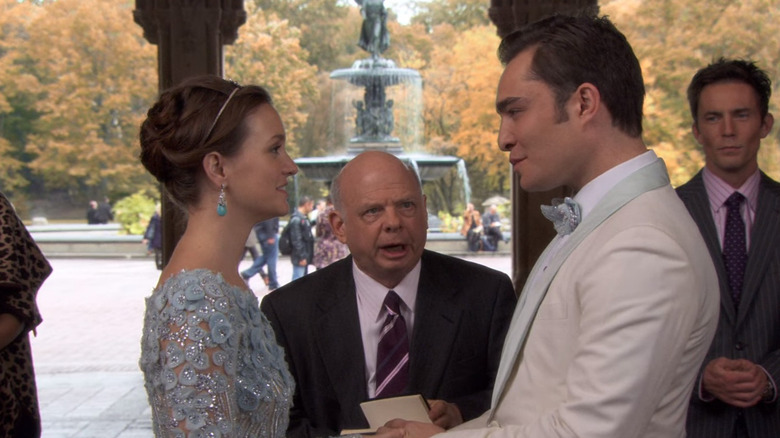 The CW/Netflix
And just like that, we've reached the highest-rated "Gossip Girl" episode: the series finale "New York, I Love You XOXO" which scored a 9.0 rating on IMDb. It follows from the events of "The Revengers," where Chuck and Blair are on the run. It's only a matter of time before he's arrested, so they decide the only logical thing to do next is get married so that she can't testify against him — and because they're in love.
The episode then ties up other remaining loose ends, like the identity of Gossip Girl. With the help of Nate and The Spectator, Dan finally reveals to everyone that he was the one behind the keyboard for the most part. The group sits down to dissect this and, despite their shock, they all agree to move on from Gossip Girl, and Dan and Serena get back together.
Fans were left a little disappointed by the reveal, but the episode doesn't end there. A "Gossip Girl" finale wouldn't be complete without checking in on our favorite Upper East Siders one last time. Five years on, it's revealed that Blair and Chuck have been living happily ever after with their son Henry, and are happy to be celebrating Dan and Serena's wedding, joined by the rest of their friends and family. Outside, new generations of kids go to school and the voice of Kristen Bell as a new Gossip Girl fades into the background.