Gossip Girl Reboot Season 1: Every Easter Egg And Reference To The Original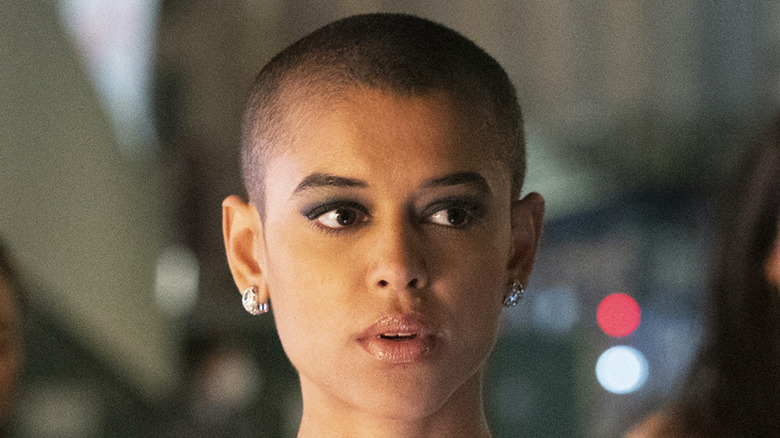 HBO Max
Hello Upper East Siders. Throughout the 2010s, "Gossip Girl" dominated the CW and gave viewers a glimpse into the privileged lives of the Upper East Side elite, living off of old money, martinis, and designer wardrobes. With the original series being left open-ended, it came as no surprise when show creator and executive producer Joshua Safran eventually began making plans to introduce an entirely new generation of private school students dealing with completely new issues in the age of social media and influencers.
While Blair Waldorf (Leighton Meester) might have become revered for asserting her dominance over her subordinates using headbands and high society events like Cotillion, new Queen Bee Julien Calloway (Jordan Alexander) utilizes her social media following to garner respect. As the unpredictable first season of the new "Gossip Girl" comes to a close, fans are clamoring for more from our new Constance/ St. Jude crew.
It would be nearly impossible to revive a show as culturally significant as "Gossip Girl" without any mention of the original, so we decided to gather all the first season's callbacks together. Proceed with caution, as this will contain spoilers for both the original and the rebooted "Gossip Girl." Continue on to discover all the Easter eggs and references to the original "Gossip Girl" found in the reboot.
Fashion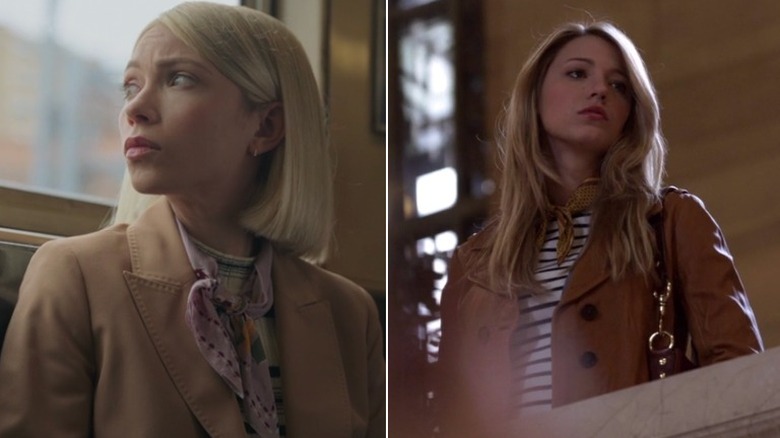 HBO Max
The series opens up on ambitious teacher and aspiring writer Kate Keller (Tavi Gevinson) with a shot that is reminiscent of the opening shot of the original series with Serena van der Woodson (Blake Lively). Kate is seen in almost the exact same ascot, striped shirt, and blazer as Serena, each of them riding the train to Constance Billard private school. This nod to the original series signifies the generational gap between the students and teachers, while exemplifying that our beloved Constance/St. Jude students are now closer in age to the teachers than to the students.
Fashion has long acted as a pillar of "Gossip Girl" and an indication of an individual's wealth and status in society. The reboot shows an understanding of the evolution of New York style, nine years after the conclusion of the original series. Throughout the original, headbands are a symbol of power and influence, predominantly worn by Queen Bee herself, Blair Waldorf, and her minions. However, in 2021 they don't seem to hold the same value and are seemingly not in style anymore. In the first episode, Zoya (Whitney Peak) is seen wearing a headband that is quickly repurposed into a scarf by her socialite half-sister Julien. 
Name Dropping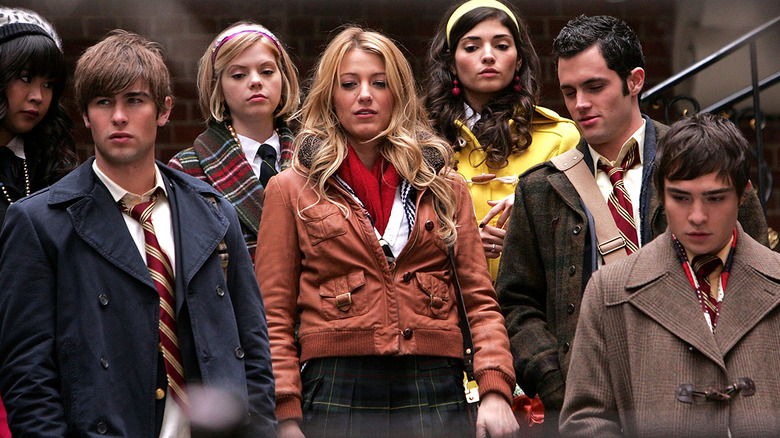 HBO Max
Within minutes of the reboot getting started, Constance/St. Jude teachers begin name-dropping some of our favorite Upper East Siders, giving fans an idea of what they've been up to over the past decade. Kate specifically describes Nate Archibald as one of the shining stars of St. Jude that made her want to teach there, leading fans to surmise that he has continued his success as a journalist, businessman, and possibly even ran for mayor. Dan Humphrey is also mentioned in terms of his infamous Gossip Girl blog, but has now made a name for himself as a successful novelist.
While researching Gossip Girl, the teachers stumble upon the timeline of Blair and Chuck's tumultuous relationship and describe it as "out of control" and clearly "pre-cancel culture." We later learn that Blair is, in fact, still running Waldorf designs under her mother's label while residing in Paris. There is a brief mention of Alec Baldwin having students at Constance as well, which eagle-eyed fans might notice is a clever nod to William Baldwin, who portrayed Serena's father, William van der Woodsen, in the original series.
Character Archetypes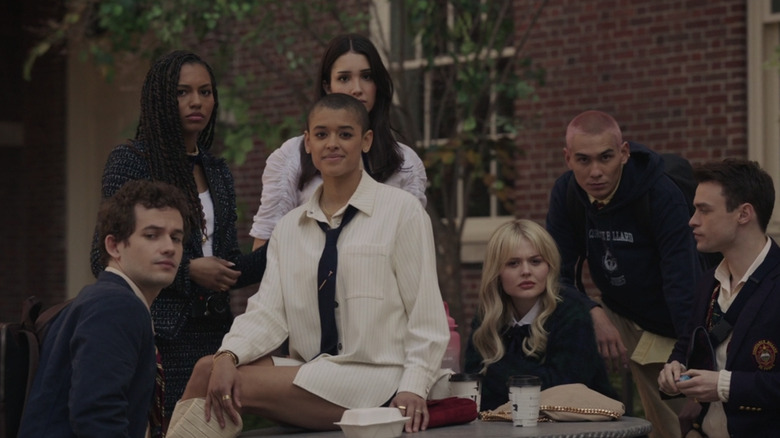 HBO Max
If you felt a sense of déjà vu with the "Gossip Girl" reboot's characters, you're not alone. Joshua Safran admitted to inadvertently modeling the new students' personalities after those of the original, telling TheWrap that "I think that any similarities were not intentional, but also unavoidable because those archetypes exist." The writers were careful, however, to pay homage to the original characters without going overboard.
For instance, Julien shares similarities with Serena, both in wardrobe choices and as the popular "It Girl" who rules the school. The character of Audrey (Emily Alyn Lind) shares parallels with Blair in that they both have mothers in the fashion industry, relationships riddled with infidelity, and share a striking resemblance in their mannerisms. Zoya is considered a mix between Jenny (Taylor Momsen) and Dan Humphrey (Penn Badgley), often being referenced as "Little Z" or "Lonely Z" much like "Little J" and "Lonely Boy." Zoya is an outspoken political activist, much like Dan tried to be. Otto "Obie" Bergmann (Eli Brown) also shares similarities with Dan, but unfortunately not in the best ways. 
Many fans have pointed out Obie's tendency to try to make himself an outsider despite the fact that he is one of the most rich and well-connected members of his entire school. Much like Dan, Obie is hypocritical and often criticizes the life he's entrenched in. Akeno "Aki" Menzies (Evan Mock) is much like Nate Archibald (Chase Crawford) with his prominent family, general cluelessness, and calm demeanor. Max Wolfe (Thomas Doherty) shares an undeniable likeness to the iconic Chuck Bass (Ed Westwick). Not only does he become romantically linked to the Blair counterpart, but he displays an evolved view of fluid sexuality and a love of drugs.
Rebecca Sherman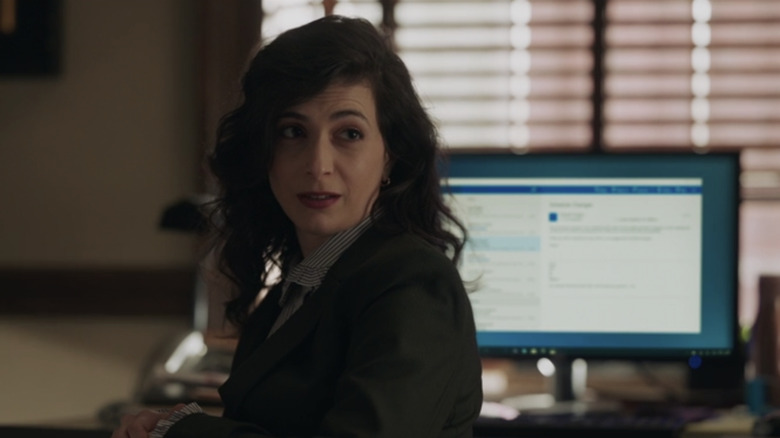 HBO Max
In the first episode of the "Gossip Girl" reboot, the teachers struggle with their lack of control over the privileged students they teach, posing the question: "Who needs an education when you're famous for putting on your makeup?" This in turn leads one of their fellow faculty members, Rebecca Sherman, to share how it wasn't always this bad for the teachers at Constance/St. Jude, and that students used to live under "constant threat" of their secrets being revealed. Rebecca was a part of the class of '09, along with Blair, Serena, Chuck, Nate, and Dan. She mentions that she was one of the students that people thought could be behind the Gossip Girl blog, but it was actually her classmate Dan.
In the Season 2 finale of the original, "The Goodbye Gossip Girl," Blair, Serena, Chuck and Nate are discussing the possibilities of who could be the infamous GG following an explosive graduation. They begin tossing out ideas of different classmates, including none other than Rebecca. Although the character is never actually seen in the original series, this obscure reference is what essentially drives the teachers to resurrect Gossip Girl and reclaim control over their school.
The steps of The Met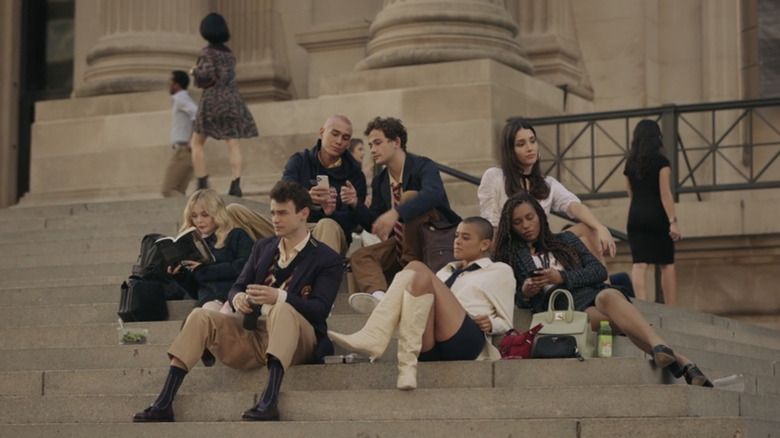 HBO Max
The original "Gossip Girl" took full advantage of the plethora of hot spots that Manhattan has to offer and utilized some of the most iconic New York filming locations. A centerpiece throughout the entire series and reboot is the Metropolitan Museum of Art. The Met steps is the setting where Serena, Blair, and their minions would spend lunch and it often acted as a hierarchy of power, with the Queen Bee placed at the highest step.
Countless memorable moments have taken place on these steps, from a Blair pregnancy scare to yogurt spillage and the Queen Bee herself getting dethroned for a Brooklyn social climber, so it's only natural that Julien and her power posse would ultimately take over the very same steps and claim them as their own. In fact, the steps of The Met is the location where Zoya and her half-sister publicly meet each other for the first time.
Georgina (and Milo) Sparks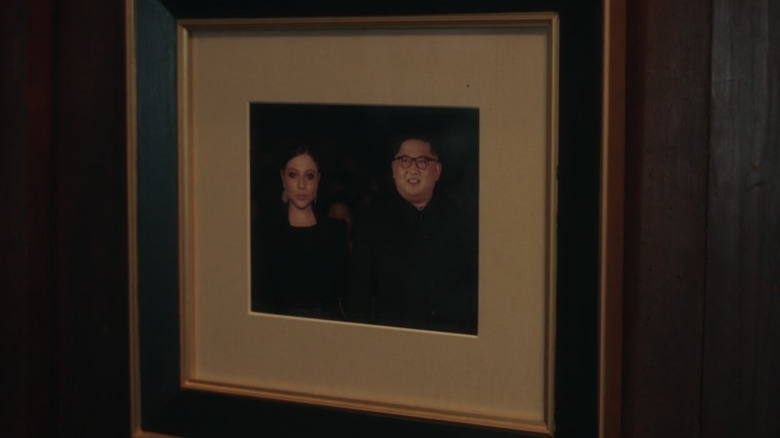 HBO Max
Georgina Sparks, played by "Buffy the Vampire Slayer" veteran Michelle Trachtenberg, will forever be known as the most vindictive schemer in all of "Gossip Girl," terrifying even the most powerful crew in NYC. Fans may recall Georgina popping up in Season 4 with a baby that she claimed to be Dan's son, Milo. Unsurprisingly, it is later discovered that Milo is actually the product of a tryst between Georgina and a Russian man. Viewers were delighted to receive a reference to their favorite resident conspirator in the reboot as Milo bestows his wisdom of warfare on Zoya.
During a revival episode titled "Fire Walks with Z," Zoya and Julien are in the midst of a Blair vs. Serena-esque rivalry when audiences are once again introduced to Milo Sparks (Azhy Robertson), who is now 10 years old and just as calculating and devious as his mother. Viewers receive a glimpse into Georgina's life since Gossip Girl disappeared nine years ago. Her walls are filled with photos of her alongside prominent world figures such as Kim Jong Un, Vladimir Putin, Elon Musk, and Ed Sheeran, all centered around a portrait of Blair Waldorf. Showrunner Joshua Safran explained in a discussion with TVLine, "The idea that Georgina has a shrine to Blair in her house is just so much fun. Of all these people she's around in her life, her target is still Blair. She has to see Blair's face every day to energize her. Or to be inspired to do evil."
Nelly Yuki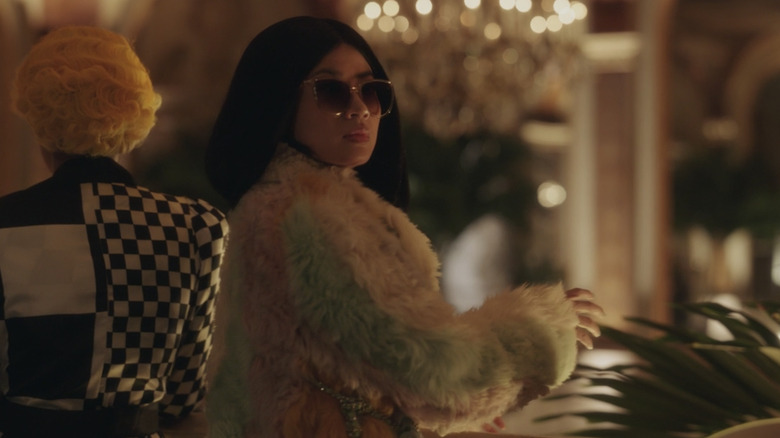 HBO Max
Diehard "Gossip Girl" fans will never forget Nelly Yuki (Yin Chang) and her rise to the top. She began as a wide-eyed academic with her heart set on Yale, making her an automatic adversary to Blair and her life goals. Following years of hazing and plotting at the hands of Blair and her crew, Nelly somehow escapes her grasp. With Blair's scheming comes her tendency to self-sabotage, which is what ultimately leads to Yale rescinding Blair's early acceptance and awarding it to Nelly instead. Nelly returns in the Season 6 episode "High Infidelity" as a reporter for Women's Wear Daily who is tasked with breaking the news of Blair taking over Waldorf Designs.
In the 2021 "Gossip Girl" reboot, Nelly makes a surprise reappearance in a moment that delighted long-time fans. It turns out Nelly is a family friend of the Bergmanns and was brought to a Halloween party at the request of Obie, in order to prove to Zoya that her new friend Simon (Mason Versaw) was, in fact, just using her for a story. Naturally, Nelly has managed to rise through the ranks and become an editor for New York Magazine. She also appears to have grown past the childish days of Gossip Girl and encourages Obie to do the same.
Zoya and Julien dressing up as Chuck and Dan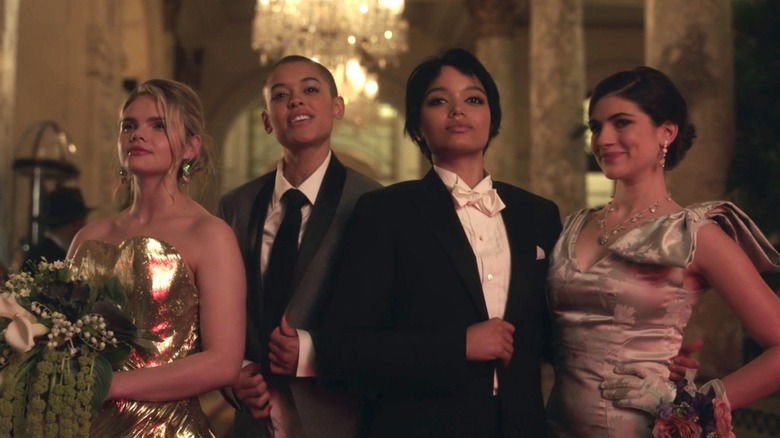 HBO Max
At the same costume party attended by Nelly Yuki, viewers receive a huge Easter egg relating to the original series. In episode 5, "Hope Stinks," half-sisters Julien and Zoya are attempting to rehabilitate their damaged reputations following an unsuccessful joint party. In order to display a united front, they decide to dress as famous sister duo, Beyoncé and Solange Knowles — specifically from the night of the infamous elevator fight with Jay-Z.
After arriving to the party to find that everybody had hijacked their costumes, Zoya and Julien decide to make a last-ditch effort to win the contest. Pippa (Ella Rubin) and Bianca (Katherine Reis), two frenemies from a different school, arrive in some memorable Serena and Blair outfits from the original series. As everybody should know by now, "Gossip Girl" loves a public takedown, so in order to interfere with Pippa and Bianca's victory, Julien and Zoya manage to put together last-minute costumes inspired by Dan Humphrey and Chuck Bass, respectively. We even receive the iconic "I'm Chuck Bass" line, delivered perfectly by Zoya.
Thanksgiving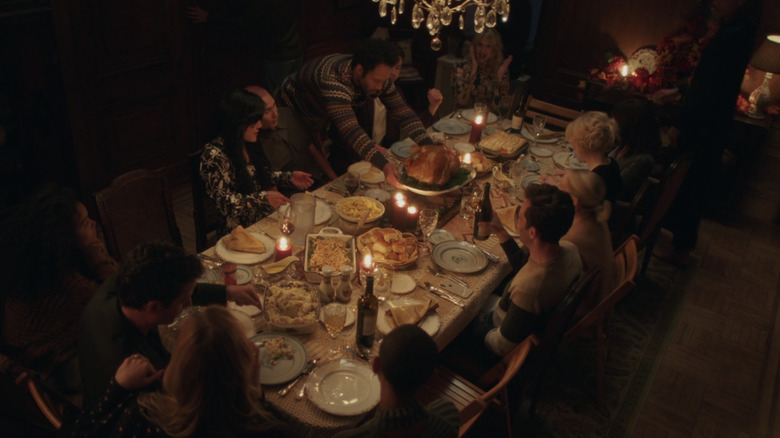 HBO Max
Thanksgiving episodes of "Gossip Girl" have long been regarded as some of the most drama-packed of the entire series, and the HBO Max reboot is no exception. When it returned to television screens for its second half of the first season, fans were thrilled to see that the first episode back would be set and released on Thanksgiving. The writers were sure to pay homage to the original GG and how she would use Thanksgiving as her only day off.
One of the most interesting aspects of the "Gossip Girl" reboot is the fact that viewers are clued in on exactly who Gossip Girl is right from the very beginning, leading to an entirely new perspective behind the scenes of the Gossip Girl page runners. In episode 7, "Once Upon a Time in the Upper West," the teachers that now run Gossip Girl decide to take the day off as well, leading the main characters to ultimately spill their biggest secrets themselves. With the dramatics that come along with the holiday episode, fans felt a rush of nostalgia for the original series. Showrunner Joshua Safran explained to Entertainment Weekly, "I feel like we're back in prime "Gossip Girl" territory, where every secret is going to come out in the worst possible way."
Dorota and her family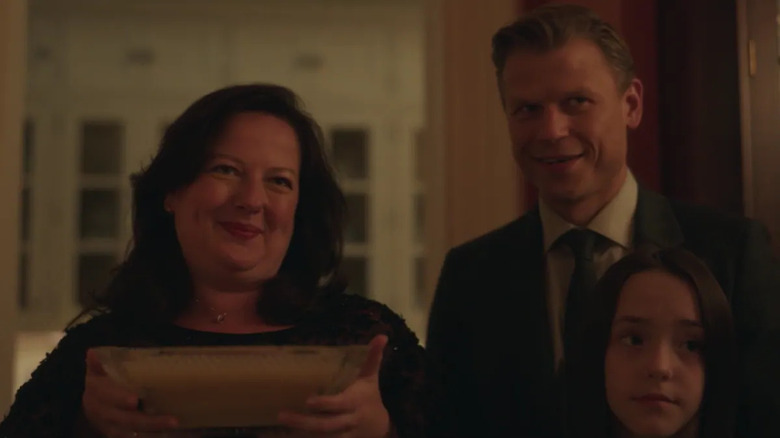 HBO Max
While "Gossip Girl" reboot viewers might not see any of the original crew in Season 1, we were fortunate enough to get a glimpse of what Dorota (Zuzanna Szadkowski) and her family have been up to. In the second half of the season, Dorota attends a Waldorf Hanukkah dinner with her husband Vanya ("Heavyweights" star Aaron Schwartz) and daughter, Anastasia. OG "Gossip Girl" fans will recognize Vanya from his days as the van der Woodsen doorman before falling in love with the Waldorfs' housekeeper. Seeing the preserved relationship between Dorota and Eleanor (Margaret Colin) warmed the hearts of many viewers, who were happy to see her represented as a member of the family rather than just staff.
It appears that Ana has grown up to be just like her mother and has picked up her knack for perfection and doing everyone else's job better than them. She also seems to have picked up some characteristics from Blair, who we can assume was a large part of Ana's upbringing. Not only does she have a sharp eye for high fashion, she's clearly not afraid of a public takedown. As the Calloway family deals with their fall from grace, Ana has no problem twisting the knife as she labels Julien's last-ditch effort to avoid public cancellation "sad."
The Waldorfs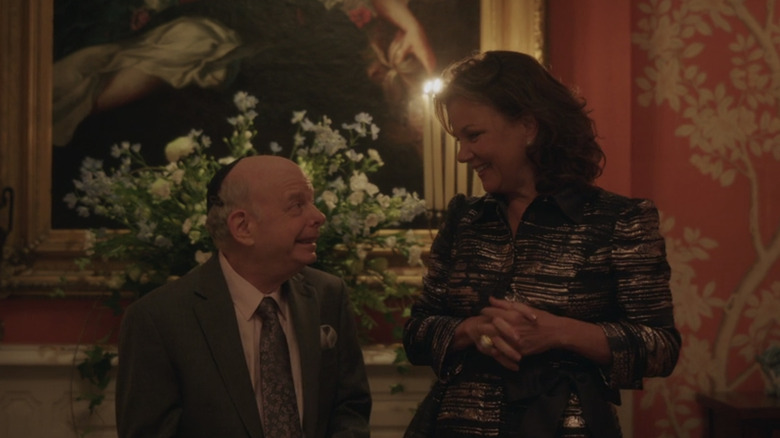 HBO Max
In addition to cameos from Dorota and Vanya, viewers were ecstatic to get a small peek into Eleanor and Cyrus' ("Clueless" star Wallace Shawn) life together since the finale of "Gossip Girl." Unsurprisingly, they're still as happily married as ever and Cyrus has enjoyed a very successful past decade at his law firm, with a home renovation in the works. The writers made sure to slip in the "not enough" phrase that has made Cyrus so memorable over the years.
While this is a happy addition to the revival, many fans have continued insisting on cameos from the original main characters. Safran commented on this intentional decision in an interview with Daily Beast, saying, "The audience would never accept these [new] characters if they were in the shadow of the original characters. They're already in the shadow of the original characters, but if the original characters were there with them in some way, why would you want to briefly get to know Zoya if you suddenly can see Nate?"
Martinis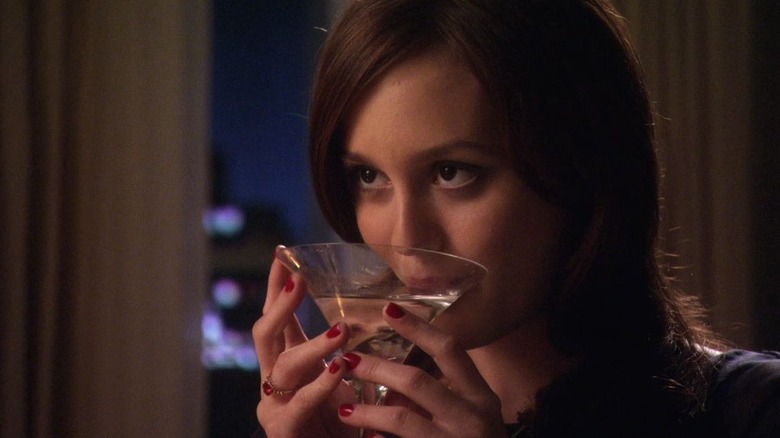 HBO Max
An overarching question that has always loomed over the heads of "Gossip Girl" fans is how the main characters could possibly be able to order alcohol and attend such high-end New York functions as underaged teenagers. This question has boiled over into the reboot as well, with the new generation of Constance/St. Jude students having the same proclivity for alcohol and hard drugs. A quote that perfectly encapsulates this comes from Gossip Girl herself, Kate, when she says "Is it really their fault they inherited power and influence the minute they were born without any examples of how not to abuse it?"
Many fans may recall Blair and Serena's undying love for gin martinis, and it turns out that they remain the "Gossip Girl" drink of choice. In the first episode of the original series, Blair and Serena mend their broken friendship over martinis. Fast forward to the 2021 reboot, and Julien invites Zoya out for on the town for the first time, offering her the exact same drink.