Netflix's You Season 4 First Look Photos Tease Joe's New Life In London
The fourth season of Netflix's "You" is shaping up to be one of its most beguiling seasons yet as the action moves across the seas to London, England. Season 3 of the psychological-thriller left audiences with the assertion that Joe Goldberg (Penn Badgley), who will be going by the name of Jonathan Moore in the new season, will be searching for Marienne Bellamy (Tati Gabrielle). This will be the first season of "You" to be predominantly outside of the United States, giving Joe a new set of international obstacles to navigate while he is outside his element.
Ever the crafty serial killer, things already look promising for the newly named Professor Jonathan Moore as he meets the latest slate of characters in one of Europe's most thriving cities. With the first part of "You" Season 4 set to premiere on February 9, 2023, Netflix has released new and revealing photos from the next installment of the popular show. In addition to the new faces, the images tease what Joe's new life will look like.
The new images from You Season 4 depict Joe's scholarly career and possible love interest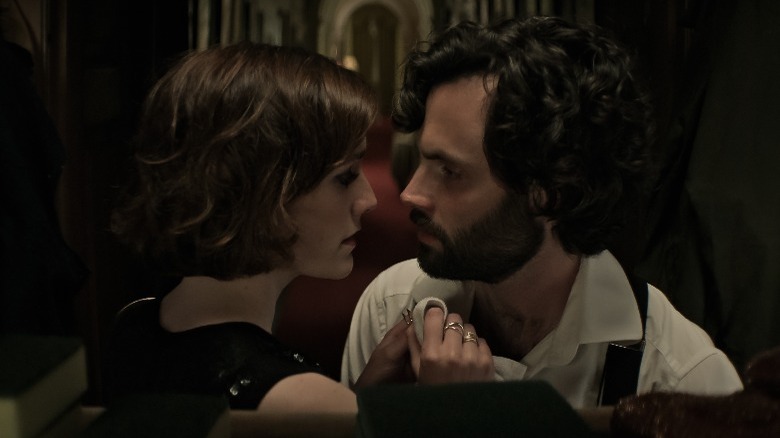 Netflix
Tudum has released several new pictures from "You" Season 4, and one of the most striking images depicts Joe getting close to a character named Kate (Charlotte Ritchie). It isn't immediately clear who she is or how they met, but going by the previous three seasons, one can assume that Joe will use his sociopathic charms to seduce Kate. More photos show off Joe's new occupation as a professor, which comes complete with a beard and a more formal attire.
This makes sense as one of Season 3's unanswered questions was how the character would hide since he is assumed to be deceased. Other new faces are revealed in additional images, including Lady Phoebe (Tilly Keeper), Adam (Lukas Gage), and Nadia (Amy-Leigh Hickman). What part they play remains mysterious, but it can be assumed most or all will cross paths with Joe Goldberg in his guise as an educator. There are a lot of questions yet to be answered about Season 4, especially when it comes to these new characters and their relationship with Joe. All will be revealed with the first part of "You" Season 4, which premieres February 9, 2023, on Netflix.