Why Chainsaw Man's Sarah Wiedenheft Keeps Playing Horned Girls - Exclusive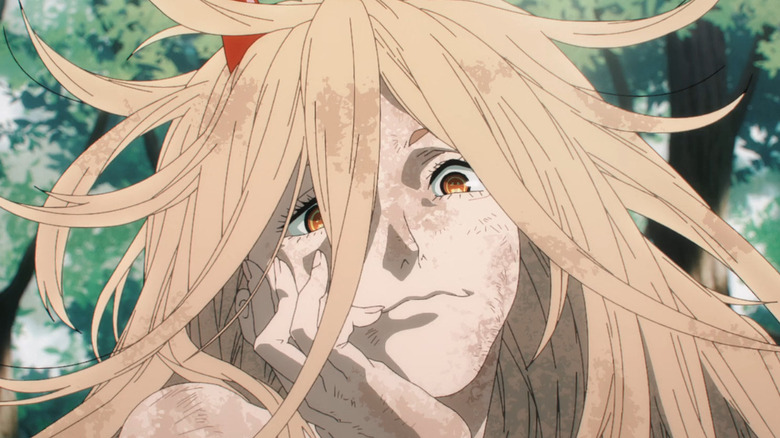 MAPPA
Power, voiced by Fairouz Ai in Japanese and Sarah Wiedenheft in English, is easily one of the most beloved characters in "Chainsaw Man"; according to some character popularity polls, she's the most popular in the series. She's the Fiend form of the Blood Devil, possessing the body of a dead human girl, who has no love for humanity — or really, anyone besides herself and her cat Meowy — but she finds herself fighting alongside the Public Safety Devil Hunters against more dangerous Devils. Though taking on a humanoid appearance, her Devil nature can be seen through her sharp teeth and red horns.
Voicing anime girls with horns seems to be becoming a pattern for Sarah Wiedenheft, who is also the English dub voice of the horned hero Pony Tsunotori in "My Hero Academia" and the dragon Tohru in "Miss Kobayashi's Dragon Maid." Looper got the chance to interview Weidenheft alongside her "Chainsaw Man" co-star Suzie Yeung (the English voice of Makima), and we asked her about this unusual pattern emerging on her résumé.
Comparing Wiedenheft's horned girls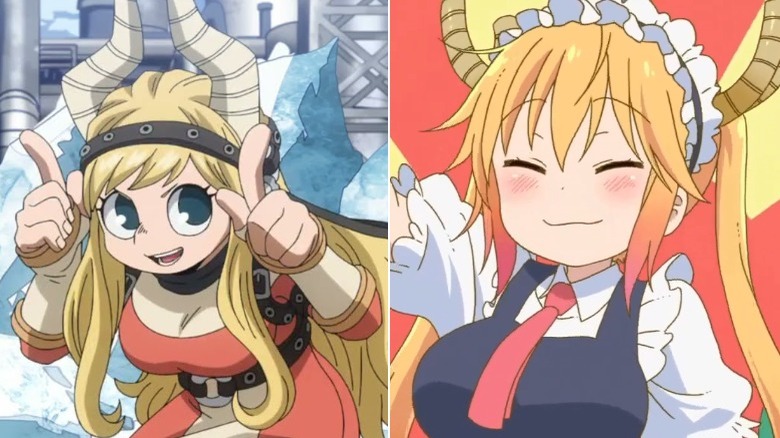 Bones/Kyoto Animation
When asked about the appeal of horned girls, Sarah Wiedenheft quickly joked, "I plead the fifth," before going on to compare and contrast the different horned characters she's played: "They're a little bit different — at least Pony. She does have her moments, though, where she does get a little bit aggressive, but I feel like she's a little bit different from the other ones in that she's less chaotic and more sweet and unsure. Tohru is probably closer to Power than the rest."
"It's interesting that I've been getting a horned maiden lineup," she continued. "I want to say it's [a] coincidence, but after the second one, it's a pattern." Now that she's three characters into this pattern? "Then it's a problem," she said. Though a "problem" it may be, Wiedenheft has proven herself very talented at voicing characters in this niche, so we would not be shocked if more roles like these come her way.
New episodes of "Chainsaw Man" premiere Tuesdays on Crunchyroll.