Why Thorfinn From Ghosts Looks So Familiar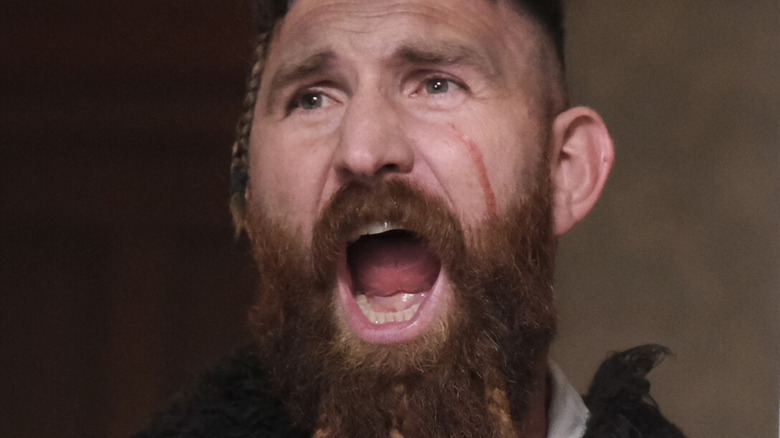 Bertrand Calmeau/CBS
There are a variety of different living spirits on supernaturally-driven shows like "Ghosts," yet Thorfinn is probably the oldest of them on the CBS sitcom. An ancient Viking, Thorfinn was on an expedition to North America nearly 1,000 years ago when, after getting abandoned by his crew, he was killed by a lightning strike. Like the other ghosts now stuck at Woodstone Manor, the passionate warrior now hopes to reach the afterlife and finally rest in peace. In the meantime, he haunts the mansion along with several other spirits, including Flower (Sheila Carrasco), who he develops feelings for, jazz singer Alberta (Danielle Pinnock), and a pair of living residents, Samantha (Rose McIver) and Jay Arondekar (Utkarsh Ambudkar).
The actor who plays Thorfinn only earned his first screen credit in 2011. In the 11 years since, he's appeared in "Ghosts" as well as several superhero shows, and even a feature film helmed by Michael Bay. Let's take a look at where you've seen him before. 
He was a Hydra operative on Agents of S.H.I.E.L.D.
It may not surprise anyone watching "Ghosts," considering his physical stature, that Devan Chandler Long is a former football player. He chose to pursue acting after his brief athletic career ended (via Courageous Nerd).
As confirmed by IMDb, his first screen credits were what he described to Courageous Nerd as "big forehead, big guy stuff." These included "NCIS: Los Angeles," where he was unceremoniously credited as "Henchman," the Showtime dramedy "Shameless," and a scene in "Maron."
One of his first real featured guest roles was on "Agents of S.H.I.E.L.D." as Tat, a Hydra operative who squares off with Melinda May (Ming-Na Wen) in a Season 3 episode of the Marvel Cinematic Universe series. It was also Long's first superhero project, though his intimidating look and size meant it wouldn't be his last. He continued to shoot television guest appearances and short films, including a brief stint on "General Hospital," but in 2017, Long worked with Marvel again in a more high-profile TV role. 
Long played Kincaid on episodes of superhero teen drama Runaways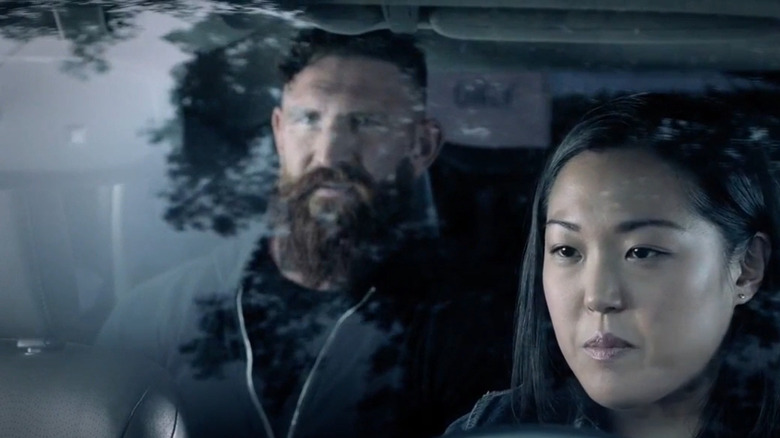 Hulu
For his second guest appearance on a Marvel show, Devan Chandler Long would again play a slightly sinister heavy. This time, however, it was for multiple episodes of the canceled Hulu series "Runaways."
Long portrayed Kincaid, the bearded, impeccably dressed bodyguard of Tina Minoru (Brittany Ishibashi), the morally ambiguous CEO of Wizard. Little is known about Kincaid, but he protects Tina, as well as performs investigative work for her on the side. He's the one who discovers that her daughter, Amy (Amanda Suk), performed a hack into the company's servers.
Rather than immediately telling Tina, the investigator gives Amy a chance to confess first. Kincaid also digs up information about Dale (Kevin Weisman) and Stacey Yorkes (Brigid Brannagh) when they miss a PRIDE meeting.
The character later appears at the Wizard headquarters' PRIDE gala, but he isn't seen again after the first season. Long's next major television role would be on a streaming crime drama.
The actor appeared on Season 5 of Bosch as a ruthless criminal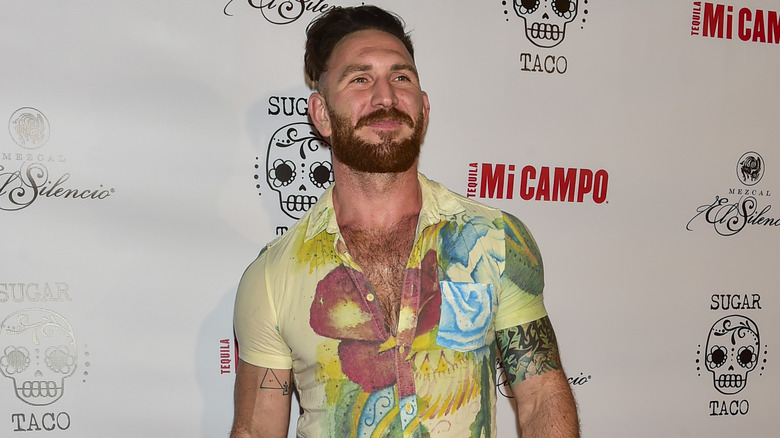 Michael Bezjian/Getty Images
On the Amazon series "Bosch," if you cross the moral line in Los Angeles, there is a good chance that Detective Bosch (Titus Welliver) will find out. One of the perps Bosch is after during Season 5 of the show is criminal Wilbur Hart, played by Long.
Hart and his partner, Stones (Billy Lush), are enforcers for drug kingpin Dalton Walsh (Chris Vance). When two pharmacists stop filling out false prescriptions for him, Walsh orders their execution. However, when things go south for Hart and Stones, and only one of the pharmacists is killed, Bosch is quickly on their trail. The detective then goes undercover as a veteran to scope them out. Eventually, Hart is arrested for murder, thanks to DNA from his ski mask, while Bosch kills Stones in self-defense during a shootout.
Hart was still one of Long's most high-profile roles before "Ghosts," but during the same year — 2019 — he also made his first appearance in the world of DC superhero media.
Long was Flex Mentallo on Doom Patrol
Originally created for DC's "Doom Patrol" comics by Grant Morrison and Richard Case in 1990, Flex Mentallo is a direct parody of the old Charles Atlas exercise ads (via The New York Times). However, unlike other muscular bodybuilders and superheroes, Flex's muscles are so powerful that they can actually alter reality.
The character appeared in the animated series "Batman: The Brave and the Bold," but his first live-action appearance, as played by Long, was on the HBO Max adaptation of "Doom Patrol." In the show's continuity, he is an active crimefighter in the 1960s. However, Mentallo is then imprisoned by the Bureau of Normalcy for decades, until the Doom Patrol frees him along with other prisoners. The amnesiac hero then gets his memory back, but at the cost of losing his beloved wife, Dolores.
Mentallo is nevertheless a kind, good-natured character who later returns to assist the Patrol in Season 2's "Sex Patrol." Long told Courageous Nerd that he loved the part, too: "I'm such a fan of that show. It was an honor to be part of that show."
He was a bank robber in Ambulance
Long's biggest feature film role to date is Michael Bay's 2022 action-drama "Ambulance," about a bank heist gone wildly wrong. Ironically, though, he played yet another henchman in a career full of such characters.
The actor co-stars as one of the men hired by Danny Sharp (Jake Gyllenhaal) to take part in the heist. However, Danny is convinced that Long's character looks like Mel Gibson circa "Braveheart," and insists on calling him "Mel Gibson" for the rest of his screen time. Yet, as the Los Angeles Times' movie review pointed out, "it's particularly baffling given Long looks nothing like Gibson, and is actually a ringer for MMA fighter Conor McGregor." Either way, the actor appears convincing holding a sniper rifle, but his character ultimately meets a violent end along with most of the heist's participants.
"Mel Gibson" may be the last henchman character Long will play for some time. He explained to The Seattle Times that he'd always "loved making people laugh," but "up until now, Hollywood has said my face does not look funny." Now, with "Ghosts," he has a chance to prove that he's as funny as he is physically imposing.