How A Full House Fan Helped The Cast Honor Bob Saget After His Death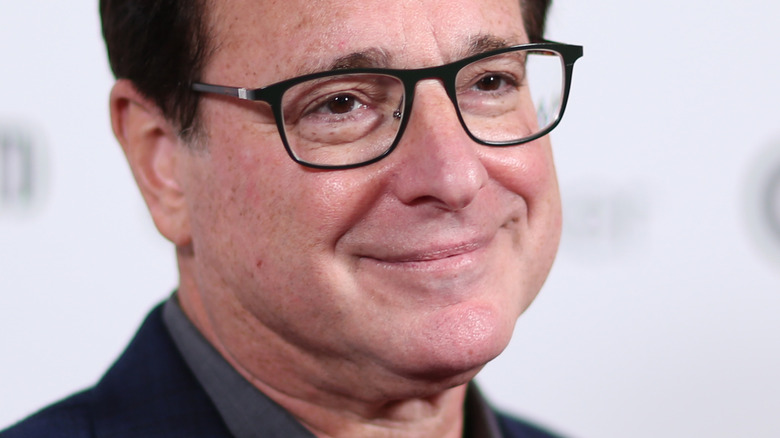 Phillip Faraone/Getty Images
Bob Saget's death in January was absolutely heartbreaking, but a few interesting things have come out of it. Shortly after his death, singer-songwriter John Mayer teamed with visual artist Jeremy Dean and illustrator Maggie Enterrios to put together a hoodie with Saget's name surrounded by blue roses. According to Mayer's Instagram post about the hoodie, the proceeds from all sales go to the Scleroderma Research Foundation, one of Saget's favorite charities. According to People, Bob Saget first started working with the Scleroderma Research Foundation in 1991 when he hosted their Cool Comedy, Hot Cuisine fundraiser. Within a year, Saget's sister, Gay, was diagnosed with scleroderma and ultimately died from complications due to the illness. Saget became even more involved in the Scleroderma Research Foundation after that, joining the board of directors in 2003, but only after making substantial contributions before that.
Similarly, Candace Cameron Bure, who played Saget's daughter for many years on "Full House" and "Fuller House" designed a t-shirt reading "Love like Jesus, hug like Bob Saget," referencing both Cameron Bure's Christian faith and Saget's fondness for hugs. Designed by Erin Noël, the shirts are still for sale, and proceeds also benefit the Scleroderma Research Foundation.
The cast members of "Full House" have their own piece of clothing to remember Saget by: bracelets. The bracelets were unveiled in an interview, and the cast members say that it's little things like this that keep them going after their friend's death.
The cast wore their Bob bracelets to a '90s convention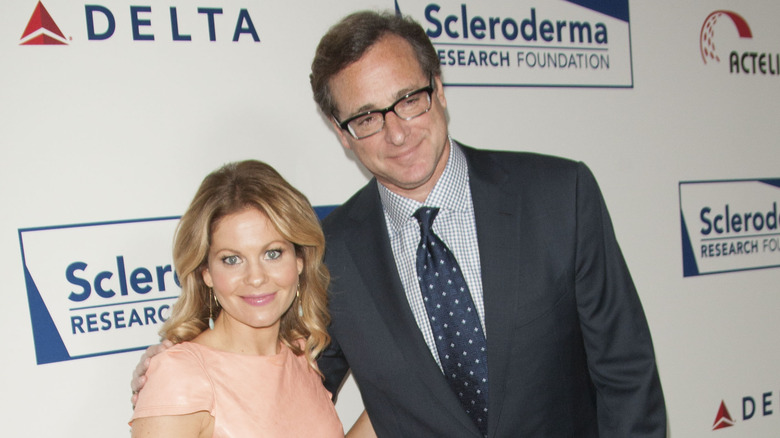 Michael Bezjian/Getty Images
In a 2022 interview with Today at a '90s convention, "Full House" cast members Candace Cameron Bure, Dave Coulier, Andrea Barber, and Scott Weinger unveiled that they were all wearing bracelets that said "Bob" on them, made by a fan as a tribute to the late Bob Saget. "And we decided to wear them today, in honor of Bob," Barber explained about the simple, hand-made bracelets. The cast also admitted that being together following Saget's death made the mourning a little bit easier, with Cameron Bure admitting that they reunited at this convention "for selfish reasons" to be around their television family as they're grieving.
Shortly following Saget's death, the cast member issued a joint statement that multiple cast members, including Cameron Bure, posted to Instagram. In the statement, the cast said "Thirty-five years ago, we came together as a TV family, but we became a real family. And now we grieve as a family. Bob made us laugh until we cried. Now our tears flow in sadness, but also with gratitude for all the beautiful memories of our sweet, kind, hilarious, cherished Bob." In an interview with ET, cast member Jodie Sweetin explained how bittersweet it was to celebrate the 35th anniversary without Saget. "We always like to celebrate these big milestones and every year we think that's one more year that we've all been this extended family. And so we definitely, definitely missed Bob, but we know he was with us. He's always right in the middle. He would never not be the center of attention, I love it." Between the sweatshirt, the t-shirt, and the bracelets, it would seem Saget is still, indeed, the center of attention.