Aubrey Plaza Loves The Theatrical Experience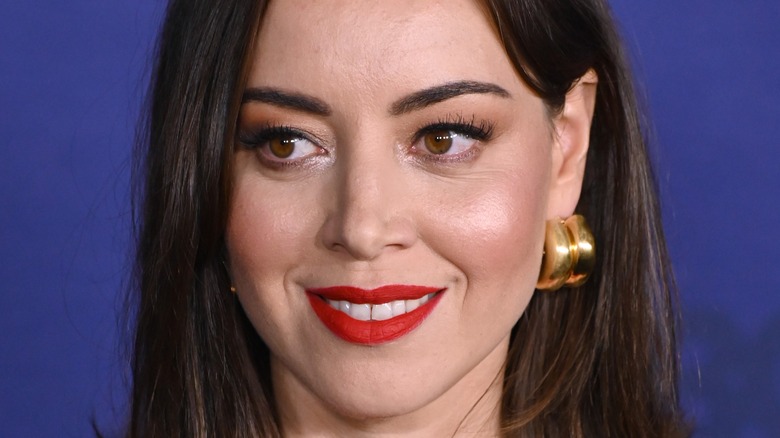 Featureflash Photo Agency/Shutterstock
Aubrey Plaza first gained notice when she played reluctant intern April Ludgate on the 2009 NBC sitcom "Parks & Recreation." However, she's been recognized as a dynamic and formidable screen presence in both television and film. She stalks Elizabeth Olsen's social media influencer in "Ingrid Goes West," plays a frightening parasite tormenting David (Dan Stevens) on "Legion," and nearly romances Kristin Stewart in "Happiest Season."
Plaza continues to be prolific as well, recently telling Deadline, "I've been busy from the minute I moved to Los Angeles. I haven't stopped." She's now starring in the second season of HBO's "The White Lotus" and received critical acclaim this year for the indie film "Emily The Criminal." Plus, the actress is bringing her charisma to the MCU soon with "Agatha: Coven of Chaos."
Plaza may have started primarily as a television actress. However, she explained in a new interview how she believes in the cinematic experience as well.
Aubrey Plaza wants her films to be shown in theaters
In response to a question about the reception of a limited-release movie like "Emily The Criminal," Aubrey Plaza told Deadline, "I'm one of the last people that's kind of waving that theatrical flag. Me, Martin Scorsese and Spielberg, just the three of us."
Directors Martin Scorsese and Steven Spielberg (via Gamespot) have both vocally championed the theatrical experience as movie theaters financially struggle and streaming-only releases for films become more frequent (via Insider). Scorsese even wrote about the subject in The New York Times: "I don't know a single filmmaker who doesn't want to design films for the big screen, to be projected before audiences in theaters" (via Quartz).
Plaza seems to ultimately agree with the "Taxi Driver" director. "I'm romantic about it. I just believe with all my heart that if you make a movie that's undeniably great, people will hear about it and want to see it," she explained to Deadline. Spielberg himself believes that it isn't over for theaters: "I think movies are going to come back. I really do" (via Gamespot).