Dungeons & Dragons Honor Among Thieves' Official Poster Fails The Vibe Check With Fans
One of the most anticipated films slated to premiere in 2023 is the upcoming fantasy adventure "Dungeons & Dragons: Honor Among Thieves" — a film that takes direct inspiration from its titular tabletop role-playing game. Like any good D&D campaign, the film follows a party of four adventurers who embody a variety of classes and backgrounds, including a bard named Edgin (Chris Pine), a Barbarian named Holga (Michelle Rodriguez), a Sorcerer named Simon (Justice Smith), a Paladin named Xenk (Regé-Jean Page), and a Rogue named Forge Fitzwilliam (Hugh Grant).
As shown by the film's trailer, "Honor Among Thieves" will follow this eclectic party in the wake of a heist that accidentally unleashes an ancient evil, leading these quirky adventurers on a mission to fix the devastation they've unwittingly released on the world. The trailer for "Honor Among Thieves" also showcases a variety of creatures and enemies that ought to seem very familiar to D&D veterans, including Chimeras, Owlbears, and several unique Dragons.
Although the trailer's faithfulness to its source material may have gotten plenty of D&D fans excited for the release of "Honor Amongst Thieves," there are plenty of fans online who are still very skeptical about the film — mainly due to its unimaginative poster.
Fans absolutely despise the bland poster for Honor Among Thieves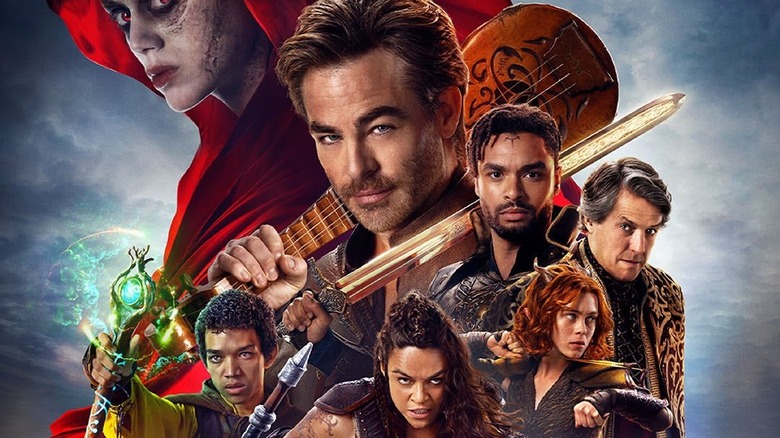 Paramount Pictures
Although the trailer for "Dungeons and Dragons: Honor Among Thieves" certainly seems to promise an entertaining romp across The Forgotten Realms of its source material, fans on Reddit were quick to pump the brakes on any hype for the film after seeing the movie's official poster. The poster for "Honor Among Thieves" is a typical "floating heads" style poster in which images of the film's cast appear to be photoshopped over each other in descending order of importance, with a single dragon in the foreground flying in front of all of these characters.
"You know, they could've taken inspiration from old school fantasy art and done something really cool for the poster," wrote u/thatminimumwagelife on Reddit. "Or even looked at the 5e books... Instead, they do this garbage." "Yeah of all the brands you could get creative from, this is pretty low effort," agreed u/3-DMan. "I mean when you see a movie called DUNGEONS & DRAGONS I think it's okay to expect more fantasy than standard floating heads with itty bitty fantasy sprinkles." U/Batmanlover1 asserted that, although the movie itself seems interesting, this poster is "frankly abysmal," and other users agreed that the film's trailer did a much better job of pitching the movie.
The immense online hatred for "floating head" style posters is nothing new, especially since many films in the Marvel Cinematic Universe use this same style to promote their films — which has led to plenty of online outrage over this bland, ineffectual style of marketing (via PopTonic). Even though the poster for "Honor Among Thieves" is still receiving plenty of backlash online, fans will no doubt be hoping that the film itself manages to exceed their expectations once it finally hits theaters on March 31, 2023.