Why Kyle Sheffield From Chicago Fire Looks So Familiar
"Chicago Fire" fans first knew Kyle Sheffield for joining the force as its chaplain in Season 7 and later for stealing the heart of paramedic Sylvie Brett (Kara Killmer), proposing to her, leaving for Indiana with her, and then, two episodes into Season 8, letting her go when she needs to return home to Firehouse 51. Ever since their breakup, Sheffield has been in Indiana as a peer support director, but not much else is known about his current situation.
Sheffield was a good guy, and those who ship the pair were likely saddened to see his relationship with Brett extinguish. He was an enthusiastic character, a hero for his work as the Chicago Fire Department's chaplain. While Sheffield returned for the Season 11 premiere, he's been absent since then — unfortunately, his appearance doesn't instill the happiest of feelings in his ex since he shares that he's newly engaged while Brett ends up breaking up with Matthew Casey (Jesse Spencer), her current beau. It's probably for the best that Brett has some space.
The actor who portrays Sheffield, Teddy Sears, has been keeping busy, though. He's been active for a while, as readers will note from his extensive filmography. So no matter what fate is in store for Sheffield, if he comes back as a guest or if he's gone for good, fans who enjoy Sears' magnetic and charismatic personality can see more of it in his previous roles.
Teddy Sears has been called to crime-related dramas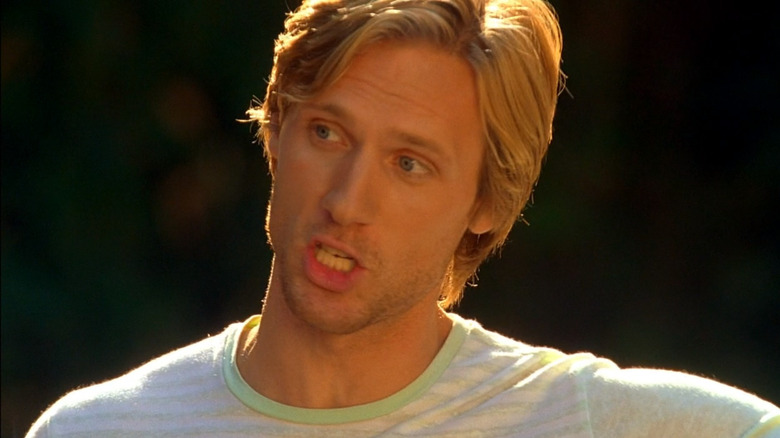 CBS
Teddy Sears seems to shine in crime-related drama, and audiences will agree when they see his acting credits before "Chicago Fire." In 2006, Sears portrayed Peter Kinkella in two episodes of "CSI: Miami." In the first of these two episodes, "Going, Going, Gone," Kinkella is shown auctioning off beautiful women to raise money for charity. The victim in this episode is one of the women who is auctioned off, Rebecca Roth (Elizabeth Hendrickson), and Kinkella is a suspect since she is found murdered in his bed.
Kinkella continues to build suspicion for investigators when they discover he has drugs at the crime scene, but it turns out that he is being blackmailed by Sonya Moreta (Shiva Rose), a terrorist who has had his family kidnapped. As for Rebecca? Her bitter and jealous ex-boyfriend Carl Thornton (Jake McDorman) had stabbed poor Rebecca to death.
The following year, Sears appeared in one episode of "Raines," a police television show that follows Michael Raines (Jeff Goldblum), a homicide detective who has visions of the victims that help him solve the crimes. Sears starred as Mitchell Parks in Episode 5 of the show, which involves solving the murder of a judge's wife. Later that year, he portrayed Kicks Matherton in an episode of "Mad Men."
He played the cheating boyfriend on American Horror Story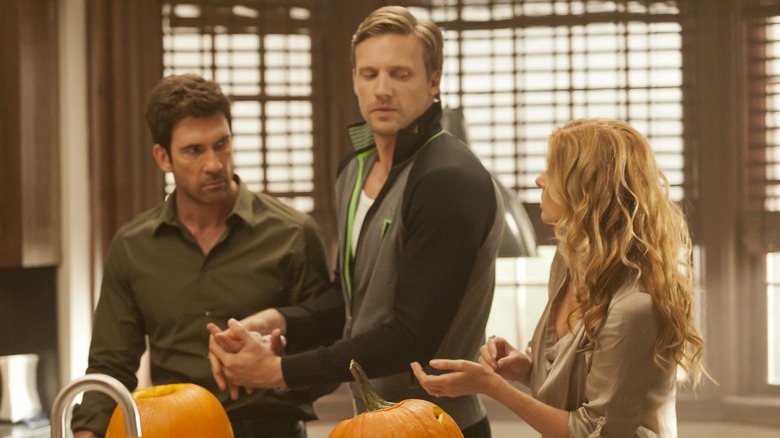 FX
One of Teddy Sears' first major roles was on "American Horror Story." Since the show has 11 seasons under its belt and many different storylines to match, fans might've forgotten the show's origin season, titled "Murder House." In this first season, Sears starred alongside Evan Peters as Tate Langdon, Connie Britton as Vivien Harmon, Dylan McDermott as Dr. Ben Harmon, and Taissa Farmiga as Violet Harmon.
Sears portrayed Patrick, who previously owned the Murder House with his boyfriend, Chad Warwick (Zachary Quinto). Part of their story is told through flashbacks, detailing more of the house's gruesome history. Patrick was being an unfaithful partner to Chad, which resulted in the deterioration of their relationship. Before they were given the chance to leave the house or resolve their issues, they were murdered by the Rubber Man, Tate's ghost, after he discovered they were not planning to adopt a baby, which was essential to his deal with Nora Montgomery (Lily Rabe).
Sears wasn't finished with shows created by Brad Falchuk and Ryan Murphy, because in 2022, he returned in the new series "American Horror Stories" as Jeffrey in the Season 2 finale, "Lake."
Dark and twisted, Teddy Sears portrayed the supervillain Zoom in The Flash
DC fans will recognize Teddy Sears for his time on "The Flash" as Hunter Zoloman, aka Zoom, one of the Flash's most despicable adversaries. In Season 2, fans were witnesses to one of the biggest plot twists of the series: Jay Garrick had taken Barry Allen (Grant Gustin) under his wing, but the latter gets a rude awakening when he realizes Zoom and Garrick are the same person.
In his plot to become the fastest speedster, Zoom had invented a Velocity serum. However, the serum has a dangerous side effect: Whoever uses it finds themselves afflicted with a fatal illness. After kidnapping Jay and trying and failing to steal his speed so as to cure himself, Zoom takes his identity as he begins his journey to steal the powers of other speedsters, including Barry.
Sears first shows up at the end of Season 2, Episode 1, "The Man Who Saved Central City," sharing some unhappy tidings: Their world is in danger. Little did the team know that he was the real danger all along.
Properly dressed in red and green, Sears swoons in a few Hallmark romantic comedies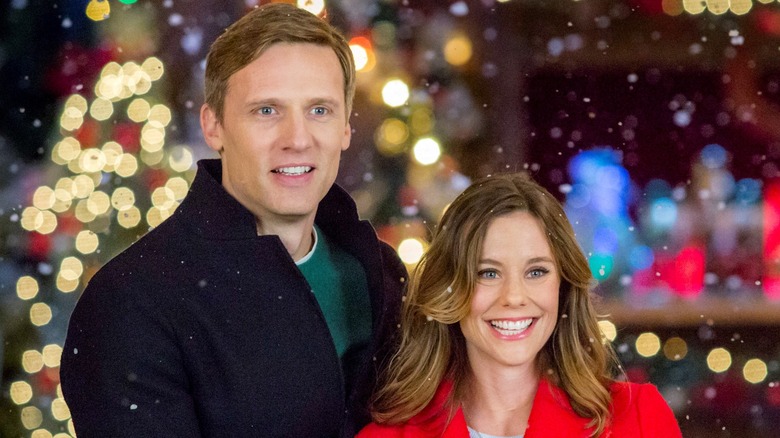 Hallmark Channel Productions
For fans who were startled to see Teddy Sears take on those darker roles, they can find comfort in his portrayal of Ryan in "Christmas in Evergreen" and its 2019 sequel, "Christmas in Evergreen: Tidings of Joy." In the first film, Dr. Ryan Bellamy serves as the love interest to veterinarian Allie Shaw (Ashley Williams), who is unsure of the future with her current long-distance boyfriend and is trying to leave the town of Evergreen to visit him in Washington, D.C. Meanwhile, Ryan and his daughter, Zoe (Jaeda Lily Miller), are on their way to Florida and run into some unexplained, some may even say magical, coincidences that prevent them from leaving Evergreen, and Allie, behind. 
 Sears returned for the sequel, albeit with a much smaller role, letting newcomers Maggie Lawson and Paul Greene teach us about the power of Christmas magic instead. If one is in the mood for some good old holiday magic with a healthy dose of love and romance, "Christmas in Evergreen" shares a lot not only about love but the power of finding oneself where they'd least expect. 
If audiences enjoy Teddy Sears on "Chicago Fire," they have quite a few different roles to enjoy him in, and each one is more different than the last.