Chicago Fire Season 11 Episode 1 Recap: Stellaride And Hawkami And Brettsey, Oh My!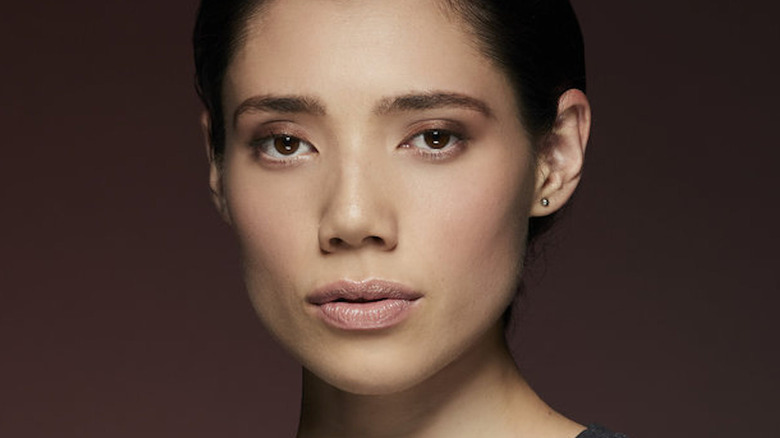 Art Streiber/NBC
Warning: Contains spoilers for "Chicago Fire" Season 11, Episode 1
Four long months have come and gone, and we're finally getting back into the world of "One Chicago." Each series in the Dick Wolf universe premiered side by side but were unfortunately not a part of a crossover event like in the "Law & Order" world. There was a little bit of a crossover in the "Chicago Fire" premiere, however, as Hailey Upton (Tracy Spiridakos) of "Chicago P.D." stopped by to talk to Kelly Severide (Taylor Kinney).
Surprisingly, the Season 11 opener of "Chicago Fire" was a little on the laid-back side, only featuring one fire scene and one rescue scene. This episode revolved and the show's biggest couples and caught us up on where they stand, where they're going, and most importantly, if they made it out of the Season 10 finale alive.
There were also some surprises in the premiere episode of "Chicago Fire" as some main characters were hardly featured, while others magically disappeared. Here are the biggest takeaways from the night.
The state of 51 in the Chicago Fire premiere only focuses on a few cast character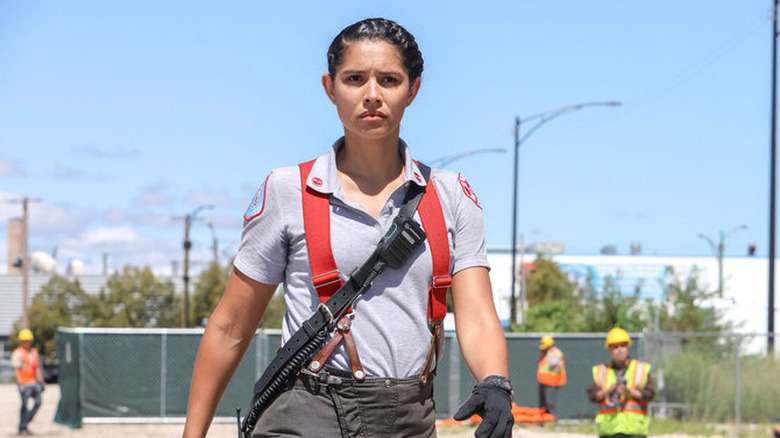 Adrian S. Burrows Sr./NBC
We can't touch on what's happening at 51 without mentioning that Stella Kidd (Miranda Rae Mayo) and Severide survive their Honeymoon ambush — as we suspected they would. But more on that later. Back at the firehouse, we learn pretty quickly that Mason (Chris Mansa) is no longer on truck. Stella mentions to Chief Boden (Eamonn Walker) that he is happy fighting wildfires again, and that's all we know about the situation. Mansa previously revealed on Instagram he'd be back for Season 11, but it looks like that might not have panned out.
Boden introduces new truck member Sam Carver (Jake Lockett) to Stella, who is set to take Mason's spot permanently. Stella and Carver know each other, and we find out they met at the academy. It's obvious from the jump that Stella has an issue with her new subordinate, but why she hates him is still a mystery. This will be the next big hump to get over this season, and we expect a lot of back-and-forth between the lieutenant and Carver. Stella does not like this man whatsoever, and despite his hero record at the CFD, she gives him the simple task of dismantling the power at the wedding fire instead of letting him go in to rescue victims.
It looks like we're in for another season of high-horse Stella, friends. Despite Boden letting her know he was displeased with how she handled Carver at the fire, Stella pushes back and says she'd appreciate leniency on how she likes to train her men. We saw this issue last season with Stella and Pelham (Brett Dalton), and while that all worked itself out, we won't be surprised if it doesn't with Carver. Gallo (Alberto Rosende) is already showing disdain for the newbie as well, so expect sparks to fly.
Additionally, Herrmann (David Eigenberg) gets maybe a few minutes of screen time in the premiere, only working the bar at Molly's and talking trash in the firehouse. Why such a major player was pushed to the back burner remains to be seen.
Two Chicago Fire couple are doing just fine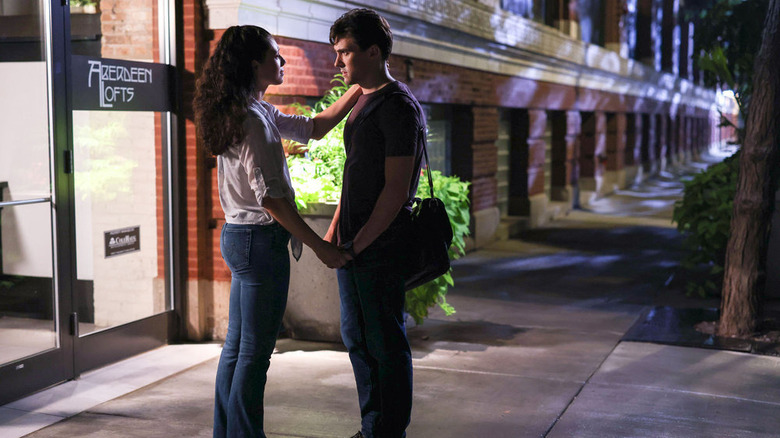 Adrian S Burrows Sr/NBC
As previously mentioned, Stella and Severide survive the attack from Thomas Campbell (Eric Slater) and his henchman. Stellaride avoids several bullets fired their way, and when it looks like Stella might get taken out, Severide swoops in like Aquaman and impales the assailant with a trident. Okay, so it's just a traditional fishing spear, but that doesn't sound as cool. The cops show up right away, confusing Severide, but eventually, we find out there's a mole in the Chicago P.D., who leaked information allowing the police to track Campbell to Severide's cabin. Severide insists on finding the mole responsible for giving Cambell information, and when he gets his way, the Chicago P.D. loses the war on a significant heroin chain the mole was a part of. But all is right in the world of Stellaride, so the Squad lieutenant doesn't care.
Violet (Hanako Greensmith) and Hawkins ( Jimmy Nicholas) solidify their relationship after the former learns her chief went to bat for her so she could keep her job at 51. The two reconcile outside Hawkin's apartment, and now that he's been transferred, they can be out in the open as a happy couple. Hawkami goes to Molly's, and it sets off Brett (Kara Killmer), who's upset about her relationship, so she takes off. We also see Gallo have some pause about the Hawkami reunion, despite him playing a major hand in it. It looks like we might be in for another season of Gallo fawning over Violet, with whom he clearly has no shot at this point.
We finally know the fate of Brettsey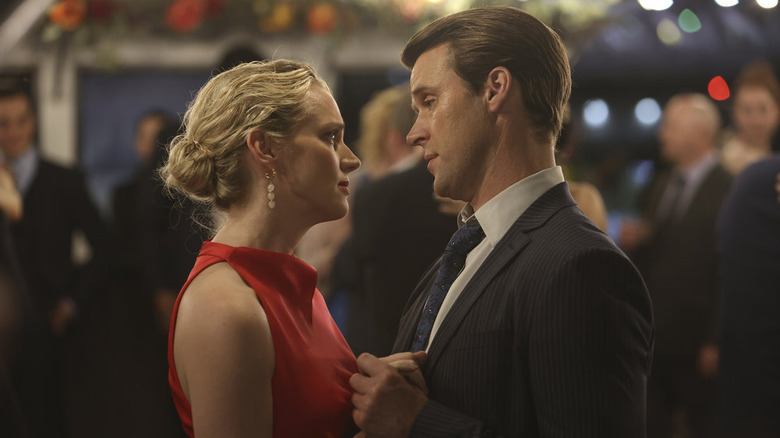 Adrian S Burrows Sr./NBC
Ah, Brettsey. In the first act of Episode 1, Brett tells Violet she and Casey (Jesse Spencer) haven't spoken on the phone in a week. They're still trying long distance, but it clearly isn't working. Her old fiancee Kyle (ex-fiancé) pops in at 51, and later reveals he's newly engaged. It's just one hit for Brett after the other, as all the people she's close to are finding their forever loves. She decides to call Casey and breaks up with him over the phone in the final scene of the episode. Brettsey's fate is finally sealed. She tells him their stars just didn't align at the same time but gives fans hope for the future as she says, "Maybe, someday." We can all pray for a Casey return to "Chicago Fire" in a future season.
Brett has had such a hard time in love during her time on "Chicago Fire," and it seems like the paramedic will never catch a break. She has two broken engagements, a devastating break-up from who she thought was the love of her life (Casey), and so many flings we've lost count. Brett is an incredible woman, and we're sure fans are sick and tired of seeing her struck down in love. Perhaps she'll spend Season 11 focusing on her successful paramedicine venture and stay away from the romance game for a while. She needs to enjoy life and figure out who she is before any suitors come knocking.
When does Chicago Fire Season 11, Episode 2 air?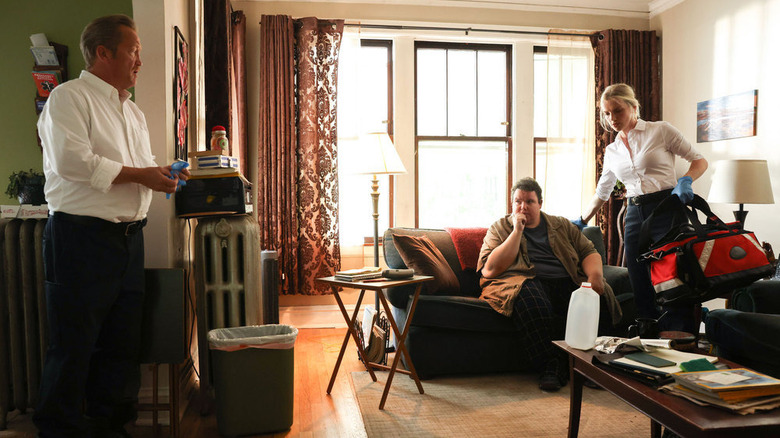 Adrian S Burrows Sr./NBC
"Chicago Fire" Season 11 Episode 2 will land next week on September 28 at 9 p.m. EST on NBC. The air dates for procedurals are frequently a mess, thanks to sporting events, breaking news, and award shows, but we don't have to worry about that this month. There will definitely be some shakeups later this season where the "One Chicago" shows take a week or two off.
Thanks to some promotional photos shared by NBC, we expect Brett's paramedicine job to take center stage in Episode 2. In several images the outlet released, we see Brett and Mouch (Christian Stolte) working with a patient in their paramedicine gear. This should be a good distraction for Brett after the Casey break-up, and we'll likely see a lot more of these home visits moving forward in Season 11. It also looks like we'll see Carver in action on a save, suggesting Stella might let him loose on their next rescue.