The Musical Moments In Pitch Perfect: Bumper In Berlin, Ranked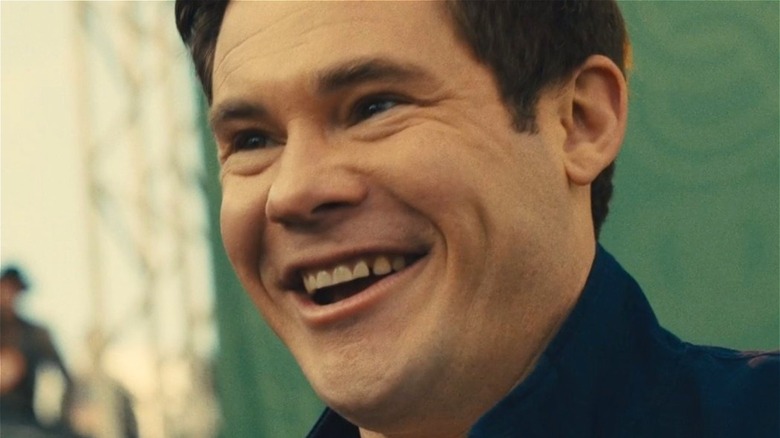 Peacock
"Pitch Perfect" is a trilogy following the journey of Beca Mitchell (Anna Kendrick) and the Barden Bellas, a female a cappella group from Barden University. The movies see them diversify their sound, go on a world tour, and establish their place as a cappella royalty. Fans can return to the world of synchronized vocal percussion with the new series "Pitch Perfect: Bumper in Berlin."
Bumper (Adam Devine), the leader of The Treblemakers, returns in a story following his solo career. He's working at his alma mater as a security guard while trying to get the world to notice his musical prowess — and someone does. Pieter Krämer (Flula Borg), first seen in "Pitch Perfect 2" as a member of the German group Das Sound Machine, gives Bumper a call and encourages him to come to Germany.
When Bumper arrives, he's introduced to Heidi (Sarah Hyland), Pieter's assistant, and Thea (Lera Abova), Pieter's DJ sister. Both are there to help him build his career. They do everything in their power to earn Bumper the newcomer spot in the Germany Unity Day concert. The only problem is Pieter's ex-girlfriend Gisela (Jameela Jamil) is vying for the same spot.
"Bumper in Berlin" features plenty of music, just like the films it's based on. From original songs to classic covers, Bumper and the gang do it all as they perform around Berlin. But, which of these songs do you need to add to your Spotify playlist? Here's a ranking of all the musical moments from the series. Spoilers ahead.
17. Know My Name (Sour Pickles performance)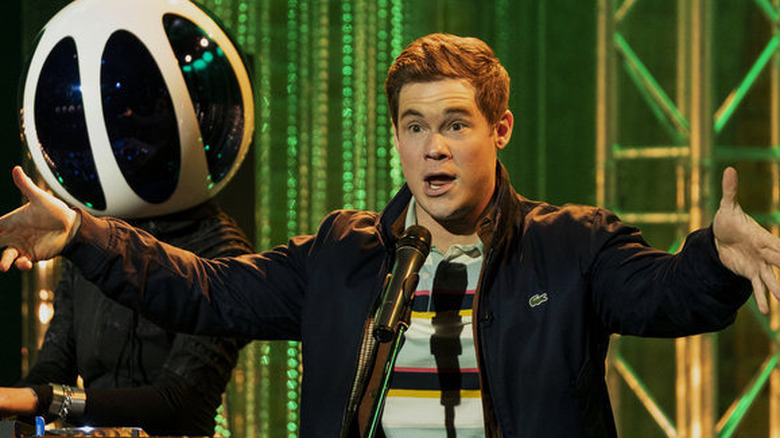 Julia Terjung/Peacock
This is the first public performance of Bumper singing Heidi's song. The hosts of "Sour Pickles," a show with a similar premise to "Hot Ones," praise the song, noting how it appeals to all audiences. Under pressure, Bumper admits he isn't the songwriter and that Heidi is responsible for the music they're gushing over. This causes a press nightmare because now Pieter looks like a liar again to the German people and Heidi's first song is now covered in controversy. What should've been a great launch for Bumper turned into one of the lowest points of his career.
While Bumper sounds alright, the sting of betrayal still lingers. It is also a pretty lackluster performance compared to the others seen in the series and does not elevate the song in any way (viewers already heard the original version in the park). There isn't any interesting choreography or effects, which a performance of this nature definitely needs. The dance moves that Bumper does perform are clunky and don't seem to match the tone of the song, which is more tender and serious. Overall, the performance is a bit of a miss in comparison to the rest of the series, which is why it's at the bottom of our list.
16. 99 Luftballons/Take On Me mash-up (Gisela's version)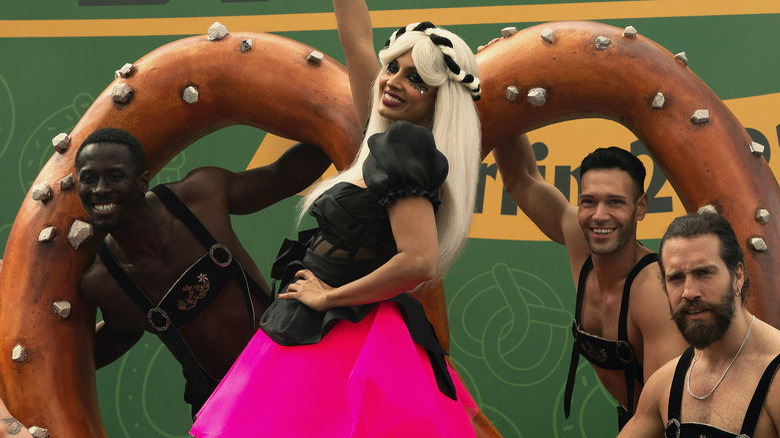 Julia Terjung/Peacock
Taking place at the end of the first episode, the mash-up of these songs is the audience's introduction to Gisela, the main antagonist of the series. Once a member of Das Sound Machine, the rival a cappella group from "Pitch Perfect 2," she's now attempting to start a solo career in the German music scene. The singer takes the mash-up Bumper is planning to perform just minutes later and uses it herself, trying to put the American in a tough spot. Her performance includes a large pretzel, which is important to the festival, and several backup dancers.
While not a terrible performance vocally, it is certainly one of the weakest performances from Gisela and one of the weakest in the series as a whole. The mash-up is nice, but there isn't a lot going on visually despite it being sung at a large festival. The main visual impact of the moment is several air canons that go off at coordinated times, which just distract from the music and are a bit loud.
The meaning of the moment also leaves a bad taste in the viewer's mouth. As Gisela starts to sing, she looks pointedly at Bumper, clearly wanting him to know that she knows what she's doing. While it helps propel the plot forward and gives Bumper his first adversary, it feels like a missed opportunity to establish who Gisela is trying to be as an artist.
15. Sweet Child O' Mine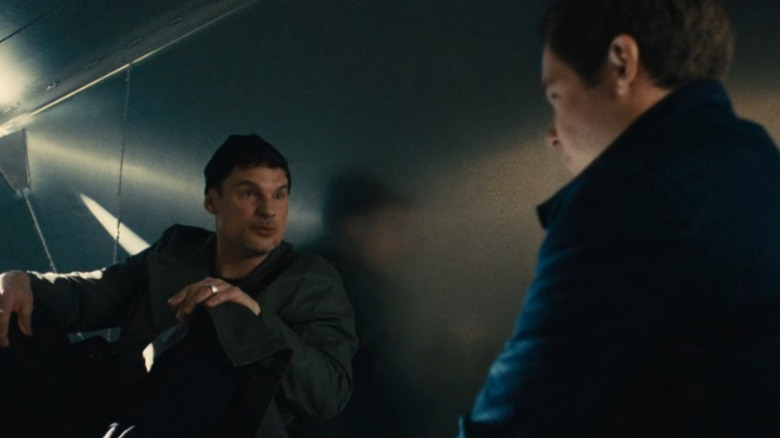 Peacock
Bumper and Pieter open up Episode 2 by singing "Sweet Child O' Mine" together in a dumpster. Yes, in a dumpster. This occurs directly after Gisela's performance at the festival, where she stole Bumper's mash-up. The American is trying to book a plane ticket home through his phone when Pieter joins him in the dumpster, hoping to get him on stage. The music manager takes matters into his own hands by using vocal percussion to start the song, encouraging Bumper to sing as the two create a beat with the dumpster's walls. The short number ends as the two continue harmonizing on an extended note.
The initial vocal percussion is a bit wild to listen to, but as the two begin to sing together it creates a nice moment. Pieter lied to Bumper to get him to come to Germany, which Bumper now knows and is upset about. In addition, his setlist was just stolen and that was the only thing giving him the confidence to perform solo in front of the crowd. Pieter showing Bumper that a song can come from nowhere, including the inside of a dumpster, makes the American more confident in their partnership and to sing at the festival.
14. Sing When I Want To (music video)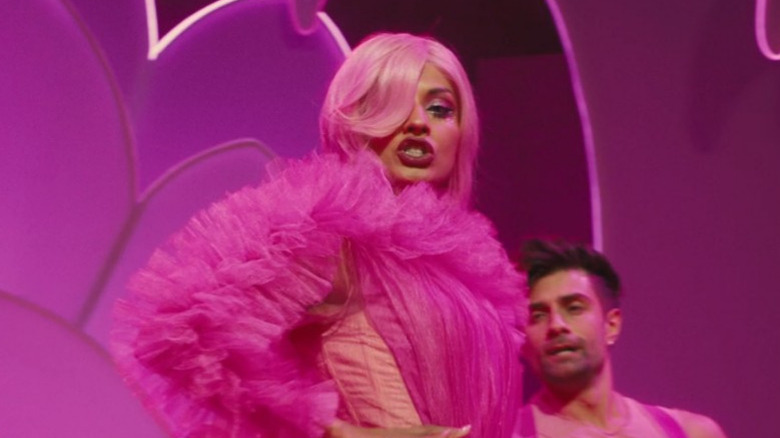 Peacock
After beating Gisela in a riff-off, Bumper is riding high — until Pieter brings him crashing down with some bad news. While at an autograph signing event, the German music manager reveals that Gisela sent him the music video to her latest song "Sing When I Want To." As the group listens, it becomes clear the song is a diss track about Bumper being her competition for Unity Day, mentioning him by name several times throughout the song. She wants to make sure he knows she's singing about him and that she doesn't view him as a threat.
The music video is a pink explosion. Gisela is wearing a pink dress made of tulle and her backup singers and dancers are also in pink. They are all in a room with pink walls and floors. There is no escaping the color as you listen to the song. While Gisela frequently wears pink in the series, the music video takes it to a distracting level. Other than the overwhelming amount of pink, the song is rather catchy and fun, despite the singer's intentions.
13. Barbie Girl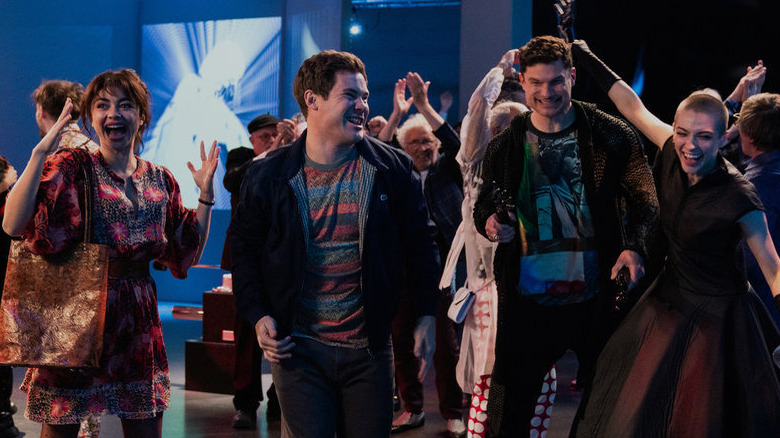 Julia Terjung/Peacock
To try and take Bumper to the next level and attract the attention of the Unity Day committee, Pieter and Thea ask Klaus — one of the best music video directors in the country — to helm the music video for "Know My Name." Bumper begins singing "Barbie Girl" during an art show to convince Klaus to work with him. Thea, Pieter, and Heidi use mannequin arms found in the exhibit to create a beat while Bumper sings the iconic song. Klaus is sold, saying the American must "give [his] whole self to [Klaus'] vision," which Bumper is ready to do (even if it doesn't work out in the end).
The song doesn't necessarily make sense in the context it's used in. It feels a bit forced, although it works as a way of showing Klaus that Bumper is willing to be anything he wants him to be. However, it's a bit weird to watch the team drum with detached plastic mannequin arms on other pieces of art. "Barbie Girl" isn't the best cover, but it is one of the most recognizable songs in the series and is an exciting inclusion on the soundtrack.
12. The riff-off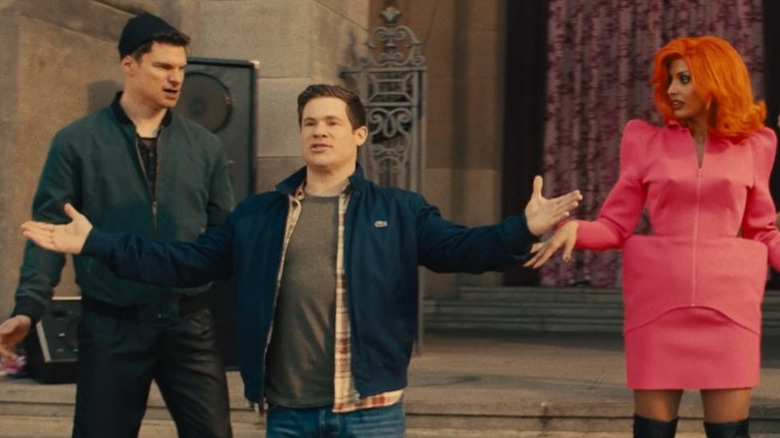 Peacock
It isn't "Pitch Perfect" without a riff-off. The first film's riff-off has had lasting power in popular culture, so it was only natural for the series to include one of its own. This time it's Bumper and Pieter against Gisela and her backup singers. But, instead of a wheel picking the categories, Gisela stipulates the conditions: Bumper has to sing German songs and she has to sing American ones. This trips her up a bit when she chooses to sing Justin Bieber's "As Long As You Love Me." Bieber is Canadian, of course, so Gisela loses the riff-off, giving Bumper a much-needed victory over his nemesis.
Though not as fun as the one from the first film, the "Bumper in Berlin" riff-off has some great touches. The moment shows just how much Bumper and Pieter are bonding as a team and that the American's confidence is continuing to grow as he steps up to the plate against Gisela. It includes some catchy songs like "Rock You Like a Hurricane," "Milkshake," and "My Prerogative," all of which are solid picks and very much in line with what audiences have come to expect from the franchise.
11. Sing When I Want To (Unity Day performance)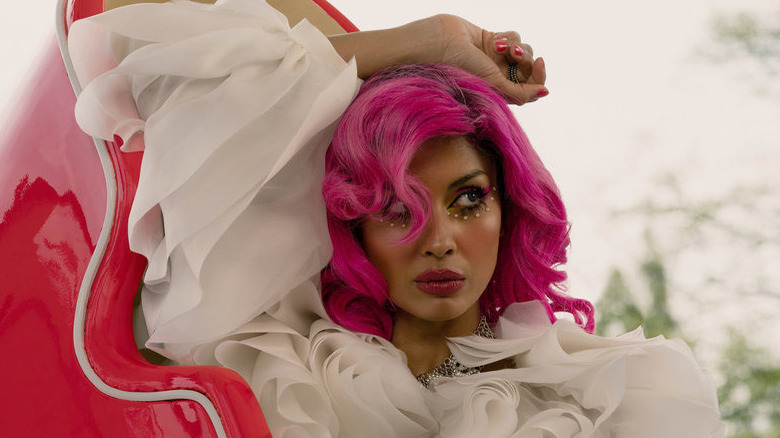 Julia Terjung/Peacock
While Bumper and the group are trying to find Hilda, the woman who works for the government and can marry Bumper and Thea so Bumper can stay in the country, Gisela performs "Sing When I Want To." This is the first live performance of the song in the series. Gisela emerges from a red high-heeled shoe and sings her hit diss track. Instead of air cannons, like her festival show, some large sparklers go off, which works well in the setting and adds some excitement.
Just as it appears as though all hope is lost and Gisela is going to steal Bumper's slot, Hilda is found and Bumper is able to get on stage. Though we don't get to hear another song from the former Das Sound Machine singer, we don't need to. Her Unity Day performance is her best of the series by far. The effects work well together, she sounds and looks awesome, and the song is just as catchy as it is when we first hear it in the music video.
10. It Must've Been Love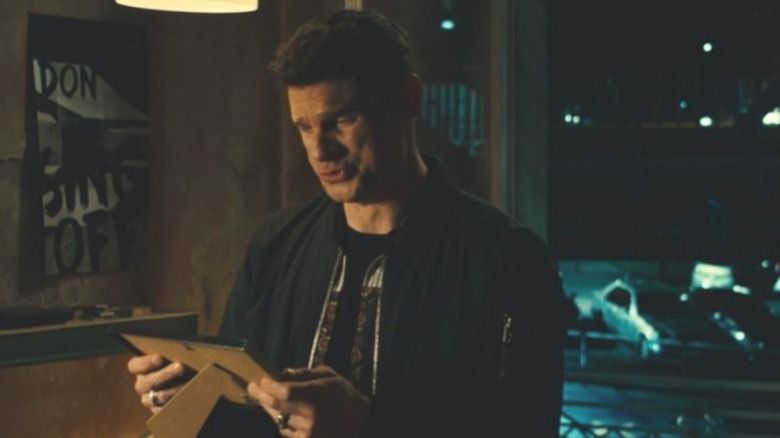 Peacock
In a bid to secure Bumper the newcomer spot at German Unity Day, Pieter tries to win over one of the judges, Hans Schroeder (Andreas Hofer). It doesn't go well. The judge tells the music manager that Bumper has no chance of performing at Unity Day. This news is a major blow to the team, as it feels like the last of their avenues to advance Bumper's career is gone.
Everyone goes off to wallow in the disappointment of the evening. Bumper takes it a bit too far, getting intoxicated and going to Hans' house. He's eventually picked up by local police and taken to the hospital to be rehydrated. At this moment, he starts singing "It Must've Been Love" with Pieter, Heidi, Thea, and Ursula (Katharina Thalbach), the matron of the hostel Bumper is staying at, joining in from their respective locations.
The song is a departure from everything heard in the series up to that point, but it accurately reflects the mood of the characters. The team is discouraged and believes there is nothing else they can do to ensure Bumper has a slot at Unity Day. Everything they've done in the series has been in pursuit of this goal and it looks like their journey is over. Their somber performance perfectly reflects that.
9. Valerie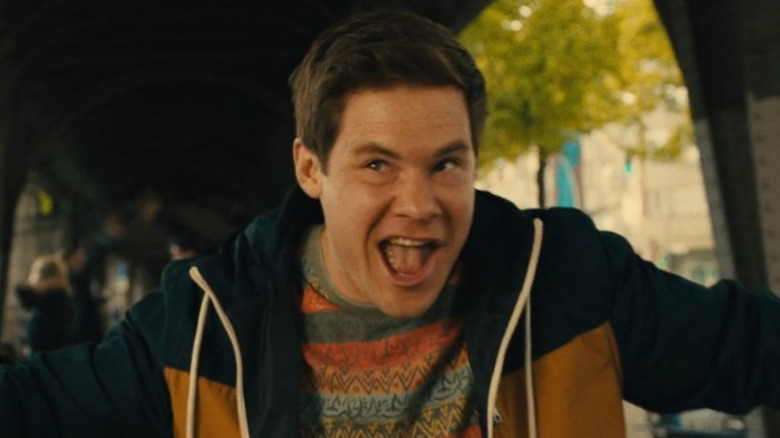 Peacock
The cold open of Episode 5 is a fantastic representation of Bumper's mood at this stage in the series. As he purchases coffee from a street vendor (and steals food from another), he sings "Valerie" through the streets of Berlin. However, he makes one big alteration: He changes the name to Heidi. He has a group of backup dancers dressed in all black supporting him as he dances down the street, only to be stopped mid-performance by an urgent text from Pieter.
It's wonderful to see Bumper in a positive frame of mind after everything that has happened to him prior to this. He is also leaning into his newfound feelings for Heidi. While he isn't sure where Heidi's head is or what her feelings are, this song is all about asking that special person to come over because you need them. It's fun for the audience to see Bumper put his heart on his sleeve and admit to what he wants in his personal life while his professional life is in limbo.
8. Don't Fall in Love With a Dreamer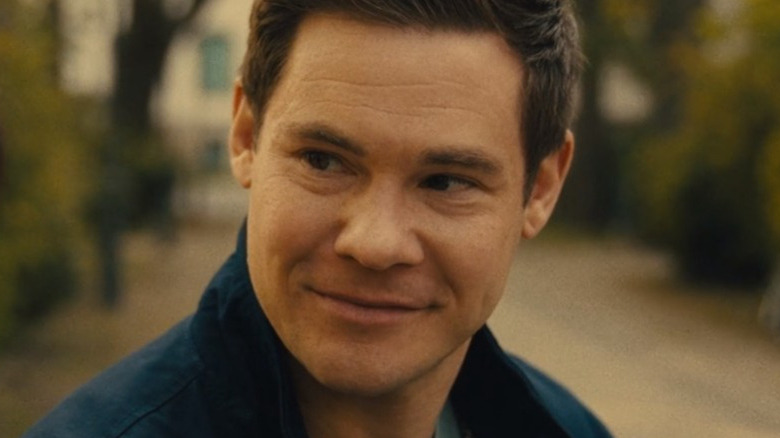 Peacock
Bumper should be riding high. He has been given a spot to perform at German Unity Day and it looks like his dreams of a music career are coming true. However, he forgot to apply for a work visa, so he has been given a deportation notice. It says he has to leave the country in a matter of hours. Instead of getting ready for his important performance later that day, the final episode follows Bumper and the team as they try to keep him in Berlin.
Heidi and Bumper end up back at the park with the piano after they strike out in their attempt to extend his current visa. Heidi suggests singing a song in case they don't get another chance, commenting that she knows the perfect one. The two begin to sing "Don't Fall in Love With a Dreamer," trying to find something good in a day full of frustrating setbacks. A crowd forms as they sing their hearts out, clearly thinking about what could've been if Bumper was staying in Germany.
The performance comes across as a swan song. At this point, the audience doesn't know if Bumper will get to perform at Unity Day or stay in the country, but at least they get a beautiful performance.
7. Know My Name (piano version)
Julia Terjung/Peacock
This marks the first time Heidi and Bumper perform together. The scene comes when Heidi is trying to teach the American her songwriting process as he struggles to create his own music. There is a piano in the park they walk through and they sit down so she can give him an example of how she crafts a song. She starts by establishing the chord progression she's going for and then riffs off that, producing a soulful piece of music on a whim. Bumper joins in, harmonizing in the chorus, but ultimately letting Heidi guide the moment.
Bumper is astonished that she could come up with something like that on the fly, commenting that "it had feeling" and "made [him] feel something." Up to this point, the songs have been pretty upbeat and poppy; the kind of stuff that makes you dance in your seat while you watch. This one has a bit more meaning and soul behind it, showing that the series won't just rely on pop hits to round out its soundtrack. It also introduces one of the original songs we'll hear throughout the series.
6. It Wasn't Me
Peacock
The cold open of Episode 3 feels like an old-school theater performance. Bumper and Heidi are in a high-end club, dressed to the nines as they sing "It Wasn't Me." As the two sing, Heidi screams, and the scene is suddenly pitch black. When the lights turn back on, they are both in a dark room with spotlights. Heidi collapses and pulls a knife out of her back. She accuses Bumper of stealing her future before she takes a final breath. As he watches in horror, his hands turn into feet somehow. It all turns out to be a dream when the scene cuts to Bumper waking up in his hostel bunk bed.
The song reflects the betrayal of the last episode, in which Bumper stole Heidi's song from the park and passed it off as his own. He didn't mean to, but that's what happened because Thea overheard him singing it in the studio and assumed he had written it. The performance has a different tone compared to pretty much everything else in the series, which makes it stand out in a good way. Ultimately, it's a new classic that the two perform very well, easily placing it in the top half of our list.
5. Where You Are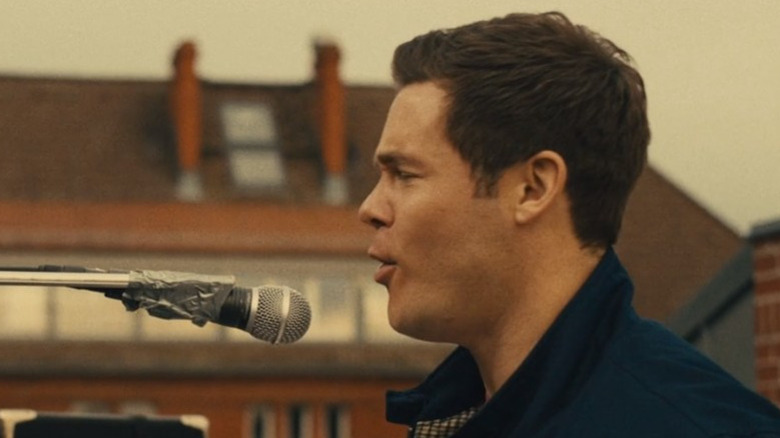 Peacock
"Where You Are" is a huge moment in Bumper's climb to fame. After being in a low place earlier in the episode because of his music, debuting a song actually written by him is a big deal. He decides to perform it on the streets of Berlin as a way to get his song and voice out there. People in the streets are intrigued, listening to him perform on the rooftop of an apartment building.
The performance doesn't only catch the eye of commuters. It turns out the building he performs on is right next to the building where Unity Day auditions are taking place. Pieter knew this, while Bumper did not. Before long, Hans appears on the rooftop, approaching Bumper about Unity Day. "Half of our acts left to watch you," the judge says. He notes how it's evident his song speaks to the German people and that they can make room for him to also perform in the newcomer slot.
The previous song, "It Must've Been Love," showed just how discouraged the group were about their progress. "Where You Are" is like a brand new day, giving Bumper a way to share his music without the intention of trying to earn an audition for Unity Day. Though Pieter is still trying to make their goal happen, the American simply goes out and sings his heart out, and the people love him for it.
4. Message in a Bottle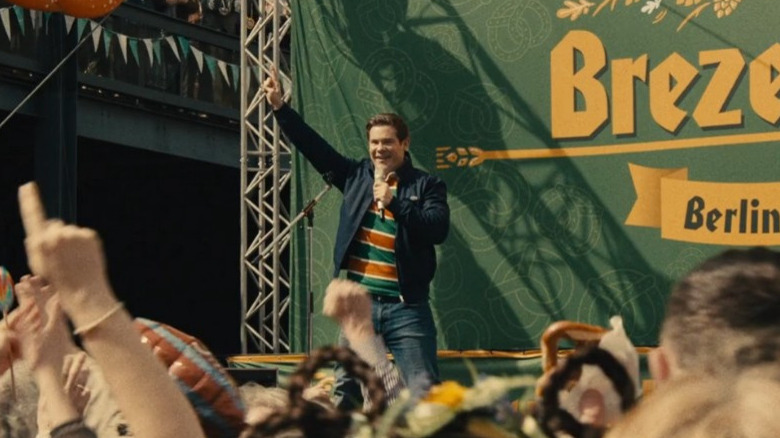 Peacock
After climbing out of the dumpster, Bumper gets on stage and tries to come up with a game plan. It takes him a moment to start, causing the crowd to boo and heckle him. He decides to use that to his advantage, asking one of the patrons to repeat his booing. He records it, putting the jest on a loop as he makes some vocal percussion to include as well. After looping the tracks together, he starts singing the Taylor Swift vault track "Message in a Bottle." The crowd enjoys the show, cheering him on as his slot comes to an end. Even Thea, who is hiding in the crowd, is smiling during his set.
This moment shows just how great a cappella can be. While many picture it as a huge group of people all working together to create a song without instruments, Bumper shows it can be done with just a looping device and some patience. Bumper's huge smile shows just how proud he is of what he quickly put together and that it gave him the confidence he needs to perform alone, which is key as the story continues.
3. Kings & Queens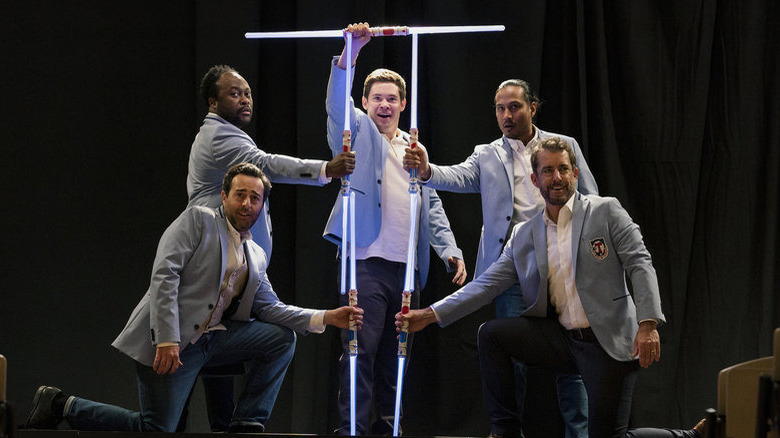 Julia Terjung/Peacock
"Kings & Queens" is the first song of the series and the opening sequence of the first episode. It's the only moment featuring The Tonehangers (from the first film), the a cappella group that Bumper is a member of, but they give it their all. The song is meant to be performed at the Heritage Retirement Center the following month, though one of the members voices that they may need to cut some of their choreography so they don't break anything. It is just after this rehearsal that Bumper gets the call from Pieter to fly out to Germany.
From choreography including double-edged lights swords, costume changes, and fun cinematography, it's an excellent introduction to the show and is an awesome cover of the Ava Max song. Devine's lead vocals are solid and the harmonies provided by the other members of The Tonehangers make the five-man group appear professional and ready for their next a cappella competition. It also sets the bar high for other performances in the series.
The song choice, which has themes regarding female empowerment and putting women at the forefront of society, is also a subtle foreshadowing of issues the series handles, especially regarding Heidi's career as a songwriter and performer.
2. Know My Name (music video)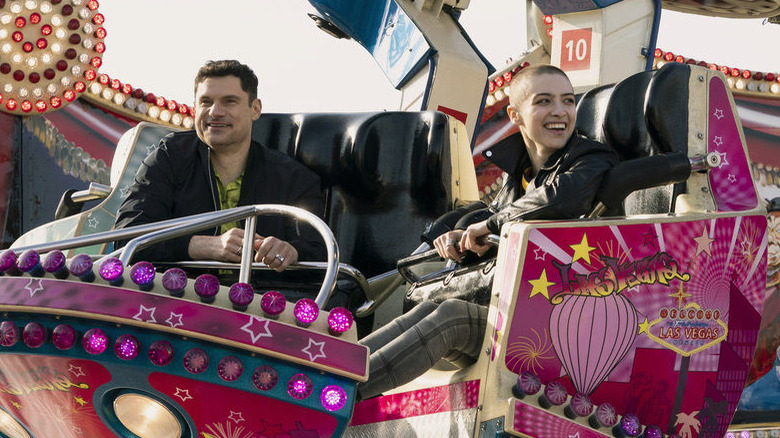 Julia Terjung/Peacock
After a disastrous attempt at making a music video for "Know My Name" with Klaus, Bumper walks away from the popular director and goes back to his friends. When they all meet up at a lounge, Heidi decides she wants to bet on herself and asks Pieter to be her manager so she can pursue a songwriting career. Bumper says he has an idea before the scene cuts to a carnival-themed music video for "Know My Name."
The video captures everything there is to love about the show and the song as Bumper, Heidi, Pieter, and Thea are going on carnival rides and having the time of their lives. It's fun and energetic, just like the characters we've been introduced to. As Bumper sings about how one day people will know his name, he's looking around at the other individuals enjoying the theme park, hinting that they are the ones he's singing about.
When the scene comes to a close, Bumper and Heidi are watching the video back and they look incredibly proud of their work. After ups and downs, song stealing, and potentially career-ending confessions, the two are finally on the same page. They agree about the direction both of their careers need to go in and are working together to make their dreams realities. This video is the start of their new chapters.
1. Know My Name/Where You Are mash-up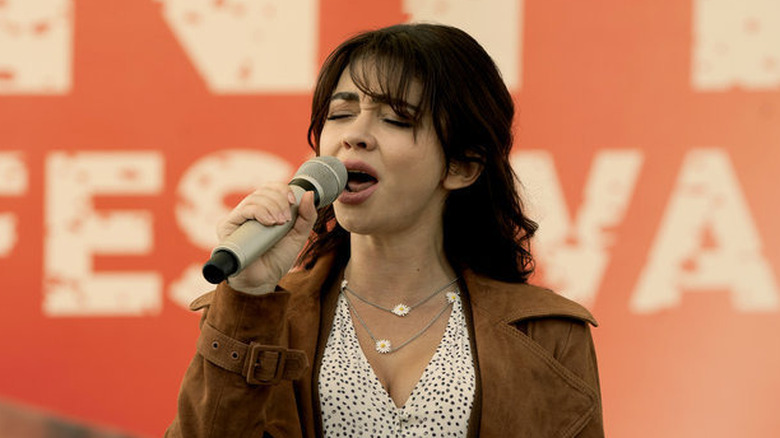 Julia Terjung/Peacock
Everything has somehow worked out in Bumper's favor as the last episode comes to a close. He is on stage at German Unity Day, about to perform his music in front of an enormous crowd. Instead of singing on his own, he invites Heidi to sing "Know My Name" since it's her song. It takes a bit of convincing from the audience, but eventually Heidi steps up and takes the microphone. As the song picks up, Bumper joins in with "Where You Are" and the two sing the songs they wrote at the same time. Pieter also joins in with some vocal percussion while Thea provides instrumentation in the background.
This performance is everything the series has led up to and it's everything the characters have wanted. It shows how far everyone has come and gives both Heidi and Bumper the platforms they have been seeking throughout their professional lives. Pieter also regains the trust of the German people, which is a huge moment for him and helps his career as well. The mash-up is a wonderful payoff and the perfect performance to end the series.