Rupert Grint Got Some Excellent Career Advice From Alan Rickman While Making Harry Potter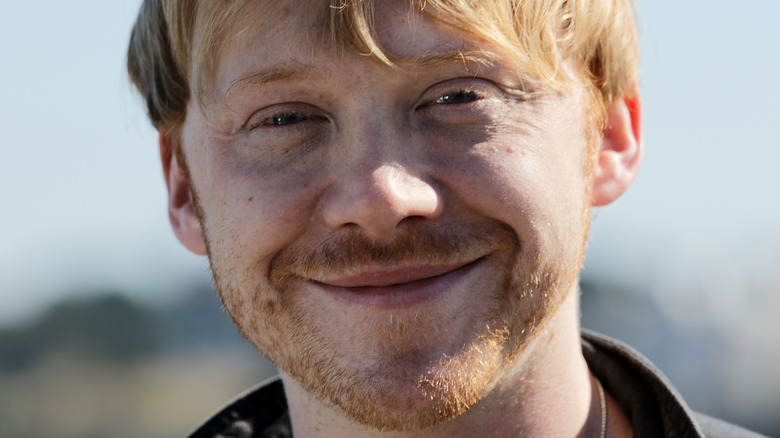 Sylvain Lefevre/Getty Images
Rupert Grint made a name for himself in his role as the occasionally brave, occasionally, but hilariously, cowardly Ron Weasley, one of the seven children born to Molly (Julie Walters) and Arthur Weasley (Mark Williams) and the ever-loyal best friend to Harry Potter (Daniel Radcliffe). He played the role from the very young age of 11 to his early twenties so, naturally, the decade-long experience proved to be paramount to Grint's development as an actor.
In an episode of The Envelope: The Actor's Podcast, the English actor made a comparison between being Ron in his seven eventful years at Hogwarts to real "college years, real education." Indeed, although there were no regular classes per se, the experience proved to be as enriching as the formative years a teenager lives through while in middle and high school. This is in great part thanks to Grint and the other younger actors having such great mentors in the cast and crew members. 
One such mentor was Alan Rickman, the late actor whose portrayal of Hogwarts' stern Potions Professor was so incredibly memorable that one cannot fathom or remotely imagine any other individual having played him — it could've happened as Alan Rickman almost turned down the role of Snape. One may even dare to call Rickman's Snape one of the best parts of the Harry Potter franchise. 
Alan Rickman stands out as an encouraging mentor
In the podcast episode, Rupert Grint expressed his admiration for the older actors who were there to offer a guiding hand during the production process. "I think it was amazing, the kind of actors that we were engaging with at such a young age. And they really kind of did take on a kind of mentor role. I mean Julie Walters stands out, she played my mum Mrs. Weasley, she was great. Alan Rickman, again, he was the one who kind of encouraged all of us to go and do theater at some point. I remember him definitely saying that to me. Which I did eventually do. Straight after I finished Potter I did a play that was really helpful to me." 
As a veteran actor with many roles under his belt, Rickman knew the importance of theatre in an actor's career and that the stage art should not be neglected in favor of solely prioritizing acting for the screen. Grint had more to say about Rickman's contribution to his growth as an acting professional. According to him, the actor who portrayed Severus Snape often "had loads of little nuggets of wisdom" to impart. Another of these nuggets served to help Grint contain his laughter during shooting, which would be useful to avoid accidentally ruining takes.
Although the extraordinary professional Rickman passed away in 2016, it is clear that his memory and influence still live on in the hearts and minds of those who were lucky enough to have shared the set with him.