Sarah Chalke Was Terrified To Film That Firefly Lane Karaoke Scene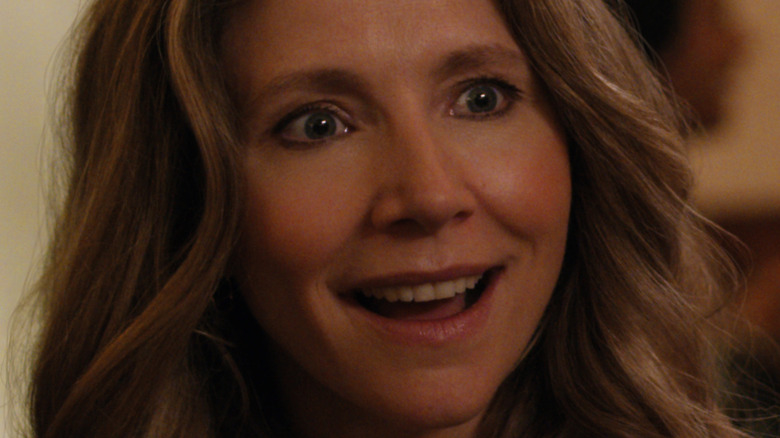 Netflix
Netflix series "Firefly Lane" juxtaposes two young girls growing up in the 1970s, Tully (Ali Skovbye) and Kate (Roan Curtis), with their present selves, played as adults by Katherine Heigl and Sarah Chalke, respectively. The two childhood friends now struggle with their lives in 2003. Where Tully is now a successful talk show host, Kate is a former housewife who is kind but lacks confidence.
Chalke has often played characters who have problems with self-esteem and awkward behavior, such as Elliot on "Scrubs." But according to Parade, she liked that the more dramatic part of Kate also challenged her: "There were so many things about this part that pushed me so far outside of my comfort zone. And as an actor, there's not really much more you can hope for."
The actor had to do things she'd never tried on camera, including shooting nude and performing a birth scene. But what she most dreaded doing was actually the big karaoke scene.
Sarah Chalke was scared to death of singing in public
In the "Firefly Lane" Season 1 episode "You Say It's Your Birthday?!," Travis (Brandon Jay McLaren) helps a depressed Kate by singing "I Will Survive" at karaoke. Kate follows suit by trying a clumsy but passionate version of "Tubthumping" by Chumbawumba.
Brief Take asked Sarah Chalke and Roan Curtis about their favorite moments shooting the first season of the show. Chalke laughed and said, "The ones that stick out are the ones that scare me the most." She claimed that she was kicked out of the choir in fifth grade, so "the idea of singing, in public, in front of all these crew members and cast who I've become friends with...was terrifying."
Chalke still went through with the scene, including singing "Tubthumping" herself, and it paid off. "And then it ended up just being so much fun," she explained. "We kind of got into it and ended up, you know, having a really, really good time." 
Hopefully, the second and final season of "Firefly Lane" will have similar antics when it premieres its first part on Netflix on December 2.