Harry Potter Star Tom Felton Clears Up A Common Misconception About The Number Of Wands In Existence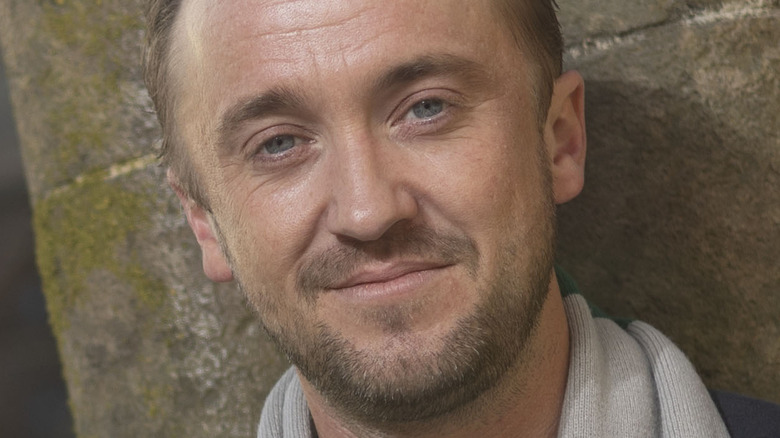 Mike Marsland/Getty Images
"My father will hear about this!" was one of Draco Malfoy's most used threats, encapsulating his spoiled and haughty side. But Tom Felton, the actor who was almost cast in the lead role, but who ended up playing the protagonist's school antagonist in all eight movies of the "Harry Potter" franchise, could not be more dissimilar to the arrogant Slytherin. Indeed, it is clear through his interviews that Felton is not only much friendlier and humbler than Malfoy, but he's also very open and communicative.
"I was born enthusiastic rather than talented," Felton wrote in his memoir, "Beyond the Wand: The Magic and Mayhem of Growing Up a Wizard" (via CBS Mornings). Speaking of wands, in an interview with Cherry Wallis, which took place in the Hogwarts Greenhouse where Madam Professor Sprout (Miriam Margolyes) taught her Herbology classes, the actor cleared up some common misconceptions fans have regarding the flying brooms and magic wands, and how many of them there actually were. 
As in many interviews with actors who worked on projects which featured emblematic and iconic props, Wallis asked Felton about what he and his castmates were able to take home with them after shooting wrapped up. Apparently, wands were not allowed to be "stolen."
There weren't as many wands as you might think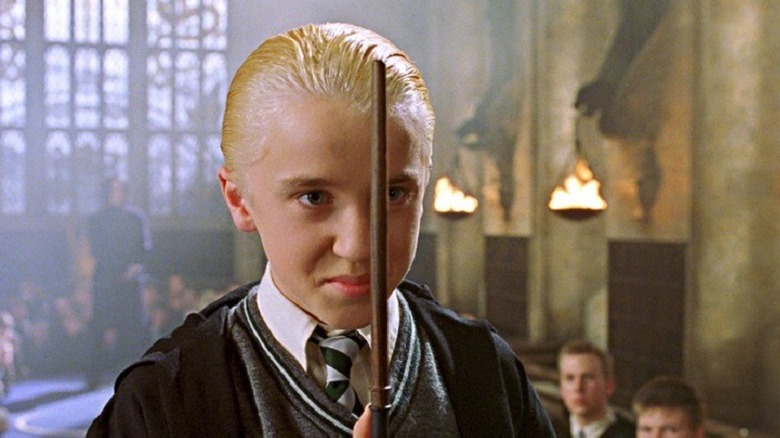 Warner Bros.
Right after discussing his lingering connection with Jason Isaacs, who played his father Lucius Malfoy, Tom Felton was asked whether, even though he couldn't bring any wand home, he wished he had actually managed to take something from the set.
True to his funny nature and good humor, Felton's first reaction was to turn to the Mandrake props next to him and pretend for a moment that he was going to take one. Then, he gave an honest answer that might surprise some fans. "No, I'm actually really glad," Felton said. "I think at the time, it'd be nice to have a Nimbus 2000 in the house, et cetera. But actually, again, especially revisiting here, every time I come back, I'm so grateful that we didn't." Later in his response, he clarified the number of wands there actually were. "We had one wand," Felton said, before correcting himself. "Well, we had two. One real one and I know it's my real wand in there 'cause there's a little chip out of the handle where I dropped it. And then the other ones were just foam."
It is easy to forget that there was a real set and real props behind the magic of the "Harry Potter" movies. Felton, in this interview, offered an insider's look into the real and routine parts of the fantastically beloved years-long production.