James Gunn Seemingly Teases A New Guardians Of The Galaxy Member In The Vol. 3 Trailer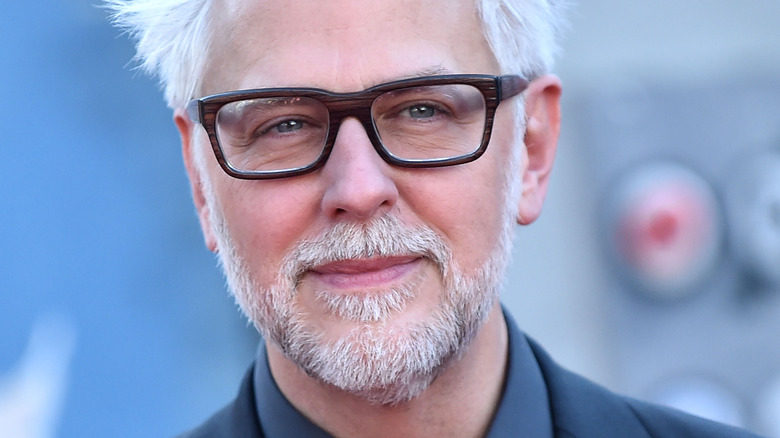 DFree/Shutterstock
"The Guardians of the Galaxy Holiday Special" premiered on Disney+ on November 25, 2022, and only a few days later, on the first day of December, the official trailer for "Guardians of the Galaxy Vol. 3" hit. Needless to say, it's been a pretty big couple of weeks for the franchise, as the hype surrounding the upcoming film has grown more and more.
After the hilarious adventures of Drax (Dave Bautista) and Mantis (Pom Klementieff) to kidnap Kevin Bacon (himself) and gift him to Peter Quill (Chris Pratt) for Christmas to save the holidays, the somewhat melancholy tone of the trailer came as a bit of a surprise. With the emphasis on this being the final adventure that the Guardians set out on, mixed with the sense that each of them has to face the realities of their past, fans can be sure that what's awaiting them when the film hits theaters in May 2023 will be something bittersweet and tearjerking.
Despite the finality the trailer suggests, it did feature the return of Gamora as one of the uplifting points. It also hid many Easter eggs and clues throughout it for avid watchers to find. There are already multiple YouTube videos breaking down the trailer in detail. One such detail that was easy to overlook was the possibility of a new Guardian joining the team.
A fan questions the appearance of a new teammate
Once the trailer for "Guardians of the Galaxy Volume 3" dropped, Marvel fans were quick to take every single frame apart. One fan on Twitter zoomed in on a screenshot of the entire team walking together and pointed out a new and very tiny character within the shot. Seen in the background between Mantis and Nebula, there's a tiny creature running on all fours that sort of resembles Grogu from "The Mandalorian" if you squint.
Twitter user @Stinky_Stinkr replied to James Gunn's post of the group scene and exclaimed, "I SAW THIS THING CRAWLING AROUND IN THE TRAILER WTF IS IT?" It's a fair question to ask when the shot is so clearly framing the Guardians of the Galaxy in their entirety. Why would this little creature be featured in such a shot if they weren't important to the story and to the Guardians in some way?
Gunn responded to this inquiry by simply posting a smirking emoji, which definitely indicates this creature will have some importance. Several fans chimed in with their observations, with some pointing out the character's resemblance to Grogu and one user, @Starlord_w, speculating that it might be Phyla-Vell, who is, indeed, among the Guardians of the Galaxy in the comics but has yet to appear in the Marvel Cinematic Universe.
Needless to say, Gunn didn't elaborate on the new character at all, so he didn't really give anything away. That's only piqued fans' curiosity about what's in store, though.