New Luke Cage Photos Tease Return Of The Hero For Hire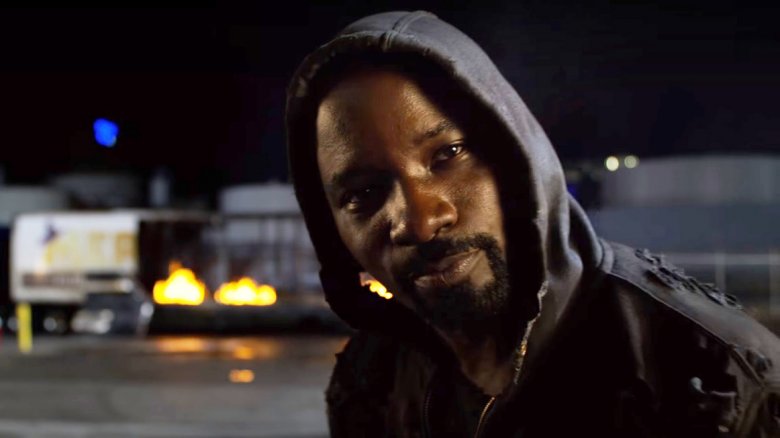 Fresh off the release of the next season's first teaser, Netflix and Marvel Television have released the first batch of stills from the next adventure of Luke Cage.
The images, courtesy of That Hashtag Show, reveal glimpses of Luke getting some love on the streets of Harlem, posing for a selfie with a group of kids who've been impressed by the antics of Power Man. You can also see Luke going to work with Misty Knight, the New York City detective who's putting her new, robotic arm to good use during a fistfight, much to the surprise of the man getting punched in the gut with it.
Accompanied with a picture of Luke relaxing in Pop's Barber Shop, it starts to look like things are going perfectly smoothly for Luke in his new life, as he enjoys his newfound local celebrity following the events of his show's first season and The Defenders. 
Unfortunately, a new villain has emerged: John McIver, also known as the crime boss Bushmaster, played by Mustafa Shakir. You can see a glimpse of Shakir in the warehouse shot, with Luke standing seemingly surrounded by a group of armed villains under Bushmaster's command. Fortunately, Luke's bulletproof, but he still looks worried, so Bushmaster must have more than bullets up his sleeve. 
According to the logline for the new season, the emergence of Bushmaster will force Luke "to confront the fine line that separates a hero from a villain." More likely, what's going to happen will force Luke to reevaluate the power of friendship, as he teams up with Misty Knight and future bestie Danny Rand to clean up this new criminal element of the Manhattan underground as a team.
Luke Cage season two premieres on Netflix on June 22.