Guardians Of The Galaxy Vol. 3's Trailer Has Fans Ready To Forgive Peter's Infinity War Moment
Peter Quill/Star-Lord (Chris Pratt) from "Guardians of the Galaxy" is a Marvel Cinematic Universe character known for his deep-rooted convictions and commitment to those he cares about. It is easy to associate Peter with his sense of humor and bravery, but ever since we met the character at his mother's deathbed in 1988, we also see his compassion. In "Avengers: Infinity War," Gamora's (Zoe Saldaña) death at the hands of Thanos (Josh Brolin) initiated a moment from Star-Lord that many fans accessed as both selfish and thoughtless even though his inadvertent freeing of Thanos, who then destroyed half of the universe's life forms, was driven by grief and rage.
But with Gamora's physical return (in a 2014 mindset) in "Avengers: Endgame," as well as the glimpses we see of her in the trailer for 2023's "Guardians of the Galaxy Vol. 3," many fans are having a change of heart about Peter's actions. The promotional clip is filled with several emotional moments, one of which depicts Star-Lord screaming in what appears to be shock and grief, so it remains to be seen what causes that. But some sections of the fandom seem ready to fully forgive him after freeing Thanos.
Fans are pointing out Peter's noble qualities after his mistake in Avengers: Infinity War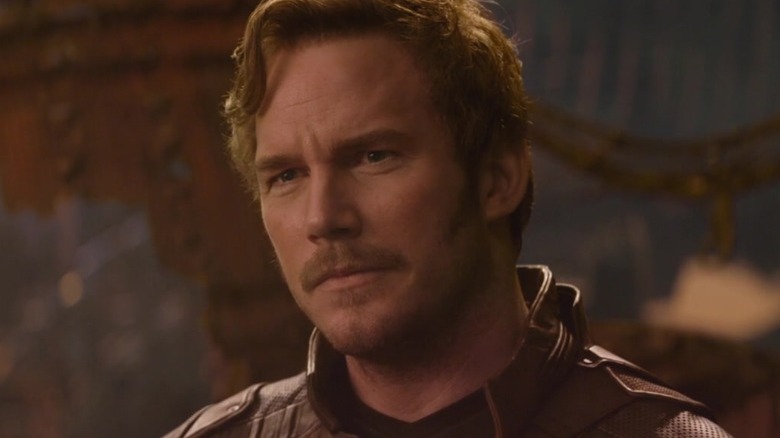 Marvel Entertainment/Disney
Grief and anger are two powerful and sometimes uncontrollable human emotions, which is exactly what we saw when Peter Quill found out Gamora was killed by Thanos in 2018's "Avengers: Infinity War." Some of the many small details in the trailer for "Guardians of the Galaxy Vol. 3" are clearly establishing Peter's heartfelt reactions to tragic situations. Observing Star-Lord's emotions in key scenes of the clip has become a popular pastime on the Marvel Studios subreddit page discussing the trailer. Redditor u/valarpizzaeris pointed out, "That shot of Peter screaming was definitely a death scene for someone." Fan u/Temassi followed that assessment up by stating, "Totally, that's the shot I came to point out too. Gotta say it looks like Pratt is doing good work there."
Redditor u/rbruttonIII summed it up by sharing, "He's been doing a fantastic job. Pretty much all of the main marvel actors have. Case in point is the scene in Infinity war where he spoils everything. You hate him for it, but holy s**t does he sell it. Dude has ONE thing left in the whole universe he loves, and it's gone..." The fan then highlighted how the series of movies have always blended comedy with drama. For Chris Pratt, the actor has always seemed to side with those who understood Peter's emotionally-driven mistake. In a 2020 Twitter post replying to a fan defending Star-Lord's actions, Pratt simply tweeted, "THANK YOU!!!!"