Barbarian Was Saved From Hulu By Test Screenings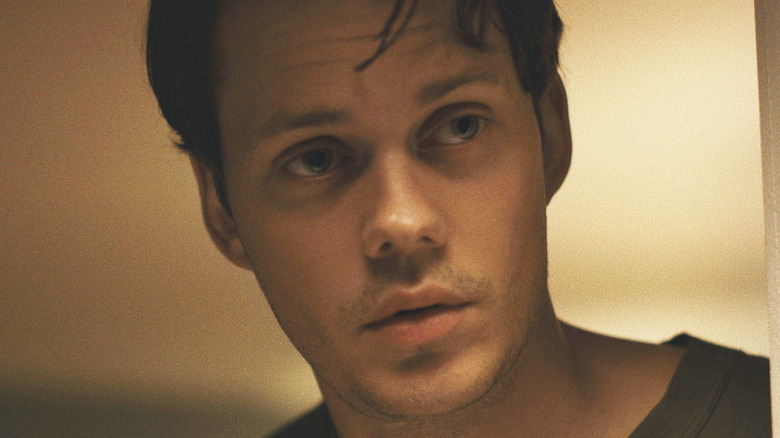 20th Century Studios
"Barbarian" was one of the biggest surprises of 2022, and not just because of the shocking in the second act that turned audience theories on their proverbial head. It was also a bonafide, word-of-mouth box office hit, raking in a worldwide total of $45.3 million against a $4.5 million budget (via The Numbers). However, perhaps the most surprising tidbit about this quirky, unsettling horror film is that it almost didn't make it into theaters. 
The film follows Tess (Georgina Campbell) as she checks into an Airbnb, only to discover a man (Bill Skarsgård) already staying there. While initially suspicious of this unwanted guest, he turns out to be the least of her problems, as she soon uncovers a vast subterranean lair plagued by a long, disturbing history. The premise alone is enticing, and the movie is best seen in theaters, so it's a good thing it saved itself from going straight to streaming. 
Early audiences loved Barbarian's twists and turns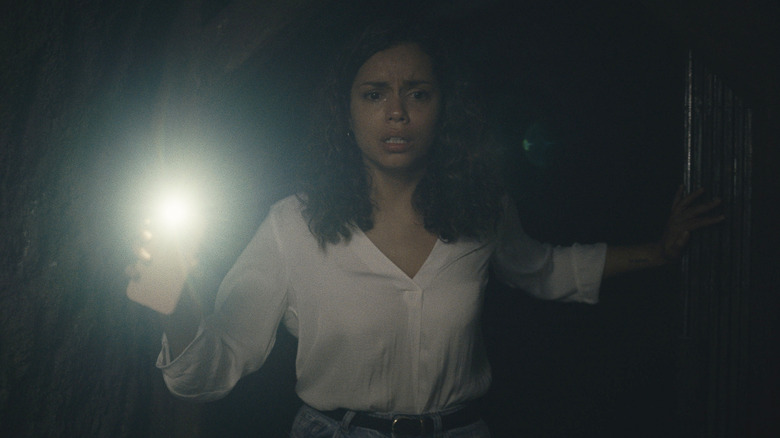 20th Century Studios
When "Barbarian" fell into the hands of Disney — thanks to Disney's ownership of "Barbarian" distributor 20th Century Studios — the boldly original and darkly comic horror flick was destined for Hulu (via Deadline). If Barbarian went straight to streaming, it would be the first time Disney sent a 20th Century Studios title to Hulu, as was the case for "Vacation Friends" and "The Princess." 
However, when Disney higher-ups began showing "Barbarian" in test screenings, they received very strong feedback from audience members, no doubt due in part to the movie's many twists and turns — all of which had been obscured by trailers. Ultimately, Disney realized that "Barbarian" could perform well at the box office if it was getting so much positive feedback. Thus, they decided to give it a conventional theatrical release on September 9. The risk paid off, and "Barbarian" went on to make the studio money.
Barbarian arrived at Disney by accident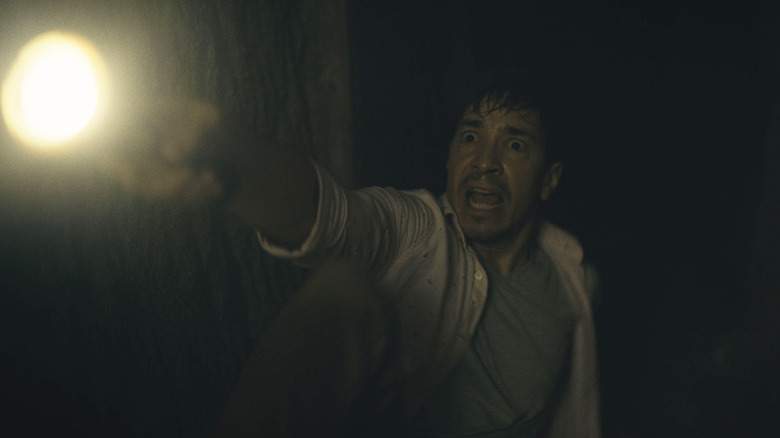 20th Century Studios
Perhaps the most remarkable anecdote of the "Barbarian" release is the fact that it almost didn't arrive at Disney. While it's true that the House of Mouse has had a hand in many adult-skewing films over the years, it originally didn't have any connection to New Regency, which helped fund "Barbarian" after the movie's original financier passed away. In fact, according to an exclusive Looper interview with "Barbarian" director Zach Cregger, the surprise horror hit took an unexpected journey to its eventual home. 
With Disney's acquisition 20th Century Studios, it also acquired "Barbarian" because New Regency and 20th Century Studios shared a longstanding partnership. "Very much by accident, we kind of stumbled into the loving arms of Disney, who took great care of us," Cregger said. "A tragic situation worked out for the best in the long run for the film. That's how we got here."
It also worked out the best for movie critics and horror fans alike, as "Barbarian" has a 92% critics' score on Rotten Tomatoes and a 7.5 user score on Metacritic. With numbers like that, one might expect that Cregger has more career twists and turns waiting for him in the future.