James Gunn Suggests That Pom Klementieff May Factor Into His DCU Plans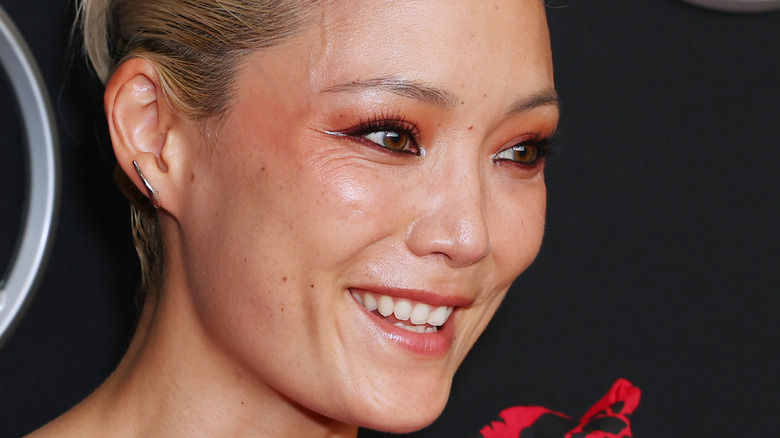 Leon Bennett/Getty Images
Pom Klementieff started her acting career in her home country of France before coming to America. In an interview with Rogue Magazine, Klementieff explained how an opportunity for a role in Spike Lee's 2013 remake of the South Korean film "Oldboy" cemented her decision to move to Los Angeles and begin her American film career. "I was living in Paris, and I felt like I needed a change ... Then an opportunity came to me. A producer friend, Roy Lee, gave me the script for 'Oldboy.' Obviously he couldn't offer me the part, because Spike Lee is the kind of director who does whatever he wants ... But Roy helped me to come to LA, and I am so grateful."
In a 2016 Q&A on Facebook regarding "Guardians of the Galaxy Vol. 2," the film's director, James Gunn, was asked which cast member was easiest to cast, and he cryptically avoided naming the actor or the role he was referring to but praised a new cast member that could only have been Klementieff. "Easiest cast member to cast was, we have a new cast member playing a new member of the Guardians of the Galaxy, and she was the most awesome and easiest person I've ever had to cast and blew me the f*** away. She's amazing, and I can't wait to share her with the world."
Klementieff, similarly, in an interview with Screen Rant Plus, used the word "genius" in her praise of James Gunn. So it would seem the two really do enjoy working together. Klementieff recently featured prominently as Mantis in "The Guardians of the Galaxy Holiday Special," and with so many fans being excited about her performance, James Gunn made it clear that there's always room for Klementieff in the DC Universe.
Pom Klementieff is always a part of our plans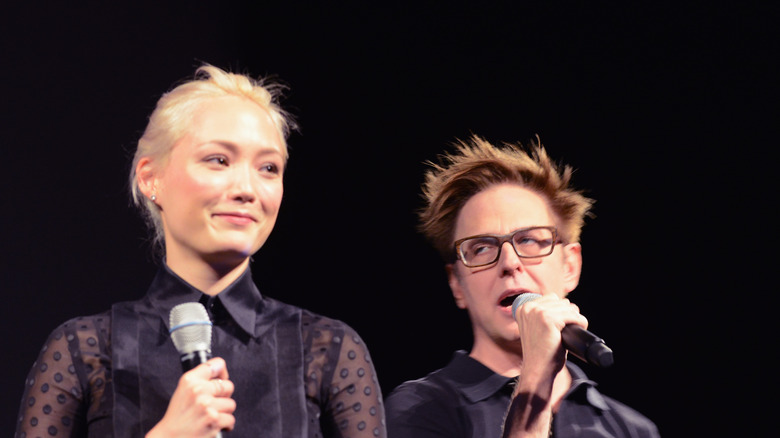 Albert L. Ortega/Getty Images
In October, as reported by Deadline, James Gunn and Peter Safran were named heads of DC Studios, meaning that Gunn will be involved in overseeing the newly redubbed DC Universe films. According to Deadline, this makes Gunn exclusive to DC and makes the upcoming "Guardians of the Galaxy Vol. 3" his final film with Marvel. On November 30, James Gunn tweeted a picture of DC superheroes gathered around a table with the caption "Making plans." Pom Klementieff responded by tweeting, "Exciting!" showing her continued support for her "Guardians" director. Twitter user @ReimSLV chimed in with, "Hope you're part of the plan Pom" to which Gunn responded, "Pom's always a part of our plans!"
Fans immediately took this to mean that, now that Gunn is the head of the DC Universe, he might include Klementieff in something. That's when fans began making their suggestions about what DC character Klementieff could play. Twitter users @AleCosta1994, @ToxicLullaby__, @prizzle_ace, and others suggested Lady Shiva. Another user, @LuisFel19833407, suggested Cassandra Cain, a character who does already exist in the DC Universe from her appearance in "Birds of Prey," but who was significantly different from her counterpart in the comics. Additionally, @romulittle suggested Power Girl, @aqua_samu suggested Shayera — presumably referring to Hawkwoman — and @shayera_hal suggested Cheshire, the Teen Titans villain. So, while there was certainly no shortage of possible roles that fans could envision Klementieff taking up in the DC Universe, Lady Shiva does seem to be the most frequently recurring suggestion. Regardless, it's hard to imagine anything going wrong in Gunn and Klementieff teaming up for a comic book movie once again.