Who Is Rocket's Otter Friend In The Guardians Of The Galaxy Vol. 3 Trailer?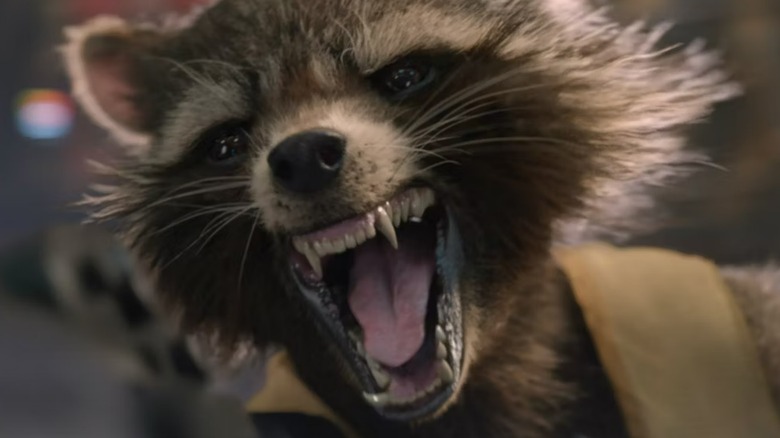 Marvel Studios/Disney
In 2014, Marvel Studios took a gamble by giving a little-known team from Marvel Comics history, the Guardians of the Galaxy, their own movie. This ragtag group of galaxy-hopping defenders was brought to the Marvel Cinematic Universe by director James Gunn, whose filmmaking talents combined with a talented cast, strong story, and second-to-none visual effects team to create movie magic. Nowadays, the Guardians are fan favorites known the world over that have all become deeply intertwined in the larger MCU. However, it seems like their time in the spotlight is coming to an end.
Following the Disney+ production "The Guardians of the Galaxy Holiday Special," Gunn's Guardians crew is due for one last ride on the big screen. Peter Quill (Chris Pratt), Drax (Dave Bautista), Rocket Raccoon (Bradley Cooper), Nebula (Karen Gillan), Mantis (Pom Klementieff), Groot (Vin Diesel) and Kraglin Obfonteri (Sean Gunn) will stand together one final time in "Guardians of the Galaxy Vol. 3." The long-awaited threequel just got its first trailer on December 1, 2022, and as it turns out, the Guardians will be joined by some new faces. In fact, one of them seems to tie back to Rocket's complicated and tragic past.
Very briefly, in the new "Guardians of the Galaxy Vol. 3" teaser, we see Rocket embrace a bipedal otter — this is most likely Lylla. Here's what you should know about her ahead of the final chapter of the Guardians of the Galaxy's MCU journey.
Meet Lylla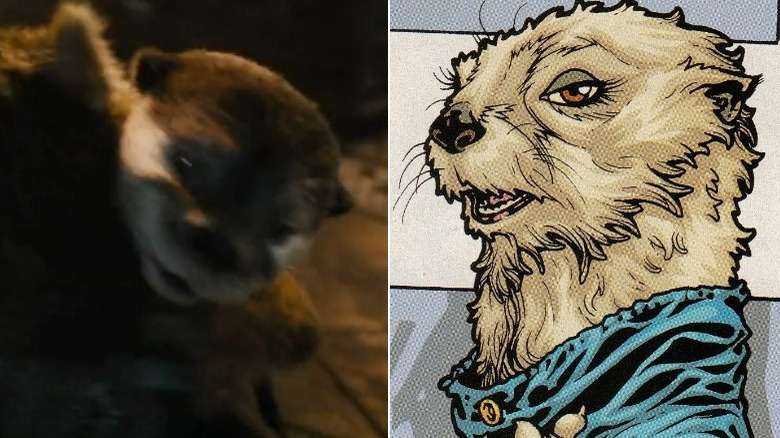 Marvel Studios/Disney/Timothy Green II/Marvel Comics
Though far from a mainstream Marvel Comics character, Lylla is no newcomer. Debuting on the pages of "The Incredible Hulk" issue 271 from way back in 1982, she called Halfworld home. Her parents built the toymaking empire Mayhem Mekaniks from the ground up, but it was taken over following their assassination by their conniving former associate, Judson Jakes. Jakes — as well as many others in the Marvel Universe — sought to marry her for her riches, but she had no interest in their advances. Rather, she fell in love with Rocket Raccoon, with whom she ran off to live a life of adventure.
Despite being around for decades in print, Lylla will make her proper cinematic debut via "Guardians of the Galaxy Vol. 3." Although, that's not to say that she hasn't been mentioned in the sprawling MCU before. When Rocket and his future teammates are arrested by the Nova Corps early on in the first "Guardians of the Galaxy" film, their personal information is displayed on a holographic screen. When it's Rocket's turn, it's revealed that, in addition to Groot, Lylla is listed as one of his known associates. Considering that the first and third "Guardians" movies will reach the silver screen almost a decade apart, that's some seriously long-term storytelling.
At long last, "Guardians of the Galaxy Vol. 3" will arrive in theaters on May 5, 2023. We'll get to see the iconic team as we know it bid the MCU farewell while learning more about Lylla in the process.