American Pickers Star Mike Wolfe's Recent Post Assures Fans The Series Will Return Soon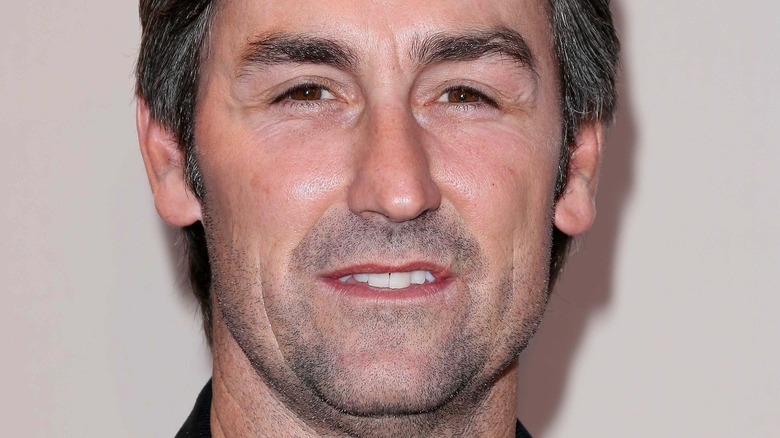 s_bukley/Shutterstock
It's been several months since "American Pickers" fans got to see Mike Wolfe doing his thing on History, with no new episodes of the reality treasure-hunting series airing since a reported ratings decline (via Outsider). And going that long without catching a glimpse of Wolfe out back behind some old guy's barn or shed somewhere — scouring for antiques and his next big payday — has led many viewers to believe the show just isn't coming back at all. But fear not, "American Pickers" lovers. Because according to a new social media post from Wolfe himself, he doesn't appear to be going anywhere.
Since Season 21, Wolfe and longtime co-star, Danielle Colby, have been leading the way for History and the show's roadside picking endeavors following a controversial falling out and the feud between Wolfe and his former partner-in-junk, Frank Fritz. Wolfe's brother, Rob Wolfe, joined up with the revamped crew and has been a regular staple in Season 23, which aired its last episodes in September (via History).
In October, The Sun released a report claiming there were multiple "clues" pointing to a cancellation in the near future, especially since "American Pickers" typically airs a new season every October or new episodes from ongoing seasons. When looking at IMDb, you can see that this is something History has done with the series since at least 2012. But according to Wolfe, there's no reason to be alarmed. For he has a new update for "American Pickers" viewers.
'Coming to California to film In January!'
Taking to his Instagram page, Mike Wolfe revealed to one of his friends that he is heading to California soon to film some "American Pickers" episodes. His buddy, Los Angeles music producer Adrian Younge, commented under a photo that Wolfe put up of a 1934 Ford Cabriolet that he was driving around Iowa, with Younge posting a trio of fire emojis. Wolfe replied, "Hey coming to California to film In January!" To which Younge said: "I'll definitely see you there!"
As of right now, it's unclear whether production on "American Pickers" has already picked back up or if January is the official starting point. Either way, fans should be excited to hear that Wolfe and the gang will possibly be back in the next few months.
When it comes to possibly seeing Frank Fritz return in some capacity, that card is likely off the table indefinitely as the former host remains sidelined from a severe stroke that he suffered in July 2022. His condition was first reported by Wolfe on Instagram, with him writing, "I have been very private in the past year in regards to Frank's life and the journey he's been on. There have been lots of opinions in regards to mine and Frank's friendship and the show but now is not the time to set the record straight. Now is the time to pray for my friend."