Marion Cotillard Admits The Song In Her Chanel No. 5 Commercial Wasn't Easy To Sing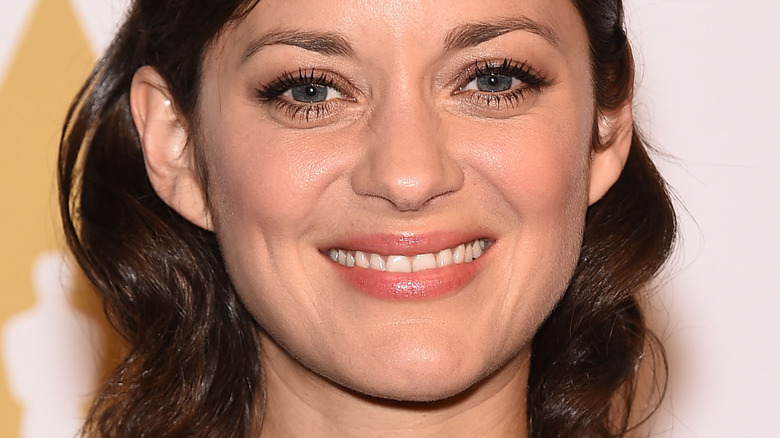 DFree/Shutterstock
French actress Marion Cotillard made her debut as a child performer in the 1982 television movie, "Le monde des tout-petits," and then, 11 years later, she guest starred in two episodes of "Highlander." Over the next decade, Cotillard continued to hone her acting craft. Cotillard landed her breakout role in the 2008 drama "La Vie en Rose," winning an Academy Award for her performance, and then made memorable appearances in "Public Enemies," "Midnight in Paris," and "Inception."
However, it was her performance as Miranda Tate, aka Talia al Ghul, in Christopher Nolan's "The Dark Knight Rises," that cemented her as one of the most controversial Batman baddies in the DC Universe, according to Variety. While Talia introduced Cotillard to new fans via the superhero genre, it was her bond with a fragrance brand that resulted in a project she truly felt connected with: a short film advertisement produced by Chanel.
"When I was a teenager my grandma gave me Coco," Cotillard said in a behind-the-scenes video. "So, I wore it; I always thought No. 5 was inaccessible. When I smelled it for the first time as a teenager, I wanted to be a woman who could wear No. 5." Acting in the short film seemed like a no-brainer for the star, but did you know that Cotillard was actually worried about having to sing the "Team" song for the commercial?
Performing a Lorde's song wasn't an easy feat for Cotillard
To commemorate the 100th anniversary of Chanel No.5's inception (1921), the fashion house — founded by Coco Chanel — commissioned a one-minute-long mini-movie, "Chanel No. 5: Dancing on the Moon." The short features Marion Cotillard and Jérémie Belingard, a French ballet dancer from the Paris Opera. The song plays throughout the video, a lush fantasy tale in which Cotillard's unidentified character imagines herself dancing romantically on the moon with a handsome partner (Belingard). They then embrace and ascend into the air, with the Earth shining brightly behind them.
Cotillard told Harper's Bazaar UK that collaborating with Belingard and the film's director, Johan Renck, was a wonderful experience, but the actress also admitted that she felt a lot of pressure performing a cover of the song "Team," which was originated by New Zealand singing sensation, Lorde. "It's not an easy song to sing," Cotillard said during the Harper's Bazaar UK interview. "Lorde's voice is so special. I love her so much. There's such freedom in her lyrics, so reinterpreting this track was pretty intimidating." Cotillard went on to say that Lorde's song, and the film itself, were sure to resonate with people in a way that reflects what it is like to be "very in love."