Marion Cotillard's Breakout Role You Totally Forgot About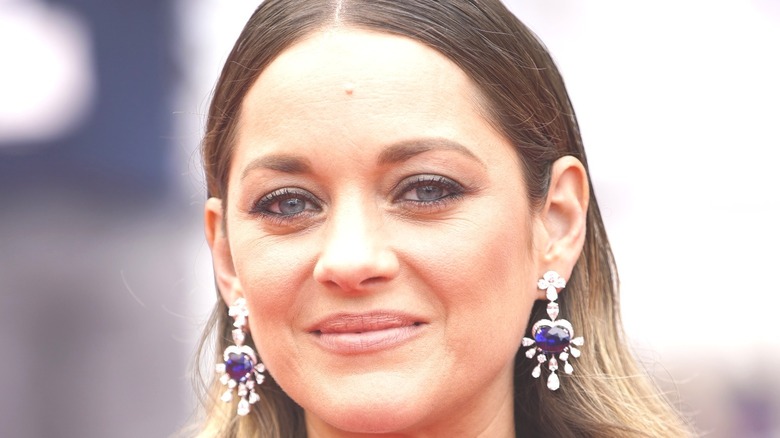 Denis Makarenko/Shutterstock
Marion Cotillard has been gracing silver screens globally since the late '90s and is one of the most well-known French actors ever. With over 90 acting credits to her name, she's been in all kinds of films, from animation to musicals, and impressively plays roles in both French and English (via IMDb). Marion Cotillard is mainly known for her portrayal of femme fatales such as her roles as Mal in "Inception," Talia in "The Dark Knight Rises," and Marianne in "Allied."
Throughout her career, Cotillard has earned many international accolades. She's one of only six actors to have won an Academy Award for playing a character who mostly speaks in a foreign language and is the second French actress to win the award for a leading role. She's also won two BAFTA awards, a Golden Globe, and just received a lifetime achievement award at San Sebastian, Spain's most important film festival.
With several blockbusters and successful independent films under her belt, it's safe to say Cotillard has reached international stardom. But before she could claim star status, she got her breakout role in the 2007 biopic "La Vie En Rose" as the iconic French singer Édith Piaf, which would inedibly skyrocket her acting career across the globe.
Marion Cotillard's breakout role was in La Vie En Rose
Thanks to a similarity between Marion Cotillard and the famous French singer's eyes, Cotillard was chosen by Olivier Dahan, the director of "La Vie En Rose" to star as Édith Piaf, leading to a thriving career in film ever since. The film follows the rise and fall of French songbird Piaf after she's first discovered on the streets of Paris. No matter her amount of on-stage success, Piaf would have tragedy strike all throughout her life, leading her to resort to alcohol and drugs up until her untimely death in 1963 at 48 years old.
Cotillard received exceptional reviews for her portrayal as Piaf, with Variety writing "Cotillard nails the assignment, portraying Piaf at 20 to Piaf on her deathbed with a range of gestures, her trademark posture, and a core of eternal hurt melded with ferocious pride." One IMDb viewer even wrote, "Sometimes I forget that I am seeing Marion Cotillard, sometimes I think I am seeing Edith Piaf, Cotillard's performance is THAT good." 
Cotillard's performance was so good that it earned her the Academy Award in 2008, beating out the favored Cate Blanchett. All in all, Cotillard owes a lot to "La Vie En Rose" as it garnered widespread attention and would allow her to seek more English-speaking roles after her recognition at the Oscars.