The Real-Life Hurricane That Had The Cast Of Bodies Bodies Bodies Taking Cover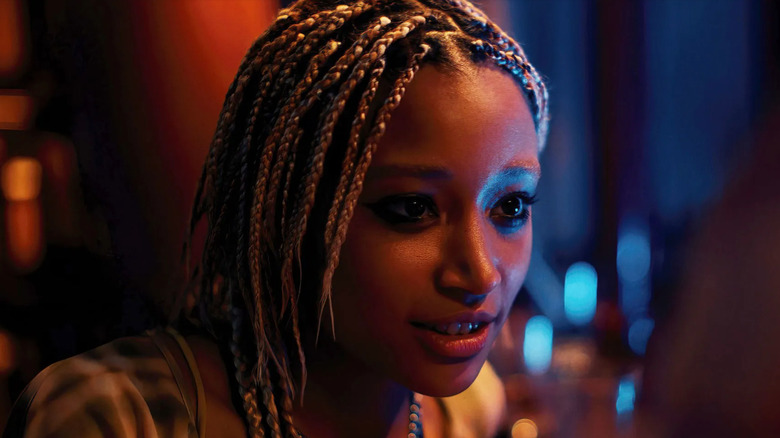 A24
Not everybody was safe on the set of "Bodies Bodies Bodies." That's not to say there was a silent, unseen killer creeping around production; however, there was a deadly force of a more natural variety. According to the cast, there was a moment when the cast had to retreat into a basement due to a storm.
When asked what the "scariest thing" from filming was, cast member Amandla Stenberg told IMDb, "At one point we all had to get in the basement because there was an actual tornado warning." Stenberg also said, "It was definitely one of those sets that felt alive. Strange things would be mirrored from the story." Those "strange things" also include a hurricane that prompted that aforementioned tornado warning. The plot of "Bodies Bodies Bodies" relies heavily on a hurricane as its cast of affluent characters are brought together for a hurricane party at one of their mansions. 
The director thought the tornado warning was a joke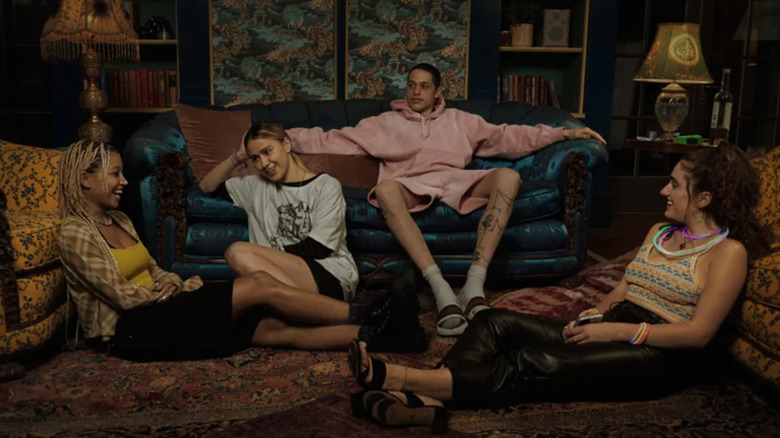 A24
According to "Bodies Bodies Bodies" director Halina Reijn, there was an actual hurricane and tornado warning during filming that forced production into a temporary hiatus. "We actually had to hide from a true hurricane," she said. "I'm from Holland ... I thought it was a joke, but it turned out to be for real ... We were all just hiding, and we couldn't go on shooting. So yes, life was imitating art here" (via IMDb).
In the film, which hit theaters on August 5, 2022, a group of wealthy friends and outsider Bee unite to throw a "hurricane party," where a series of terrifying coincidences and misunderstandings lead to tense standoffs, adrenaline-fueled chases, acerbic arguments, and an unsettling body count. Starring Amandla Stenberg, Maria Bakalova, Myha'la Herrold, Rachel Sennott, Lee Pace, Chase Sui Wonders, and Pete Davidson, this satire holds an 86% rating on Rotten Tomatoes.
Despite the surprise hurricane interruption, the cast of "Bodies Bodies Bodies" still managed to enjoy the filming process. According to Herrold, who plays Jordan, there were lots of laughs on set, especially from Pete Davidson. "Pete always brings the laughs and the jokes, and he keeps the levity," said Herrold. "We needed it more often than not because of how traumatizing the actual [making] of this film was" (via IMDb).
Thankfully, fans will remember the ending of "Bodies Bodies Bodies" and its clever, comedic take on horror tropes more than they will for this minor debacle. That's something a tornado warning cannot change.