Young Sheldon Season 5 - What We Know So Far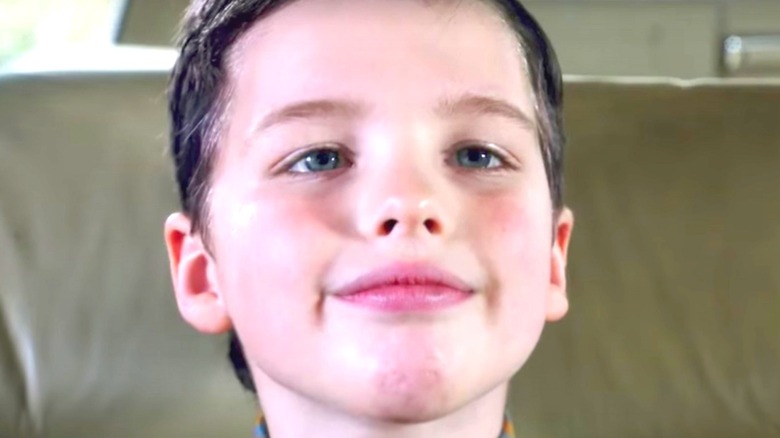 CBS
When it was first announced that CBS was developing a prequel series about Sheldon Cooper from "The Big Bang Theory," not many people knew what to think about it. The original series focuses on a group of awkward, genius male friends who don't know how to act when a hot neighbor moves in next door, starring Kaley Cuoco as Penny, Johnny Galecki as Leonard Hofstadter, and Jim Parsons as Sheldon. Reportedly, Parsons had the original idea for the prequel series, told "The Big Bang Theory" producers about it, and soon enough "Young Sheldon" was greenlit with a straight-to-series order (Deadline).
"Young Sheldon" stars Iain Armitage as the lead character, with narration in each episode done by Parsons. The show was an instant hit, earning a Certified Fresh 76% rating on Rotten Tomatoes for Season 1, and it continues to be a favorite for viewers. In fact, it turns out that people love Armitage's genius kid so much that the series has been renewed for three more seasons, meaning it's guaranteed to at least get to Season 7 (via Deadline). Now with Season 4 of "Young Sheldon" airing its final episode on May 13, 2021, fans are eager to learn anything they can about the upcoming fifth season.
Here's everything we know so far about "Young Sheldon" Season 5.
What is the release date for Young Sheldon Season 5?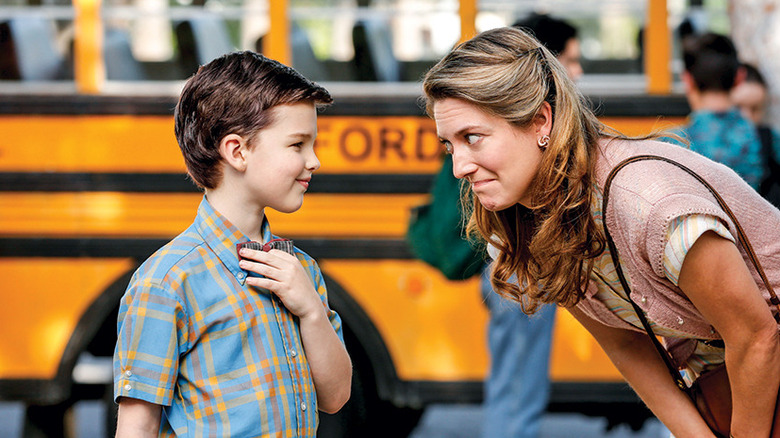 CBS
As we know, "Young Sheldon" will definitely have a fifth season, but the question is when. For the past four seasons of the series, "Young Sheldon" has kept on a very steady schedule for premiere dates. The first season premiered on September 25, 2017, the second on September 24, 2018, and the third on September 26, 2019. Season 4 of the show faced production delays because of the pandemic, so the season started a little later than normal, on November 5, 2020. It also had fewer episodes, with 18 total instead of the standard 21 or 22.
As many aspects of the entertainment industry are getting back to normal in 2021 — or at least some semblance of normality — "Young Sheldon" fans can likely expect the fifth season to revert to the previously kept schedule that worked so well. This means that "Young Sheldon" Season 5 will probably premiere in late September 2021. It's entirely possible that CBS decides to change the schedule and air the fifth season later, but this is currently our best guess.
Who is in the cast of Young Sheldon Season 5?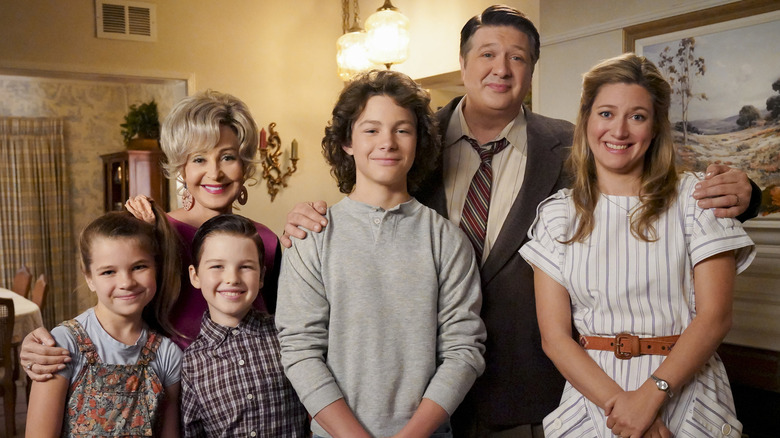 CBS
Alongside Armitage as the title character, "Young Sheldon" also stars Zoe Perry as his mother, Mary Cooper, Lance Barber as George Cooper Sr., his father, Raegan Revord as Melissa "Missy" Cooper, Sheldon's twin sister, and Montana Jordan as George "Georgie" Cooper Jr., Sheldon and Missy's older brother. Their family is filled out by Annie Potts as Constance "Connie" Tucker, Sheldon's grandmother on his mother's side who he calls "Meemaw" and is very close to.
With four seasons under its belt already, "Young Sheldon" has an expansive cast of supporting and guest characters. Some of the most important to are Pastor Jeff (Matt Hobby), who has trouble coming to terms with Sheldon's atheism, Wallace Shawn as John Sturgis, a former professor of physics who has a dating history with Meemaw, and Ryan Phuong as Tam Nguyen, Sheldon's best friend who keeps him grounded and introduces him to things aside from science. Tam, who appears to have PTSD from a difficult childhood in Vietnam, has no other friends aside from Sheldon, so the two boys find common ground in their shared experience of isolation and being ostracized.
"Young Sheldon" has also had many notable guest stars over the years, a few being Frances Conroy, Melanie Lynskey, Cyndi Lauper, and Bob Newhart.
What will happen in Young Sheldon Season 5?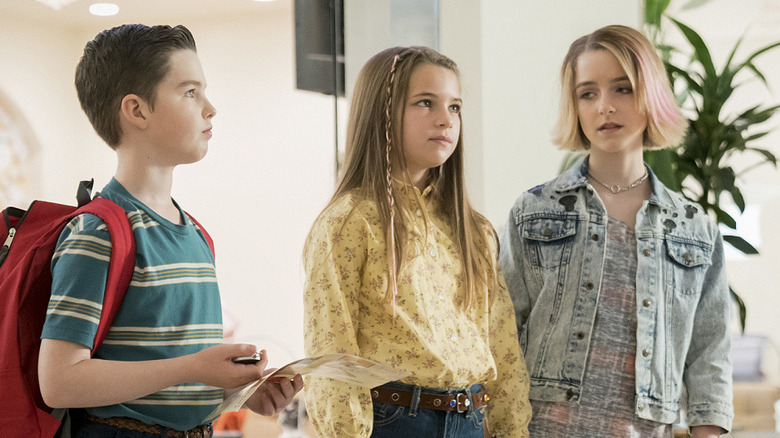 CBS
The end of "Young Sheldon" Season 4 sets up for the undoing of George, Sheldon's father. Fed up with how his life has ended up, George gets into a yelling fight with his wife, Mary, as a young Georgie looks on. Then before they can make up, George grabs his keys and heads to the bar, where a single Brenda Sparks (Melissa Peterman), a woman who works at the local bowling alley, asks if he wants company. As a prequel to "The Big Bang Theory," there are some plot points of "Young Sheldon" that fans can guess. One of these is Sheldon's father cheating on his mother, which is mentioned by Sheldon in Season 10 of the original series. Along with that, an earlier episode of "Young Sheldon" Season 4 hints that George's untimely death is also on the horizon. 
As for Sheldon, Season 4 features the 11-year-old going to college at East Texas Tech for the first time, while his twin sister enters middle school. While there, Sheldon clashes with some of his teachers, before getting asked to recruit another child prodigy, Paige Swanson (McKenna Grace), who Sheldon might or might not have a crush on. Alongside her twin, Missy also spends Season 4 trying out romance and dating, although it doesn't end very well. Overall, there are a lot of places Season 5 could go with the characters and plotlines at play in "Young Sheldon," so fans will just have to wait and see what happens in new episodes.