Zoe Saldana Originally Thought Her Avatar Auditions Were For An Alita: Battle Angel-Like Movie In The Jungle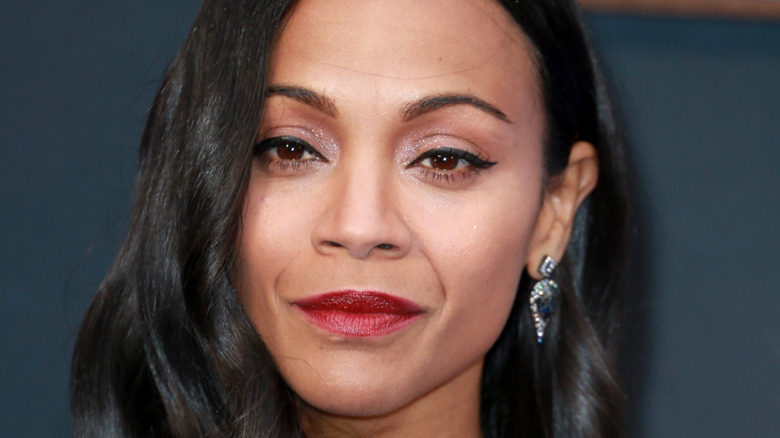 Fred Duval/Shutterstock
After over a decade of development, "Avatar: The Way of Water" is finally hitting theaters this December. The highly-anticipated sequel began development following the massive success of the first movie. However, delays, production issues, and COVID resulted in a 13-year development process. "Avatar" could not have been more successful, becoming the highest-grossing movie of all time, so a sequel was an easy choice for both James Cameron and 20th Century Studios.
"The Way of Water" picks up a decade after the first movie's events, with Jake (Sam Worthington) and Neytiri (Zoe Saldaña) creating a family of their own. The couple now has three biological children, Neteyam (Jamie Flatters), Lo'ak (Britain Dalton), and Tuktirey (Trinity Jo-Li Bliss), and one adopted daughter, Kiri (Sigourney Weaver). The sequel focuses on the family trying to stay safe from looming threats. Along the way, they meet a water tribe of Na'vi led by Tonowari (Cliff Curtis) and Ronal (Kate Winslet). Also returning for the sequel are Quaritch (Stephen Lang) and Dr. Norm Spellman (Joel David Moore).
Landing a role in a franchise the size of "Avatar" would be monumental for anyone's career. Matt Damon infamously turned down the lead role in the first movie, a contract that would've earned him ten percent of the film's two billion dollar profit. On the other hand, Saldaña couldn't be more excited to land a role in Cameron's blockbuster.
Zoe Saldaña had an interesting audition process for Avatar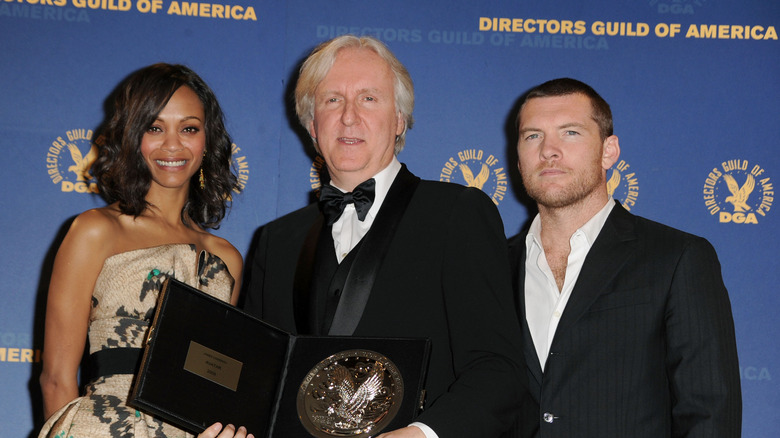 Frazer Harrison/Getty Images
During her recent appearance on The Tonight Show, "Avatar" star Zoe Saldaña revealed how the audition process for James Cameron's goliath of a film went down. Surprisingly, the actress revealed that, at first, the casting department pitched the movie to her. "First, they told me that it was, like, about this robot — this female robot. I thought it was like "Alita: Battle Angel," but it's set, like, in the jungle. And I was like, 'Well, that doesn't really make any sense. Like, a warrior princess was a robot, like a sentient, like, what is that?'" Saldaña continued her story, recalling how she would meet up with the casting director, who wanted her to do some climbing and cartwheels. Thankfully, her dancing background helped her with the acrobatic movements, which Saldaña believes helped her secure the role.
At another meeting, the casting department recorded Saldaña rolling her R's, but all the while, she was unbelievably confused about how any of this fit into the robot story. She didn't understand the process but enjoyed it, wanting nothing more than to work with her idol, Cameron. Eventually, the team flew her to Los Angeles to meet the legendary director at his production company, Lightstorm Entertainment. She remembers getting locked in an office with a massive script, which took her six hours to finish. Cameron then took her to his office, which displayed memorabilia from his previous films, including "Titanic" and "Terminator." He showed her a sculpture of her character, Neytiri, and the rest was history.