Is There A Rosalina Hint In The Super Mario Bros. Trailer?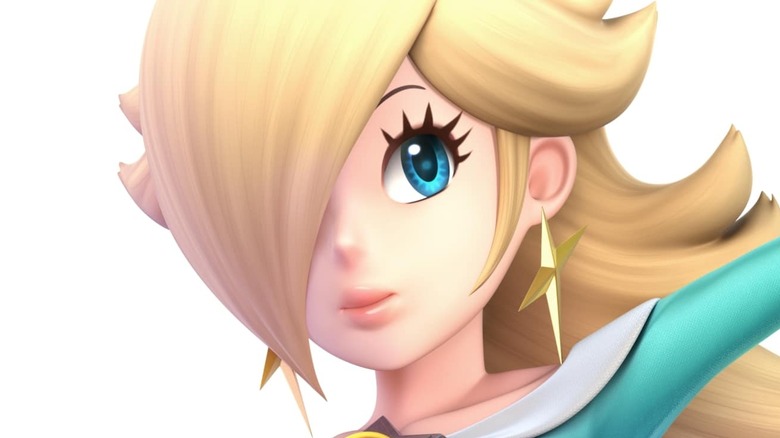 Nintendo
The release of the second trailer for "The Super Mario Bros. Movie" has offered audiences an even more in-depth look at what Nintendo and Illumination's hotly-anticipated film adaption of the hit platforming game series will have in store. From the reveal of classic "Super Mario" power-ups like the Tanooki Suit and the Fire Flower to a bombastic "Mario Kart" sequence, the trailer shows off just how much the film is incorporating from the source material. However, not every ostensible reference the trailer contains is so obvious. In fact, the sneak peek may actually contain a veiled tease at an inclusion that would no doubt excite devoted fans of the games.
It's clear that "The Super Mario Bros. Movie" works to include many of the character mainstays from the source material. The second trailer alone features Anya Taylor Joy's Princess Peach and Seth Rogan's Donkey Kong for the first time, a pack of wild Yoshis running through the Mushroom Kingdom's lush grasslands, and even what appears to be Diddy Kong and Dixie Kong in the background of a certain shot. Still, one particular line from the trailer has some wondering if yet another beloved character is going to be making an appearance: Princess Rosalina.
Galaxies may await for Mario
"Super Mario" fans may have found their ears perking up during one particular segment of the second trailer for "The Super Mario Bros. Movie." Between scenes of warrior Princess Peach going full-action star, the Mushroom Kingdom ruler takes a moment to gaze upon the night sky. It's then that she utters the line: "There's a huge universe out there...with a lot of galaxies." Many were quick to wonder if the line is a reference to "Super Mario Galaxy," Mario's space-faring 3D adventure game from 2007.
"Super Mario Galaxy" is one of the best-received games in the franchise, hitting an eye-watering critical score of 97 on Metacritic, so it wouldn't be out of place for the film to reference such a staple or even incorporate elements from its story. Crucially, the title also marks the debut of Princess Rosalina, the interstellar guardian of the star-shaped Lumas. Rosalina gained lasting popularity following the release and she still appears as a supporting character in recent games, so a film appearance from her would almost certainly be well-received.
While Rosalina may be on the way, it's still no guarantee. Peach's line, while suspicious, could also be in reference to Mario and Luigi's home, the Mushroom Kingdom, and other locales in the movie taking place in separate galaxies, as the first two trailers have both implied. Still, fans shouldn't despair if the space princess ends up being absent. After all, that's just more fodder for the potential sequel, right?